Govt worried as Teletalk is losing customers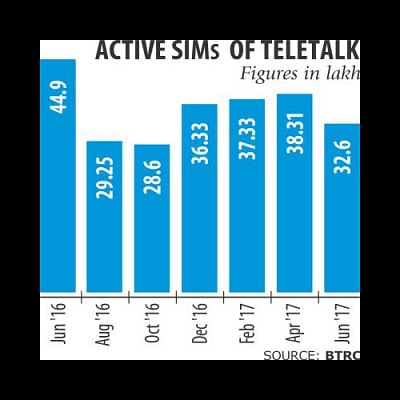 Teletalk's customer base is fast shrinking as the state-run mobile operator continues to lag far behind the private carriers in terms of network quality and product offerings.
In the first half of the year, Teletalk lost about 10.27 percent, or about 3.73 lakh, of its active customer base, when the other three operators added 99.63 lakh users, according to data from the Bangladesh Telecommunication Regulatory Commission.
The government is concerned about the operator's standing in the industry, said Shyam Sunder Sikder, secretary of the telecommunication division.
"I have already directed the top management to take necessary actions to get back our customers," said Sikder, who is also the chairman of the Teletalk board.
Earlier in August last year, Tarana Halim, state minister for telecom, had fixed Teletalk a target of acquiring 30 lakh new connections in fiscal 2016-17.
In reality, during the course of the fiscal year, the operator shed about 12.30 lakh active connections, which is 27.72 percent of the subscribers it had on July 1 last year.
At that time, Teletalk's customer base was 44.37 lakh. Besides, Teletalk's revenue shrunk about 28 percent year-on-year to Tk 710 crore last fiscal year -- the lowest in three years.
Asked if there was any possibility of Teletalk merging with another operator, Tarana dismissed the issue.
Meanwhile, a recent impact evaluation survey of the Implementation, Monitoring and Evaluation Division of the Planning Commission found that Teletalk subscribers were switching to other operators to get better service.
Some 720 Teletalk users at 27 places under 32 upazilas took part in the survey, which highlighted the merits and weaknesses of the state-run operator since its inception.
The subscribers said the number of Teletalk customer care centres is few and far between and its recharging outlets are hard to find.
The operator's 3G network coverage does not work outside of the big cities and towns.
And its internet speed outside cities and towns is slow; the internet packages are not appealing either.
According to officials, 3G service is made available to divisional cities and district towns on a small scale due to poor allocation.
The state-run operator introduced 3G service a full year before others and got huge response then.
But as the private operators rolled out their 3G services, customers lost interest in Teletalk, said a top executive of the operator.
The report also identified that Teletalk is lagging far behind when it comes to rendering speedy services to its subscribers.
Only one out of three Teletalk users gets response from the operator in case of any problem.
Subsequently, the survey report called for expansion of Teletalk's network across the country and to the union and village levels, increasing the number of Teletalk recharge points, and setting up customer care centres in all upazilas.
A Teletalk official said the state-run operator is badly struggling against its private competitors as it cannot plough back to upgrade its infrastructure.
The market is capital-intensive and without investing huge amounts of money it is difficult to expect higher revenues or profitability, he said.
For instance, the state-owned operator has about 1,500 3G towers, which is one-fourth of Banglalink's, the current No. 3 player in the market.
"The private operators made huge innovations in digital services -- we cannot match them. We cannot even give offers like them, as we have limitations in the marketing and research and development segments," he said, asking not to be named.
Teletalk is the country's smallest operator in terms of subscribers, with only 2.40 percent market share.
It started operations in 2005 amid high hopes, but failed to compete with the other five operators due to poor marketing strategy and customer service.