Govt may cut renewal fees for insurers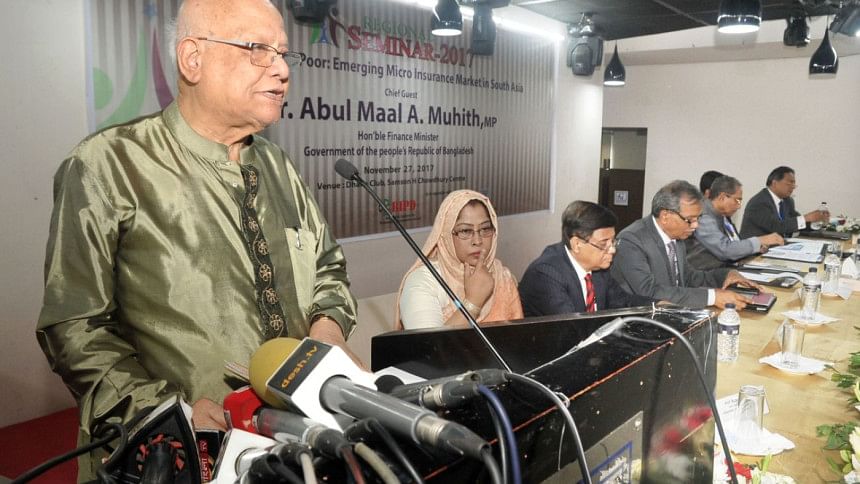 Finance Minister AMA Muhith yesterday assured insurance companies of reducing their renewal fees in a bid to revitalise the sector.
The assurance came at a seminar on "Protecting the Poor: Emerging Micro Insurance Market in Bangladesh and South Asia" organised by Bangladesh Insurance Association at Dhaka Club.
Insurance companies have to renew licences with the Insurance Development and Regulatory Authority (IDRA) every year, paying Tk 3.5 for every Tk 1,000 premium. They demanded complete withdrawal of the fees.
Muhith said NGOs would have to take insurance policies from insurance companies against their microcredit, and the government would provide incentives for insurance companies against the launch of innovative products.
He said, now non-government organisations (NGOs) themselves provide an insurance facility though they are not authorised to do so. He found it wrong that NGOs do not provide insurance claims of relatives following a client's death.
Muhith also lamented that though GDP increased and business expanded in Bangladesh, the insurance sector has not progressed much.
The association President Sheikh Kabir Hossain said they paid Tk 6,000 crore against insurance claims of clients last year.
Senior Secretary to Bank and Financial Institution Division Eunusur Rahman, IDRA Chairman Shafiqur Rahman Patwari and Secretary General of Insurance Institute of India P Venugopal also spoke.a