Palm oil: Local prices fall as Indonesia lifts ban on exports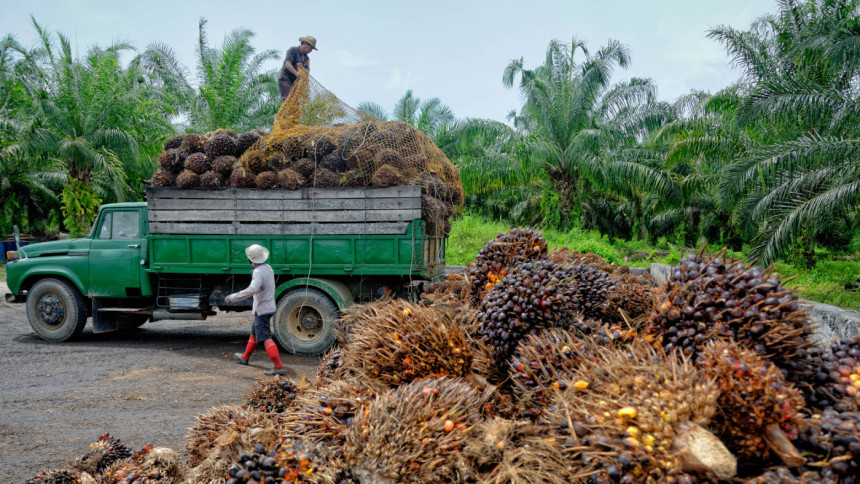 Palm oil prices in domestic wholesale and retail markets have started cooling off after Indonesia announced that it would resume exports of the product.
Palm oil imports had become uncertain after Indonesia, a major global supplier of the product, banned exports on April 28.
Yesterday though, loose palm oil was being sold at Tk 165-176 per litre, down 3.67 per cent from Tk 172-182 per litre a week ago, according to data from the Trading Corporation of Bangladesh.
Similarly, super palm oil is now being sold at Tk 178-180 per litre, down 3.24 per cent from Tk 180-190 per litre a week ago, the data showed.
Uncertainty in the palm oil market started to decline after Indonesia announced the reopening of exports of the product. As such, local prices have started to fall at the same time, said Abdur Razzak, a wholesale trader at Khatunganj in Chattogram, the country's largest wholesale hub.
The product is now being sold in local markets at prices that are even lower than the government fixed rates.
Palm oil was being sold for Tk 6,390 to Tk 6,450 per maund (37 kilogrammes) at Khatunganj yesterday, Razzak said.
But considered how the current prices are lower than government rates, the authorities should adjust the prices or it will not have any effect on either the retail or consumer level, he added.
Abul Hashem, general secretary of the Bangladesh Edible oil Wholesalers Association, said if mill owners maintain the current palm oil supply, then prices will reduce further.
"But if there is a supply crisis for any reason, the price will rise again," he said, adding that the government will also have to keep an eye on whether the import and supply chains are in order.
Tariq Ahmed, director of operations and marketing at TK Group, said palm oil shipments are yet to start as Indonesian customs officials are yet to give any notification to this end.
"As a result, many ships are waiting at their port," he added.
Ahmed went on to say the shipment of vegetable oil will start just after the issuance of a notification in this regard. However, there is an apprehension of port congestion because of the long queue of vessels waiting to take delivery from Indonesia, said Ahmed.
The palm oil shipments should start coming to Bangladesh in June, he added.
Indonesia allowed the resumption of palm oil exports from Monday after a three-week ban, but industry players said shipments were unlikely to restart until details emerge on how much of the edible oil must be held back for domestic use, Reuters said.
Indonesia, the source of 60 per cent of the world's palm oil, halted exports of crude palm oil and some derivative products on April 28 in an attempt to bring down soaring local prices of cooking oil. The ban rattled global edible oil markets at a time of supply shortages stemming from the war in Ukraine.
Indonesia's trade ministry yesterday issued rules stating that companies must obtain an export permit that would be granted only to those able to meet a so-called Domestic Market Obligation (DMO).
The regulation did not disclose details of what that DMO would entail, but said permits would be valid for six months and companies must report their shipments realisation monthly.
President Joko Widodo last week announced the ban would be withdrawn and expressed confidence that bulk cooking oil was generally heading towards the target price of 14,000 rupiah ($0.95) per litre.
By the end of April, traders had opened letters of credit (LC) to import about 90,000 tonnes of palm oil from Indonesia. After the country imposed a ban on palm oil exports, there was uncertainty in the import of this product.
According to the Bangladesh Bank, about 90,000 tonnes of oil import debentures were opened in the four days before the export ban was imposed.
The ban came into effect before the oil could be shipped and as a result, these imports got stuck.
In the first 10 months of the current fiscal year, 90 per cent of Bangladesh's palm oil imports came from Indonesia.
After the country stopped exporting, traders were waiting for the ban to be lifted instead of importing from alternative sources.