Oil prices slip as bearish China data fuels demand concerns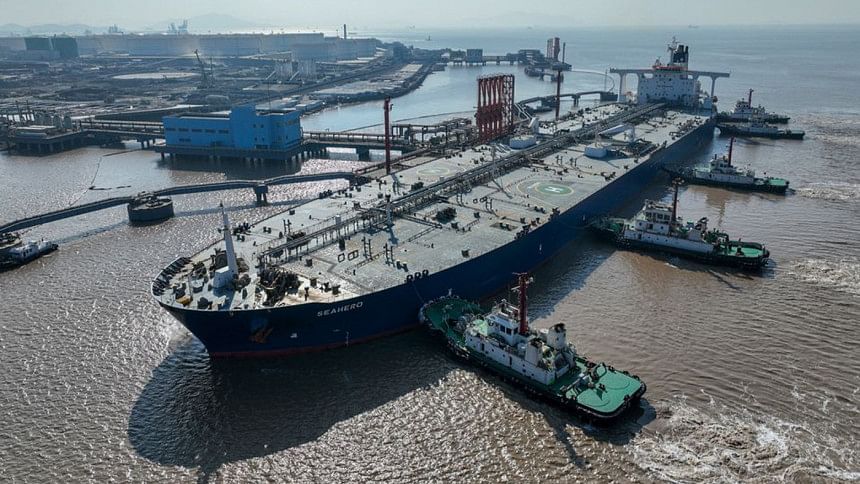 Oil prices eased in Asian morning trade on Wednesday as concerns over slow demand from top crude importer China grew after bearish trade and inflation data, outweighing fears over tighter supply arising from output cuts by Saudi Arabia and Russia.
Brent crude futures fell 15 cents, or 0.2 percent, to $86.02 a barrel by 0320 GMT. US West Texas Intermediate (WTI) crude was at $82.75 a barrel, down 17 cents, or 0.2 percent.
Both contracts gained nearly $1 the previous day.
"Oil prices are struggling to further rise because of lingering concerns over a sluggish recovery in China's economy and fuel demand," said Chiyoki Chen, chief analyst at Sunward Trading.
"Also, with worries over slowing demand in the United States and Europe due to a series of interest rates hikes, upside of oil markets looks to be limited," he added, predicting WTI would trade in the range of $75 to $85 a barrel later this month.
Both benchmarks notched their sixth consecutive weekly gains last week, the longest winning streak since December 2021 to January 2022, helped by a reduction in OPEC+ supplies and hopes of stimulus boosting an oil demand recovery in China.
Chinese inflation data on Wednesday showed the consumer price index fell in July in its first year-on-year decline since February 2021, confirming the economy's swing into deflation as its recovery from the pandemic continued to stall.
The inflation data followed disappointing trade data on Tuesday, which showed China's crude oil imports in July fell 18.8 percent from the previous month to the lowest daily rate since January, as major exporters cut back overseas shipments and domestic stocks continued to build.
In another bearish sign, US crude oil stocks rose by 4.1 million barrels last week, according to market sources citing American Petroleum Institute figures on Tuesday. That was a bigger build than analysts polled by Reuters had expected.
US government data on stockpiles is due later on Wednesday.
Meanwhile, a monthly report from the US Energy Information Administration (EIA) on Tuesday projected US crude oil production to rise by 850,000 barrels per day (bpd) to a record 12.76 million bpd in 2023, overtaking the last peak of 12.3 million bpd in 2019.
Crude prices have been rising since June, primarily because of extended cuts to Saudi Arabia's production as well as increasing global demand, the EIA said.
The world's top exporter Saudi Arabia last week extended its voluntary production cut of 1 million bpd to the end of September, adding that it could be extended beyond then or deepened. Russia also said it would cut oil exports by 300,000 bpd in September.