Deals inked for $2.66b Japanese loans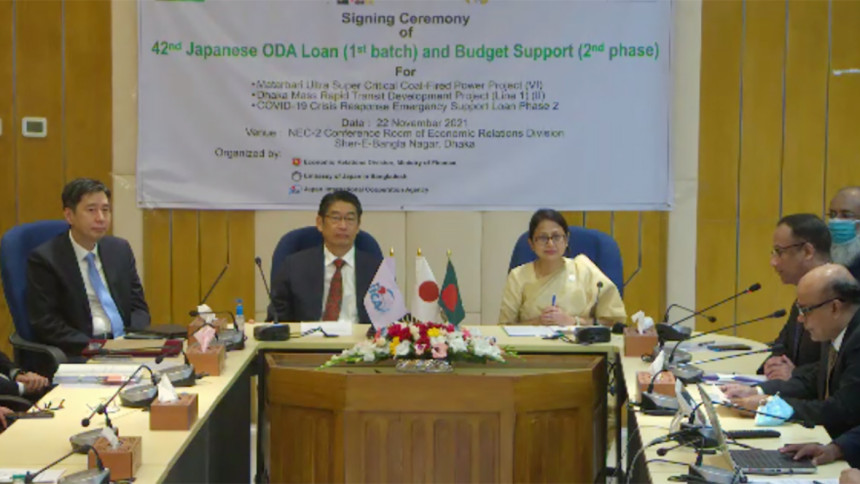 Japan will provide $2.66 billion to Bangladesh to support construction of two major mega projects, including building of Dhaka's first underground metro rail project, said a statement from the finance ministry.
Matarbari Ultra Super Critical Coal-Fired Power Project, one of the major power generation schemes of the government, is another project for which the world's third-largest economy will provide $1.2 billion.
Japan has already provided $2.63 billion for the project at Matarbari area of Maheshkhali upazila under Cox's Bazar district. The project comprises two units, each of which would produce 600 megawatts of electricity.
Works for power transmission lines, access roads, township development and a channel for the Matarbari port are also included in the project.
Beginning in July 2014, the project is set to be implemented by June 2023. Up until October 2021, some 49 per cent of the project has become visible, while 51 per cent of the money has been spent.
For Dhaka's first underground metro rail project termed Mass Rapid Transit Line-1, Japan will give $1.1 billion in its second tranche of loans.
Tokyo earlier provided around $500 million for the 31.2-kilometre MRT Line-1.
The MRT line has two routes – an airport route (Hazrat Shahjalal International Airport to Kamalapur Railway Station) and a Purbachal route (Notun Bazar to Pitalganj).
The 19.8km airport route will be the country's first underground rail route. It will have 12 stations, said the finance ministry statement.
The 11.3km Purbachal route, which will be an elevated one, will have nine stations. The Notun bazar station will be connected to the MRT Line-5 northern route, which runs from Hemayetpur to Vatara.
A detailed study, survey and basic design have been completed for both routes. Now work for a detailed design is ongoing.
The project implementation cost is estimated at Tk 52,561.43 crore. The Japan International Cooperation Agency will provide Tk 39,450.32 crore. Beginning in September 2019, the project is set to be completed by December 2026.
The remaining loan under the Covid-19 Crisis Response Emergency Support Loan Phase-2 aims to use concessional financing to implement policies towards strengthening the health sector's pandemic response and universal health coverage.
The $365 million budget support comes with an interest rate of 0.55 per cent and a repayment period of 30 years, including a 10-year grace period.
While virtually attending the signing ceremony of two associated deals at the Economic Relations Division (ERD) yesterday, Finance Minister AHM Mustafa Kamal expressed gratitude for the Japanese government's involvement in a number of ongoing mega projects.
This includes ones on the Bangabandhu road and rail bridge over the Jamuna, the metro rail network in Dhaka, the third Hazrat Shahjalal International Airport terminal, Matarbari coal fired power plant and Matarbari sea port, he said.
When the pandemic emerged in 2020, Japan provided the first-ever budget support of $320 million to Bangladesh, said Kamal.
Fatima Yasmin, secretary to the ERD, Ito Naoki, Japan's ambassador, and Yuho Hayakawa, chief representative of the Jica Bangladesh office, signed the deals.