Indian firm to upgrade Mongla port
Agreement signed for the Tk 6,014cr project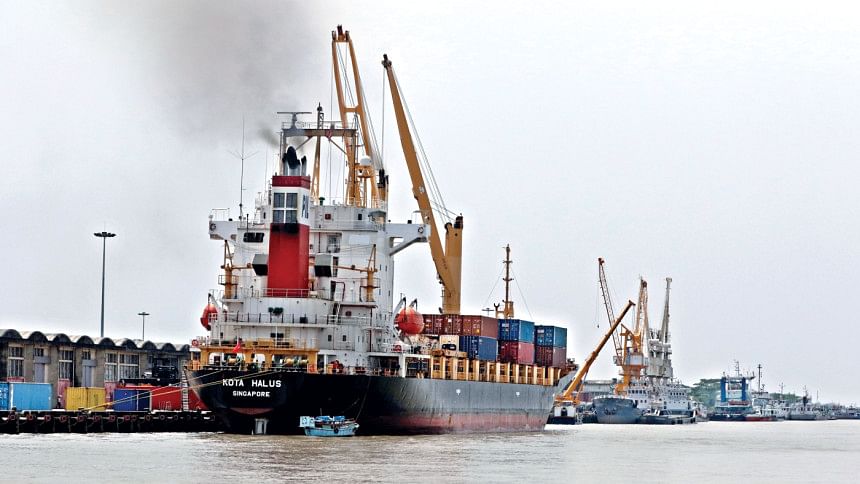 Egis India Consulting Engineers Private Limited has been appointed as consultant for a capacity building project worth Tk 6,014 crore at Mongla port, the second largest seaport in Bangladesh.
The Mongla Port Authority (MPA) and Egis India yesterday signed the related agreement, styled "Upgradation of Mongla port", at the Radisson Blu Dhaka Water Garden in the capital.
Of the estimated Tk 6,014 crore project, the government will finance Tk 1,555 crore from its own coffer while India will provide Tk 4,459 crore as assistance under its line of credit.
The project is scheduled to be complete by July 30, 2024.
The upgradation works include constructing a container terminal, handling and delivery yards, a residential complex and community facilities, marine workshop, multi-storey car lots, service jetty, and more.
Besides, the MPA will procure eight vessels to support port operations, such as loading and unloading goods from larger ships.
Once implemented, Mongla port will be able to handle 1,800 vessels, 50 lakh tonnes of cargo, 4 lakh twenty-foot equivalent unit (TEUs) containers and 10,000 vehicles annually, according to the MPA.
In addition, the port's annual revenue is expected to increase by Tk 150 crore while that of related customs and other agencies could grow by as much as Tk 3,000 crore.
Rear Admiral Mohammad Musa, chairman of the MPA, and Laurent Germain, chief executive officer of Egis India, signed the agreement on behalf of their respective parties.
Khalid Mahmud Chowdhury, the state minister for shipping, was present as chief guest while Pranay Verma, the Indian High Commissioner to Bangladesh, acted as a special guest.
Chowdhury said the seaport will achieve new heights in regards to handling import-export cargo once the upgradation work is complete.
"Mongla port will move closer to Chattogram port's capacity. Not just Bangladesh, but neighbouring nations will also benefit from the port," he added.
The shipping minister went on to say that the project will help expand business and employment opportunities in the country through enhanced multimodal connectivity.