Euro tumbles to 20-year low against dollar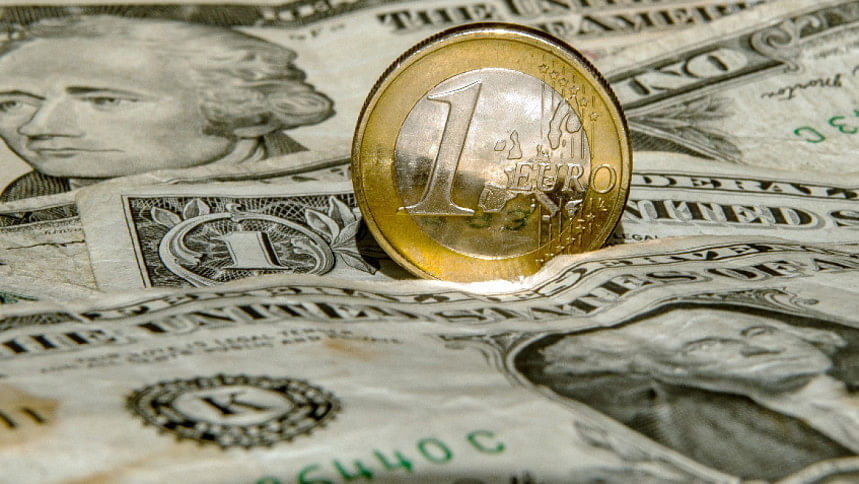 European stocks sank Tuesday along with oil prices, while the euro slumped towards parity with the dollar on deepening recession fears as central banks contend with soaring inflation.
European stock markets fell nearly three percent, weighing on Wall Street early in the day before US stocks staged a turnaround.
"Fears about the health of the world economy are circulating and that is why we are seeing major declines in stocks, energies, and industrial metals," said market analyst David Madden at Equiti Capital.
The euro sank to a 20-year dollar low of $1.0238 as investors eyed aggressive interest rate hikes by the US Federal Reserve in its fight against inflation, in contrast with the European Central Bank, seen as planning more modest increases.
The main international crude oil contract, Brent North Sea, fell nearly 10 percent, while the main US contract WTI, fell more than eight percent to finish under $100 per barrel for the first time in around two months.
"There are increasing worries the elevated energy prices will chip away at demand, hence the fall in the oil contracts," said Madden.
Sentiment in Europe was shaken by the latest survey data showing economic growth in the eurozone floundered in June.
S&P Global's closely-watched monthly purchasing managers' index (PMI), which measures corporate confidence, fell to 52.0 in June from 54.8 in May.
Nevertheless, the reading, which was a 16-month low, remains above the 50-point level signalling expansion.
"Growing fears of a recession are hammering the euro lower, whilst the dollar is soaring on bets that the Fed will keep hiking rates aggressively to tame inflation," City Index analyst Fiona Cincotta told AFP.