Tackling the global refugee crisis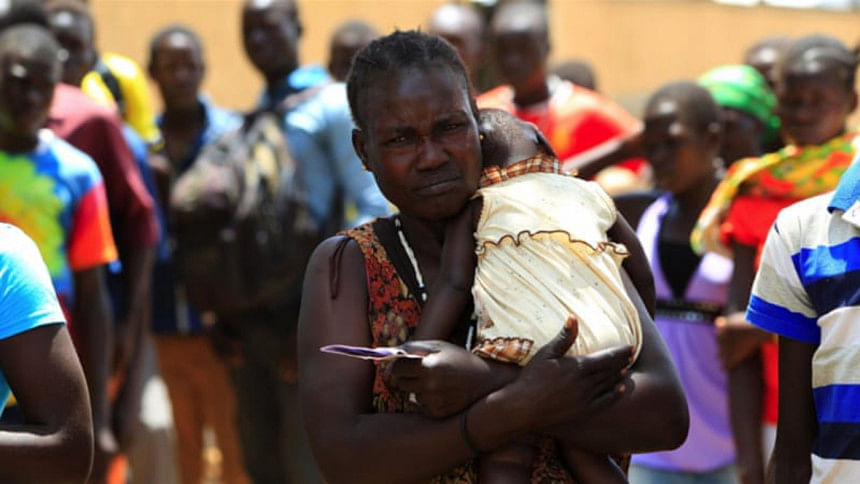 For a moment, imagine yourself being forced out of your country. You are running for your life, leaving everything behind. Imagine the hopelessness of not having enough money to feed and clothe your family, not able to send your children to school for education or send them to a hospital when they are sick. That very thought makes you feel insecure and powerless. According to a report by UNHCR Global Trends 2018, there are around 70.8 million people who have been forcibly displaced worldwide. They are the victims of conflict, war, severe repression, torture and human rights abuses.
Of the 70.8 million forcibly displaced, about 25.9 million are refugees, 41.3 million are internally displaced and 3.5 million are asylum seekers. Among the 25.9 million refugees, over half of them are under the age of 18.  At present, just five countries make up for more than two-thirds of all refugees: Syria (6.7 million); Afghanistan (2.7 million); South Sudan (2.3 million); Myanmar (1.1 million); and Somalia (0.9 million). What is worrying is that majority of these refugees are being hosted by developing countries that are often struggling to meet the needs of their own people and don't have enough resources to support the new-comers. Yet, they welcomed the refugees in the millions.
For example, Uganda is one of the poorest countries in the world, yet it is amongst the largest refugee hosting countries in Africa, with over a million refugees, most of whom have fled militia violence in neighboring South Sudan and Congo. Bangladesh, itself struggling to cope with high levels of poverty and population density, has been hosting Rohingya refugees from Myanmar for nearly three decades. There are more than a million Rohingya refugees in Cox's Bazar now. According to a recent UNHCR report, 10 countries hosting the largest numbers of refugees are all in Asia and Africa, with Turkey being home to the world's largest refugee population—about 2.7 million of its 3.7 million refugees have come from neighboring Syria. Another developing country, Pakistan has been hosting more than a million refugees from Afghanistan for more than 30 years. 
The sad reality is that many of the refugees often live in miserable conditions in "prison-like" camps that lack clean water, food and healthcare. They are not allowed to leave the camp and thus find themselves trapped in squalid conditions, suffering from hunger, disease, and desperation. Children are the worst victims. Many do not have access to education and have never known a life outside the refugee camps. While the host countries are trying their best to support, assist and protect them, the attitude of the rich nations regarding responsibility-sharing and refugee resettlement remains a question.
Media reports suggest that many rich nations have taken on very little responsibility. While many have given millions of dollars to the United Nations to help refugees, most, if not all, have failed to house any of them. Even though western mainstream media regularly shows us pictures of refugees landing on Greek or Italian shores after the dangerous journey across the Mediterranean or refugees from Central America to the United States seeking asylum, the truth is that those who manage to stay are very few, as most of them are pushed back at the border or thrown into detention camps. Marta Foresti, managing director at the Overseas Development Institute says, "It's only when refugees realise they may not be able to get access to basic resources and a decent quality of life in their new host countries that they attempt the often dangerous journey to the West". But it is not as easy as it sounds; many refugees and migrants succumb to death along the way. Many of you might remember the heartbreaking photograph of the dead toddler, Alan Kurdi and his elder brother Galip, whose images made global headlines after their overloaded boat capsized on September 2, 2015 in the Mediterranean Sea, while trying to reach Europe.
The 1951 UN Refugee Convention, later amended in 1967 says, "refugees deserve, as a minimum, the same standards of treatment enjoyed by other foreign nationals in a given country and, in many cases, the same treatment as nationals." But not everyone is so welcoming to refugees, as many rich countries are still treating them as "somebody else's problem". To make matters worse, some rich countries are becoming increasingly hostile towards refugees; rather than offering protection, many have erected new barriers. For example, Hungary has built fences along its borders to keep refugees from passing through. Refugees arriving to Australia by boat are thrown into detention camps on the tiny island republic of Nauru. Gulf States such as Saudi Arabia, Kuwait, Bahrain, Qatar, Oman and the United Arab Emirates have taken extremely low numbers of refugees. While Japan and the United States are amongst the biggest contributors to the UNHCR, both the countries maintain a very strict and rigorous vetting process when it comes to receiving refugees.
The refugee crisis is at an extreme today. Walled borders, sending refugees to detention camps or sealing off the borders, will only make things worse. What we need is for the wealthy nations to understand the present crisis and show more compassion. Former World Bank Group President, Jim Yong Kim rightly said, "The refugee situation around the world is everybody's problem. It's not just a problem for host countries, or just a problem for the refugees—this is everybody's problem." Therefore, there needs to be a paradigm shift in how to deal with the crisis.
In fact, there are a few possible ways to deal with the refugees. First, if only our world leaders could put an end to the wars and conflicts on the planet, which are the root causes behind the refugee crisis; but that is extremely unlikely to happen. Second, voluntary repatriation—if the refugees could go back to their homes; but that too seems like a distant possibility because their homes are no longer homes, as they have been turned into war zones that compelled them to flee in the first place. Third, resettlement programmes for the refugees to a third country—this option will not only give the refugee families new hope and the opportunity to build a better future, but will also ease the burden on the poor and developing nations who are hosting a significant portion of the world's refugees today. Amnesty International believes that a third-country resettlement for the refugees is possible and so do I, provided all high and middle-income countries participate in the resettlement programme and welcome refugees according to their respective economic abilities. Current data shows that the five wealthiest countries including US, China, Japan, UK and Germany, which make up half the global economy, are hosting less than five percent of the world's refugees. And there are several other countries which, despite having strong economic development, have taken in very few refugees.
World leaders often lecture us about global peace, humanity and human rights, empathy, sharing and understanding, but when it is their turn to take responsibility, most, if not all, shy away from their moral and legal duties to welcome more refugees. This needs to change immediately. Given the current circumstances, world leaders must prove that they actually mean what they say, and failure to do so will only prove that they have no moral compass at all.
Abu Afsarul Haider studied economics and business administration at Illinois State University, USA. He is an entrepreneur currently living in Dhaka. Email: [email protected]