Belt and Road a win-win for Bangladesh, China
Standard Chartered Bangladesh CEO says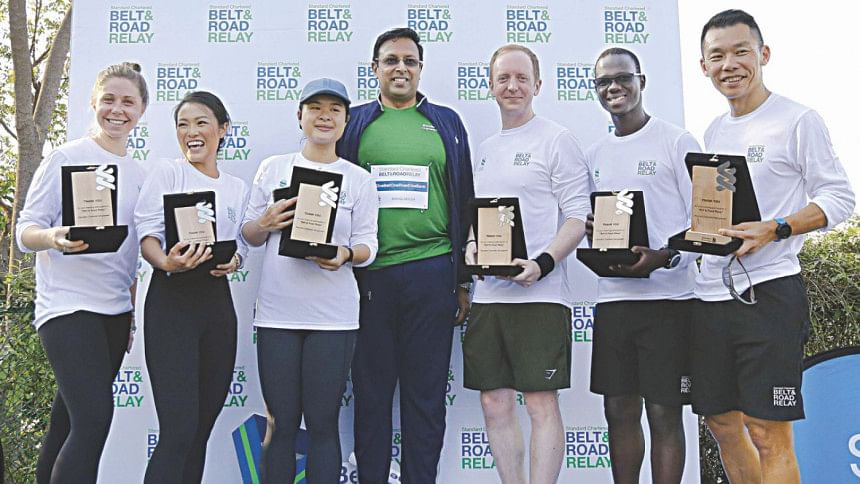 China's Belt and Road Initiative (BRI) could be a boon for Bangladesh as the former is looking to use its surplus capacity and the latter needs funds to bankroll mega infrastructure projects to transform the economy, said a top banker. 
"This is a win-win proposition for both Bangladesh and China," said Naser Ezaz Bijoy, chief executive officer of Standard Chartered Bangladesh (SCB).
But, negotiations and evaluation of the projects are extremely important for making the most of the opening.
"As two sovereign nations are involved here and the primary objective of both will be to protect their own interests, negotiation is extremely important. Otherwise, you can lose," Bijoy told The Daily Star in an interview on Saturday.
On the day, eight staff athletes from the London-headquartered multinational bank took part in a relay in Dhaka to showcase the bank's commitment and highlight the positive impact of the BRI to communities and businesses globally. Officails of Standard Chartered Bangladesh also joined the event. 
The bank has created the Standard Chartered Belt & Road Relay, the first-ever attempted relay along the Belt and Road, run by its employees across 44 markets over the course of 90 days.
The athletes completed the relay in 14 markets before coming to Bangladesh, which was the last stop in ASEAN and South Asia. The next stop for the athletes is Oman.
Bijoy, who became the third Bangladeshi to take over the reins of SCB in November 2017, said the bank is committed to the idea of BRI, a brainchild of Chinese President Xi Jinping.
Launched in 2013, the initiative wants to connect two-thirds of the world's population across 70 countries through a network of land links (the "belt") and sea routes (the "road").
"We actually say 'One Belt One Road One Bank' and the bank is Standard Chartered."
Bijoy has every reason to be gung-ho. 
Standard Chartered has been connecting Asia, Africa, the Middle East and Europe for over 150 years. Its footprint covers two-thirds of the Belt and Road markets.
"With our rich heritage and deep local knowledge, we are ideally placed to help our partners, clients and local communities to make the most of the initiative."
The bank has announced that it will be facilitating an additional financing of at least $20 billion by 2020 and half of the target has already been achieved.
In 2017, the bank was involved in more than 50 Belt and Road deals worth more than $10 billion.
It has dedicated Belt and Road teams located in ASEAN, South Asia, Middle East, Africa and Europe, with more than 40 staff globally assisting its Chinese clients across a wide range of financial needs, according to Bijoy.
Bangladesh's affiliation with the BRI has already started to bear fruits as investment from China has accelerated.
In the past, China's involvement in Bangladesh was largely limited to EPC (engineering, procurement and construction) contractors and the country's investment was less than $1 billion in 2015.
Already, the two countries have signed an agreement for the 1,320-megawatt coal-fired power plant in Payra, Patuakhali involving $2.4 billion, with equal share for both parties. 
A Chinese consortium, comprising the Shenzhen Stock Exchange and the Shanghai Stock Exchange, has bought 25 percent stake of the Dhaka Stock Exchange, becoming its strategic partner -- a move that has brought in roughly $125 million in investment.
Alipay, a concern of China's e-commerce and tech giant Alibaba Group, has bought 20 percent stakes in bKash, Bangladesh's largest mobile financial service provider, in an undisclosed amount of investment.
China is getting involved in many power projects, too.
"If you look at the flights from China and Hong Kong to Bangladesh, you will see they are full and they are full of Chinese investors. There is a lot of interest from China."   
Going forward, more Chinese funds will flow in, Bijoy said, but Bangladesh must evaluate which projects are essential and need to be bankrolled with those funds.
But Bangladesh does need investment to fix its infrastructure and become a middle-income country by 2021 and a developed economy by 2041.
And it has plenty of room to take in external borrowing given its low foreign debt-to-GDP ratio, which is now at 15 percent.
Bijoy went on to dismiss concerns about foreign currency shortage.
"It is not at a concerning level," he said, adding that the country can relieve the pressure by allowing liberalised foreign currency loan. It will help solve the foreign currency pressure as well as lessen pressure on the local currency.
"That doesn't mean you will open a floodgate."
Bangladesh needs to develop the capital market, improve financial transparency further, climb up in the ease of doing business ranking and ramp up exports.
"The capital market will give us a bigger access to liquidity, not only from Bangladesh, but also from abroad."  
The country badly needs to issue sovereign bond as foreign companies are keeping watch on the Bangladesh market, said Bijoy, who holds an MBA from the Institute of Business Administration. The 49-year-old is very bullish about the potential of Bangladesh.
The country is passing through a very good time as its development is increasingly becoming visible.
There is untapped potential. Rural areas are growing faster than urban areas.
Even with the current growth rate, Bangladesh's economy would become a half-a-trillion dollar economy within the next five years, he said. 
"It is prime time for Bangladesh. The country is really transforming. It is very tantalising."
Despite the liquidity and foreign currency pressure throughout 2018, SCB logged its highest ever revenue last year on the back of a number of large transactions and people's renewed confidence in the overall banking sector.
In discussing the cost of funds of SCB, Bijoy credits the bank's business model that has helped the lender to have one of the lowest costs of funds in the country.
"We are very selective about choosing our clients, meaning we go for the best quality clients. But the best quality clients can borrow from any bank. So, we have had to be very competitive to attract them."
Strategy-wise, SCB tries to depend less on fixed deposits. It has two advantages: the cost goes down and a lender can become the clients' main bank if it handles their operating accounts. 
The handling of operating accounts allows a bank to comprehend beforehand if clients face any cash flow problem, said Bijoy, who has been with the British lender for 26 years now in various roles in the Middle East, Asia and Africa.