India sells new season cotton crop to China in rare advance deals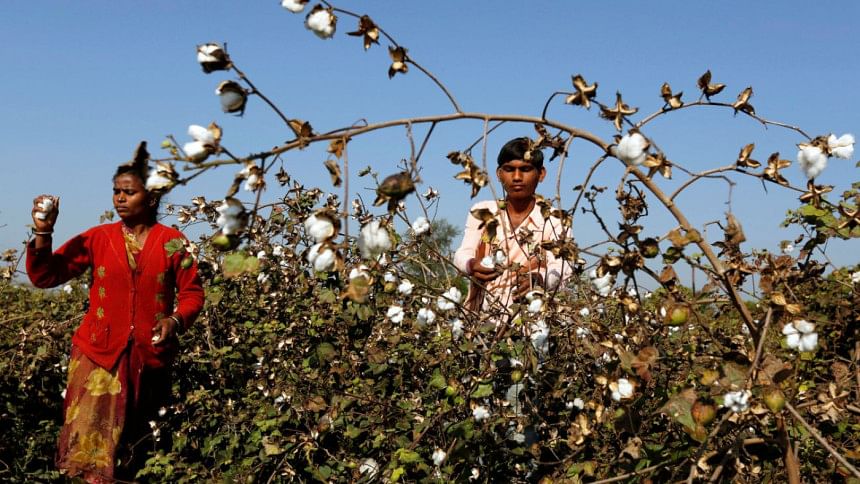 India's cotton exporters have signed contracts to ship 500,000 bales (85,000 tonnes) of their new season harvest to China as the world's biggest consumer of the fibre looks to raise its imports in the next crop year, industry officials told Reuters.
Exporters in India, the world's biggest producer of cotton, usually start selling new season cotton from end-August, after estimating the nation's crop size. But robust demand from China and higher prices have prompted Indian exporters to sign deals in advance, the officials said.
"Chinese demand is very robust. They are ready to book Indian cotton," said Atul Ganatra, president of the Cotton Association of India (CAI).
"But Indian traders don't have a clear idea about the upcoming crop size and prices, so they are hesitant to commit to large amounts," he said.
Most Indian farmers sow cotton with the arrival of monsoon rains in June, and the crop is typically ready for harvesting from the end of September.
Indian cotton was sold at around 86 to 92 cents per pound on a cost and freight basis (C&F) to China, for shipments in November and December, said Chirag Patel, chief executive at Jaydeep Cotton Fibres Pvt Ltd, a leading exporter.
The country could export more than 2 million bales (340,000 tonnes) to China in November and December as Indian cotton is nearly 10 cents a pound cheaper than supplies from other exporters such as the United States and Brazil, Patel said.
China will import 1.4 million tonnes of cotton in the 2018/19 crop year, its agriculture ministry said on Tuesday, raising its forecast from a previous estimate of 1.2 million tonnes due to a poor local crop.
Some traders said China's forecast was too low, with one estimating Chinese imports in the range of 1.5 million to 2.5 million tonnes.
"Everyone thinks prices will go up further, so many deals have been signed," said an Indian trader, who declined to be named.
New York cotton futures were trading near their highest in more than six years due to worries over dry weather in West Texas, a major producing region in top exporter the United States.
India's cotton exports are likely to jump nearly 30 percent from the previous year to a four-year high of 7.5 million bales (1.3 million tonnes) in the 2017/18 crop year, which ends on Sept. 30.
Amid the robust export demand, cotton sowing in India has been delayed by nearly a fortnight in central and southern India due to patchy rainfall, but it is expected to pick up in coming weeks, said Ganatra of CAI.