Huawei plans big for handset sales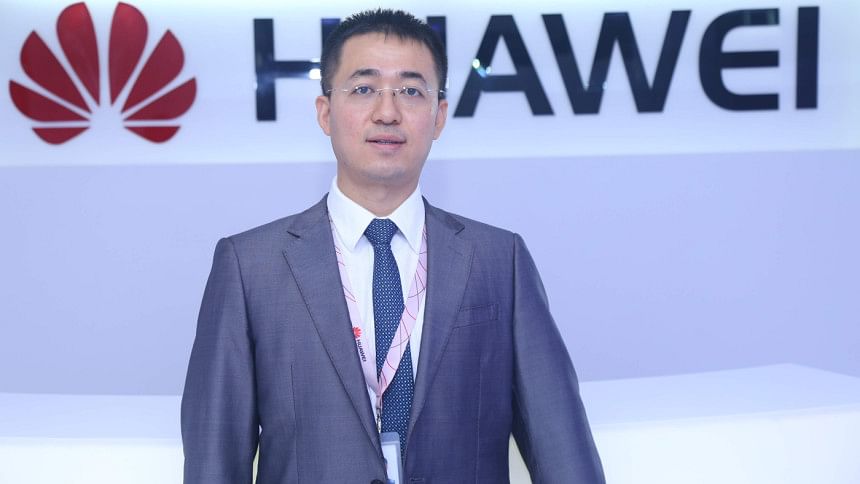 HUAWEI aims to be a vital player in the smartphone market in Bangladesh within a short time.
The Chinese tech giant is a dominant player in mobile technology with a 75 percent share in the Bangladesh market; it wants to be a crucial player in the handset segment as well.
Huawei is currently the fourth largest brand in smartphones in Bangladesh, with a 7 percent market share.
"Our plan is to be the No. 3 player shortly," Colin Shi, chief technology officer of Huawei Technologies Bangladesh, said in an interview with The Daily Star.
Local brands Symphony and Walton, and Korean brand Samsung are currently ahead of Huawei.
Here in Bangladesh, affordability is an important element, compared to other countries. "That's why Huawei will bring more and more low-cost smartphones," Shi said, sharing the company's plans.
Huawei is currently the third largest brand in handsets globally and introduced its smartphones in Bangladesh only a year ago.
"We basically began our smartphone business in Bangladesh last year on a big scale. Earlier, we had a limited focus. So far, we got tremendous success here."
The brand now has a total of 18 models for the Bangladesh market, at a minimum price of Tk 5,000 and a maximum of Tk 50,000, according
to Shi.
Huawei's smartphone sales in Bangladesh rose 133 percent year-on-year in the first half of 2016. The company refused to give further details on sales.
Bangladesh imported 56.3 lakh smartphones in 2015, which will be 79 lakh in 2016, according to Bangladesh Mobile Phone Import Association.
Shi said smartphones now account for around 30 percent of the total market share in Bangladesh and it is growing every year. The market observed robust growth in smartphone sales, especially after the launch of 3G services.
Around five lakh smartphones are sold each month here, with a possibility of reaching eight lakh in the next two to three years, he
estimated.
In the last one year, Huawei opened nearly 200 Huawei brand shops across the country and their smartphone sales points reached around 3,000.
The company also launched a number of flagship handsets such as Mate 8, P8 and P9 in June, which was a great success in both the global market and Bangladesh.
After-sales service is important to getting success here, and that is why they are focusing on it, Shi said. They are providing aftercare through a service centre in Bashundhara City and 40 service points across the country.
Huawei began its Bangladesh chapter in 1998 as a carrier business.
On the quality of service or call drops, Shi said as all the operators are taking most services from them, they also have some responsibility to improve the quality.
"We are taking the issue seriously and bringing network optimisation."
"You can never be fully free from call drops, even in an ideal situation. At the same time, sometimes operators' plans do not work in Dhaka as it is a densely populated city."