Brazil's finance minister replaced amid economic upheaval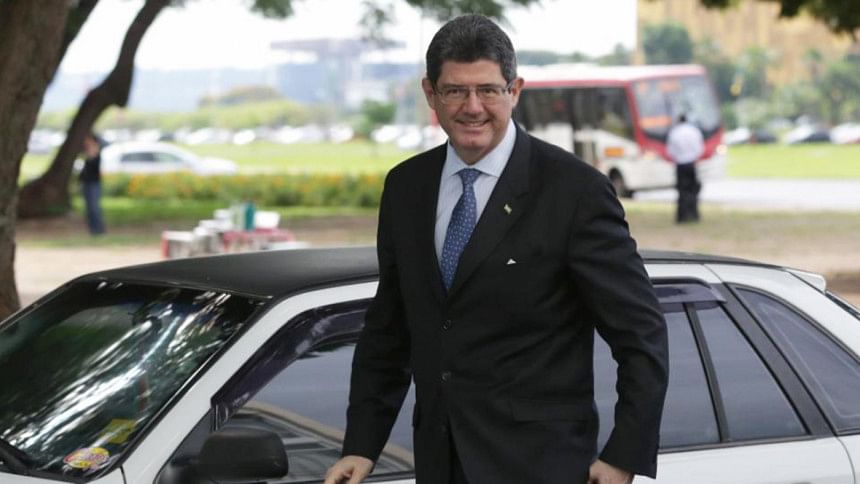 President Dilma Rousseff on Friday replaced Finance Minister Joaquim Levy, a fiscal conservative appointed just over a year ago, with a close ally, Planning Minister Nelson Barbosa, the Brazilian leader's office said in a statement.
The swap comes amid Brazil's worst recession in 25 years, as a mushrooming corruption scandal and political crisis continue to hamper recovery efforts.
Nicknamed "Scissorhands," Levy championed a raft of belt-tightening measures, but few of his proposals made it through Congress. He clashed frequently and publicly with Rousseff, prompting rumors of his impending resignation going back months.

In the brief statement from her office, Rousseff expressed thanks for Levy's dedication and wished him success in his future endeavors, without elaborating.
In a separate statement ahead of the announcement, Levy acknowledged preoccupation about the plight of Brazil, whose economy is expected to contract more than 3.5 percent this year.
"I come to the end of 2015 worrying about the situation of the country, particularly the economy," he wrote. "But I keep great confidence in our economy's ability to recover and its potential to grow."
Levy, a University of Chicago-trained economist and top executive with the Brazilian bank Bradesco, was regarded with suspicion by the more left-leaning members of Rousseff's Workers' Party, who openly opposed his November 2014 appointment.
Levy's replacement, Barbosa, is widely seen as a close ally of Rousseff. He worked under former Finance Minister Guido Mantega before leaving in 2013. Rousseff named him planning minister earlier this year.
At a news conference, Barbosa said his priority would be bringing about fiscal balance.
"The Brazilian government ... has all the instruments to solve the problems we face," he said, adding that tackling rising inflation would be another top goal. "I have complete confidence that Brazil has all it takes to overcome the current difficulties."
Rumors of Levy's departure led to a further downturn in late trading Friday of Brazil's beleaguered currency, which has lost around one-third of its value over the past year. Though the rumors of the job swap swirled all day, the official announcement came after the close of Brazil's stock market.
The change comes on the heels of the decision by the Fitch ratings agency to downgrade Brazil's credit rating to junk status. Another one of the big three ratings agencies, Standard & Poor's, took the same step in August.
Brazil's economic woes have been compounded by the investigation into corruption at the state-run oil giant, Petrobras, which has already snared top businessmen and dozens of lawmakers, including prominent officials from the Workers' Party.
Though Rousseff herself has not been implicated in the scandal, she is fighting off impeachment proceedings recently opened against her in Congress. Rousseff's popularity ratings have hovered in the single digits for months.
Analysts suggested Friday's announcement could further complicate Brazil's already difficult situation.
Alex Agostini, chief-economist at the Sao Paulo-based Austin Ratings, said Levy's departure marked "the end of a very unpopular soap opera."
"Levy was appointed to bring credibility back," Agostini said. "But Rousseff was not happy about cutting spending, so he was overruled many times. To make it worse, Rousseff doesn't have enough support in Congress to pass anything, which has affected Levy's plan. So the market stopped believing that he would have the strength to make things work."
In an emailed research note, Neal Shearing, an economist with Capital Economics, said Levy's departure "comes as no surprise."
"Nonetheless, the growing sense of dysfunction at the heart of Brazil's government will unsettle markets," the note said, adding that little is likely to improve with Barbosa's appointment. "Stepping back, the key point in all of this is that any Finance Minister would struggle to get meaningful fiscal consolidation measures through a Congress."