Focus on export markets left behind by China
ADB chief economist praises Bangladesh for its robust economic growth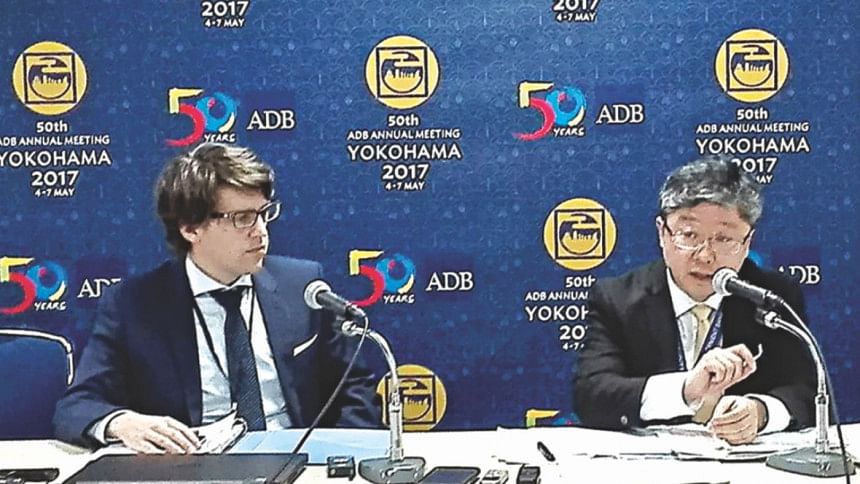 Bangladesh should seize the opportunities that China is creating by slowly retreating from the export markets, said Yasuyuki Sawada, chief economist of the Asian Development Bank, yesterday.
"China's manufacturing shift towards high-end products is a great opportunity for Bangladesh and Vietnam to tap into," Sawada said at a press briefing on the occasion of the ADB's 50th anniversary.
Sawada, also a director general of the ADB, said China commands 60 percent of the Asian gross domestic product and the country is rebalancing its external demand-driven economy into an internal demand-oriented one.
"Japan did it in the past and China is now doing it. So it's high time Bangladesh seized the opportunity to take a pie of huge export markets in Asia and beyond."
The ADB chief economist went on to praise Bangladesh for the robust economic growth it has clocked in over the past decade in spite of the Rana Plaza collapse, one of the worst industrial disasters the world has ever seen, and political turmoil.
The country logged in 7.1 percent GDP growth last fiscal year.
Sawada said the ADB is looking forward to working more with Bangladesh, particularly in areas of infrastructure and energy.
Over 5,000 delegates from 67 member states and non-member institutions are converging on the Japanese port city of Yokohama to celebrate the Manila-based multilateral lender's golden jubilee from May 4 to 7.
Operating under the theme of "Building Together the Prosperity of Asia", this year's meeting will focus on the region's growing need for infrastructure as a critical sector towards achieving sustainable and inclusive development.
In response to a question on the rise of a China-led competing bank in Asia, the Asian Infrastructure Investment Bank, Sawada said: "In AIIB we see a partner of ADB. ADB is already co-financing with the AIIB in Bangladesh, Pakistan and Georgia."
Asia needs infrastructure investment amounting to $26 trillion over the next 15 years, he added.
Key sessions will discuss salient issues central to development, including rising inequality, macroeconomic stability, progress on the Sustainable Development Goals, and financial inclusion.
The role of the private sector in supporting development programmes in Asia and the Pacific will also be highlighted in seminars focused on public-private partnerships and co-financing.
Discussions on how to address urban challenges and strive for clean and climate-resilient development will also be held.
Established in 1966, the ADB is dedicated to reducing poverty in Asia and the Pacific through inclusive economic growth, environmentally sustainable growth, and regional integration.
It is owned by 67 members, 48 of which are from the region.
In 2016, the ADB provided $31.7 billion in loans, including $14 billion in co-financing.