Financial reporting act to bring transparency
Says chairman of the newly-formed Financial Reporting Council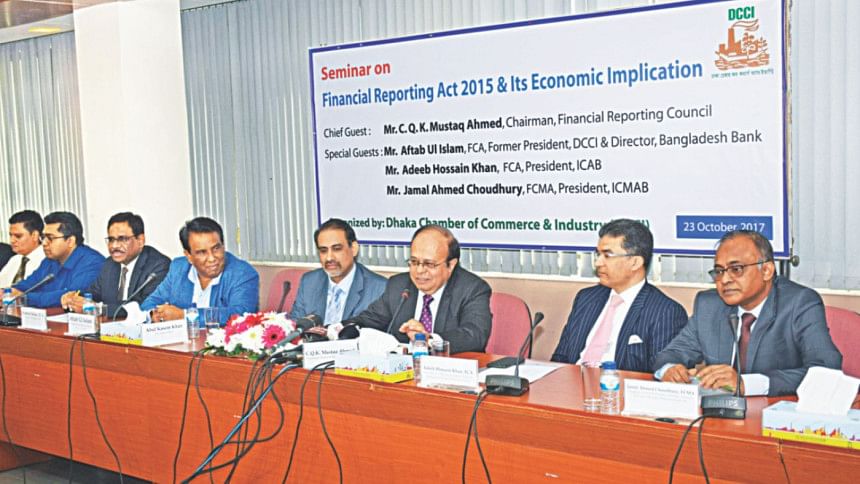 Chairman of the newly-formed Financial Reporting Council yesterday assured businesses not to be concerned about the new act as it will help the country bring in transparency in firms' auditing and accounting standards.
"There is nothing to be worried about the FRC. It will coordinate more rather than regulate," said CQK Mustaq Ahmed, chairman of FRC, at a seminar styled "Financial Reporting Act 2015 and its economic implication", organised by the Dhaka Chamber of Commerce and Industry at its office in the capital yesterday.
Bangladesh has enacted the financial reporting act in 2015 in a bid to establish transparency in accounting and auditing of firms, especially those listed on the stock exchanges.
Roughly, there are 1.5 lakh companies in Bangladesh, of which about 300 companies are listed.
There were questions about the accounting standards as many companies got listed on the bourses showing high earnings per share, which declined in the preceding months and years making investors disheartened.
Investors blamed auditors and accountants for setting artificial EPS for those firms to lure investors into buying their shares.
Ahmed said there are many regulations in the country but their proper implementation is crucial.
"To achieve the middle-income country status, we need to avoid the bad practice of bankruptcy," the FRC chairman said.
There will be representation from the business community for proper functioning of the council, he added.
DCCI President Abul Kasem Khan said the act has been enacted to ensure transparency and accountability in the accounting and auditing profession.
Adequate resource allocation and availability of experts in the area of audit and other tools are needed for proper functioning of the council, he added.
Aftab Ul Islam, former president of DCCI and a director of the Bangladesh Bank, said transparent auditing is necessary for reliable investment.
Adeeb Hossain Khan, president of the Institute of Chartered Accountants of Bangladesh, said accountancy in Bangladesh is now of international standards.
Jamal Ahmed Choudhury, president of the Institute of Cost and Management Accountants of Bangladesh, said the main focus of FRC is to monitor the auditors, but it should be consistent with the other financial regulatory policies.
The financial reporting act originated in the US 20 years back. At present, the act is present in 51 countries.
Businessmen, accountants, tax lawyers and academicians also spoke on the occasion.