Export of agro-processed foods to hit $1b by 2021
BAPA FoodPro International Expo begins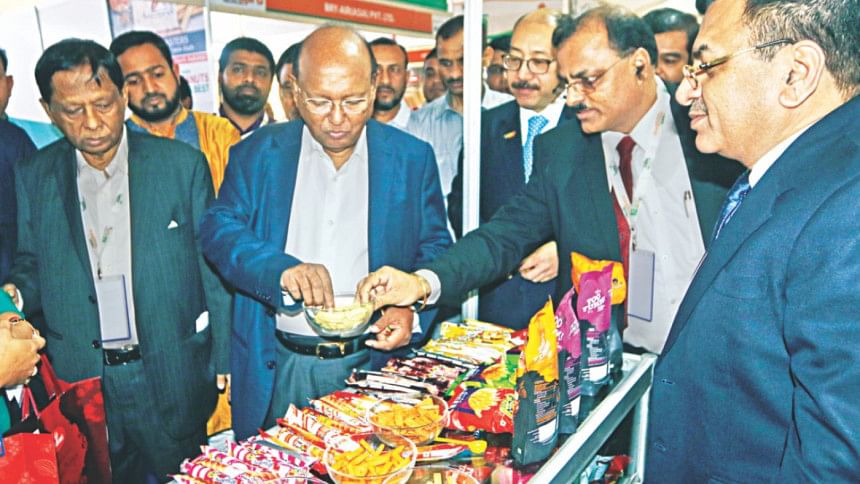 Bangladesh's export of agro-processed foods may cross $1 billion in the next three years and the country has a bright prospect in the sector, a platform of agro-processors said yesterday.
"We can increase our export receipts from agro-processed foods if we are provided with adequate policy support," said AFM Fakhrul Islam Munshi, president of Bangladesh Agro-Processors' Association (BAPA).
The BAPA consists of 479 members, who ship around $500 million worth of products every year to 144 countries, the association said in a statement.
Munshi shared the info at the opening of a three-day fair titled "Sixth BAPA FoodPro International Expo 2018" at Bangabandhu International Conference Centre in the capital.
The association and Extreme Exhibition & Event Solution Ltd have jointly organised the show where machinery for agro- and food-processing are being displayed to familiarise local food processors with modern technologies.
A total of 188 companies from home and abroad are participating in the show that will remain open to visitors from 11am to 7pm, according to the statement.
Bangladesh exported agricultural products worth $12 million in 2005-06 and export earnings from such items will exceed or hit $2 billion by 2021, Commerce Minister Tofail Ahmed said at the event.
He suggested entrepreneurs tap the duty-free export benefit extended by India to Bangladesh for almost all the goods.
The minister said the government provides 20 percent incentive to encourage shipment of agricultural products, including agro-processed foods.
Harsh Vardhan Shringla, Indian high commissioner to Bangladesh, said there is potential for cooperation in agro-processing between the two neighbours.
"The key word is cooperation, not competition," he said, adding that Indian companies could supply machinery for the agro-processing sector and Bangladesh firms can cater to the huge Indian market.
Bangladesh's export to India is rising, said Shringla, adding that India accepts 21 products certified by Bangladesh Standards and Testing Institution.
Benoit Prefontaine, high commissioner of Canada to Bangladesh, said there is a bright prospect for food processing in Bangladesh. 
Manmohan Parkash, country director of the Asian Development Bank, said agro-processing can raise food growers' income and reduce huge post-harvest losses.
People can set up small and medium enterprises across the country and give a boost to the rural economy, he said.
He said Bangladesh needs more people with appropriate technical skills and deep knowledge of modern agro-processing practices.
He suggested making investment in research and development, adoption of latest technologies to ensure quality and make the sector competitive and pouring money in food safety, packaging and marketing to win global markets.
Parkash recommended establishment of refrigerated warehouses and fast transportation systems for perishables.
"The government may wish to set up a start-up fund to promote new ideas in the agriculture sector which can provide seed capital and mentor young entrepreneurs," he said. Pran-RFL Group Chairman and CEO Ahsan Khan Chowdhury also spoke.