Stocks snap losing streak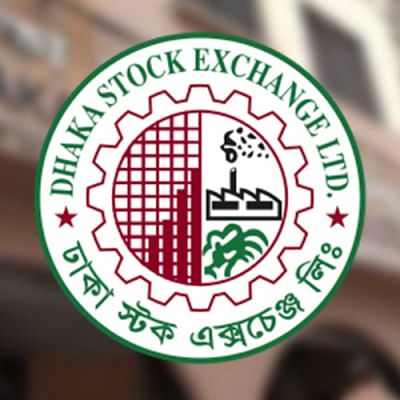 Shares on the Dhaka Stock Exchange ended marginally higher yesterday, breaking a three-day losing streak.
The DSEX, the benchmark index of the premier bourse in Bangladesh, rose 6 points, or 0.09 per cent, to close at 6,317.
The DSES Index, which represents the Shariah-based companies, was up 0.18 per cent to 1,381. The DS30 Index, which consists of the blue-chip firms, however, slipped 0.06 per cent, to 2293.
Turnover declined 4.27 per cent to Tk 694 crore compared to the previous session.
Of the securities, 193 advanced, 123 declined and 66 were unchanged.
Meghna Pet Industries gained the most with a 9.96 per cent rise. Information Services Network, Imam Button Industries, Meghna Condensed Milk Industries, Meghna Insurance, Bangladesh Welding Electrodes and Sonali Paper & Board Mills also advanced significantly.
Bangladesh National Insurance Company lost the most at 1.99 per cent. KDS Accessories, Rangpur Dairy & Food Products, CVO Petrochemical Refinery, GSP Finance Company, and Progressive Life Insurance saw major declines.
"The Dhaka stocks inched up amid cautious trading," said International Leasing Securities Ltd in its daily market review.
It said the investors were concerned due to the deteriorating exchange rates, the rising inflation and the flood in the northeastern region of the country. Some investors preferred to book profit while others took the opportunity of buying stocks at lucrative prices.
The Chittagong Stock Exchange also rose.
The CASPI, the all-share price index of the bourse in the port city, added 11.19 points, 0.06 per cent, to end at 18,602.
Of the securities, 112 were up, 118 were down and 47 did not see any price movement. Turnover, however, plummeted 32 per cent to Tk 38.27 crore compared to Tuesday's Tk 56.27 crore.