A stellar month for stocks
DSE shatters records across the board in August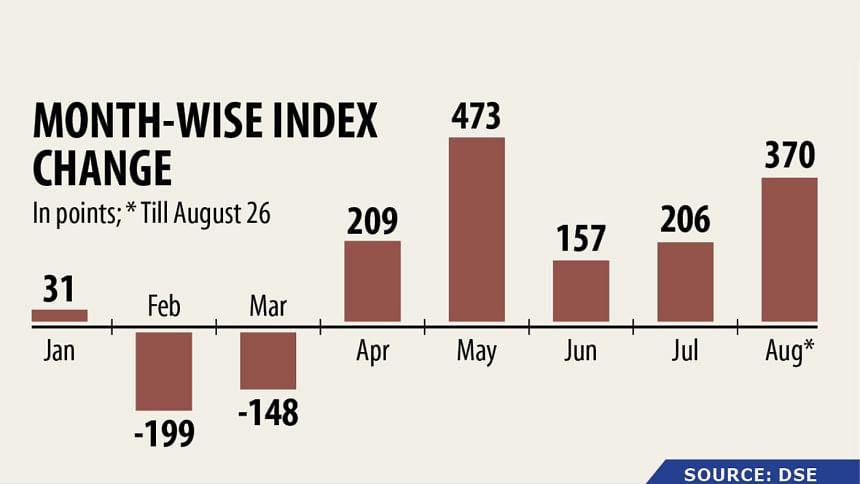 August was a record-breaking month for the Dhaka Stock Exchange (DSE) as all major market indexes and measures, including market capitalisation, reached historical highs.
The DSEX, the benchmark index of the country's premier bourse, recently touched 6,884 points, the highest since its inception in 2013. Similarly, the blue-chip index, DS-30, and shariah index, DSES, hit a record high of 2,463 and 1,494 points respectively.
Market capitalisation at the DSE stood at Tk 559,189 crore last Wednesday, the highest since the local stock market opened in 1956.
The Dhaka bourse also registered a record high number of trades at 4.21 lakh in the month as well as the highest trade volume of 101 crore shares at the same time.
"All these records were broken in the same month as people now prefer investing in the stock market rather than keep their funds with low interest paying banks," said a stockbroker preferring anonymity.
As a result, investor participation also reached a high point as seen during the market boom in 2010, he added.
The country's premier bourse logged turnover of over Tk 2,000 crore everyday in August, which only happened once before in November 2010, according to DSE data.
The upward trend of investor participation started in April, when the indexes first started to rise, the broker said.
"As the market is rising, some new general investors also came to the market so the index continued to rise for the last five months," he added.
The index surged 370 points in August, which is the second highest monthly rise in the current year. Earlier, it skyrocketed 473 points in May, DSE data showed.
However, the index rose without witnessing any correction in the last five months, so investors should get ready for corrections, the broker said.
A merchant banker said there are many reasons for the rising stock market, such as low interest rate in banks, higher confidence on the present commission of the stock market regulator, and sustained lower price of stocks.
But despite all these factors, some companies are actually overvalued so investors need to be cautious, he said. For example, some insurance stocks and low paid-up capital-based companies are mostly overvalued in the market.
"However, there are still some stocks where people can invest in," he added.