Dhaka stocks slip for fourth session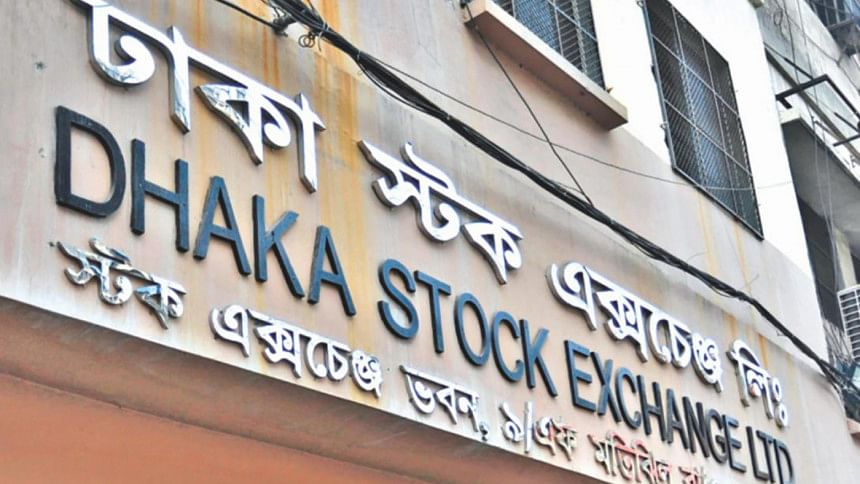 Shares on the Dhaka Stock Exchange (DSE) fell for the fourth consecutive session today.
The DSEX, the benchmark index of the premier bourse in Bangladesh, closed at 6,205, down 13 points, or 0.21 per cent.
The DS30, the blue-chip index, slipped 0.01 per cent to 2,221 while the DSES, the Shariah-compliant index, dropped 0.24 per cent to 1,355.
Only seven companies advanced whereas 150 fell and 154 did not see any change.
Asia Pacific General Insurance posted the sharpest gain on the day, rising 5.35 per cent.
National Tea Company was up 1.45 per cent, Islami Insurance Bangladesh rose 1.02 per cent, and Sea Pearl Beach Resort & Spa was up 0.95 per cent.
Olympic Industries, Hwa Well Textiles, Islami Bank Bangladesh Ltd, Berger Paints Bangladesh and Bangladesh Lamps also rose. 
Turnover, one of the key indicators of the market, fell to Tk 222.99 crore, the lowest since January 3 when it stood at Tk 198.9 crore. 
Metro Spinning suffered the sharpest fall, giving up 6.97 per cent.
Al-Haj Textile Mills lost 6.04 per cent, Pragati Life Insurance was down 5.51 per cent, Genex Infosys declined 4.42 per cent, and Bangladesh General Insurance Company retreated 4.17 per cent.
National Bank was the most-traded stock on the day. Bangladesh Shipping Corporation, Shinepukur Ceramics, Genex Infosys and Intraco Refueling Station also saw significant trading.