Stock market during last fiscal year: Indices moving nowhere for floor price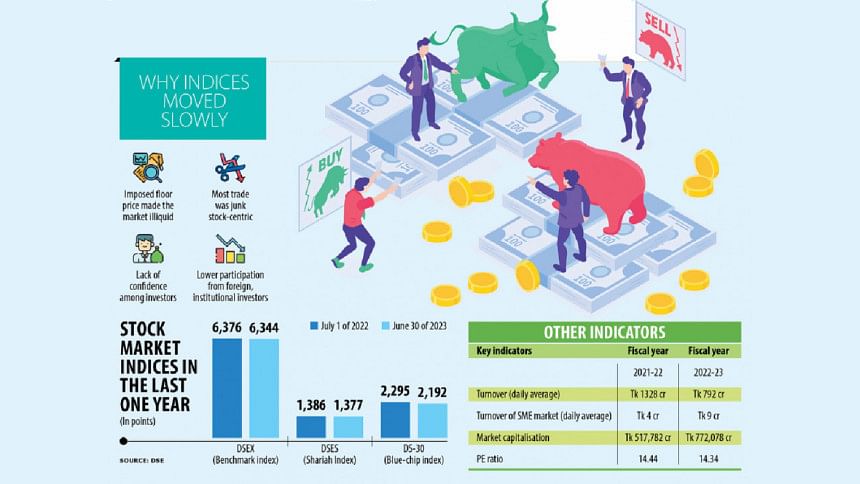 The main index of the stock market in Bangladesh remained relatively unchanged over the past fiscal year as most scrips were stuck at their floor price, according to market analysts.
The DSEX, the benchmark index of the Dhaka Stock Exchange (DSE), fell by a total of 16 points, or 0.52 per cent, from July 1 of 2022 to June 30 this year.
This shows that even though the index registered multiple ups and downs to range from 6,600 and 5,980 points throughout the year, most of its time was spent hanging around the 6,200-mark.
A top official of a leading merchant bank, preferring anonymity, said the floor price mechanism kept stocks from rising as it dented investor confidence by artificially preventing share values from falling past a certain point.
At the end of July 2022, the Bangladesh Securities and Exchange Commission set floor prices for every stock to halt the freefall of market indices amid global economic uncertainties.
The floor price of each share was decided by averaging their closing price on July 28 that year with the preceding four trading days.
But later in December, the stock market regulator lifted the mechanism for 169 companies in order to bring vibrancy to the market. Then in March 2023, floor prices were again reintroduced for all stocks.
The official also said some general investors do not realise how floor prices are hampering the market even though the mechanism has turned it into a "regulated stock market" rather than a "free" one.
On the other hand, foreign, institutional and corporate investors understood that this stock market is not ideal for investment as it is illiquid, the official added.
Mohammad Jakir Hussain, a stock investor, said he failed to make any profit after floor prices were imposed as no one wants to buy any of his shares.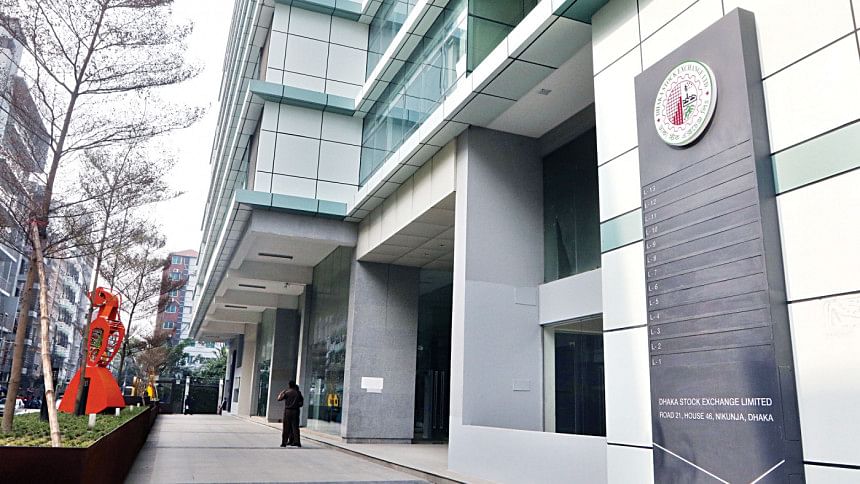 This is because most investors believe that having floor prices in place means that stock values are being artificially maintained, even in the case of well-performing stocks.
Hussain also said that people like him invest in the stock market despite the risks involved in hopes of securing high profits.
"But the stock market has given me nothing," Hussain said while pointing out that he could have at least earned some interest by depositing his funds in a bank instead.
"Moreover, I cannot even sell the shares and withdraw the funds if urgently needed, which is not expected from a stock market," added Hussain, who works for a private pharmaceutical company.
Daily average turnover of the DSE plunged 40 per cent to Tk 792 crore over the last fiscal while it was Tk 1,328 crore the year prior.
And although the turnover dropped, it does not reflect the actual market scenario as most trading was conducted in the block market, according to a top stockbroker.
The block market is a platform where a large number of stocks are traded in single transactions at negotiated prices without affecting the index.
Meanwhile, a huge amount of trade took place among low performing or junk stocks mainly based on rumours, the stockbroker said.
However, most blue-chip and well-performing stocks are still stuck at their floor price.
So, even though a few investors traded good stocks, they are not able to sell the shares and their investments are stuck, the stockbroker added.
During the fiscal year, secondary trading of treasury bonds was launched in the stock exchanges so that general investors can also invest in the securities.
But the platform is yet to attract investors and so, market capitalisation soared with the inclusion of treasury bonds while trading in the alternative trading board remains pale.
Market capitalisation of the DSE ballooned 49 per cent to Tk 772,078 crore in fiscal year 2022-23.
Total turnover of the alternative trading board has stood at Tk 63 crore since its inception in January earlier this year.