Worker shortage a new challenge for RMG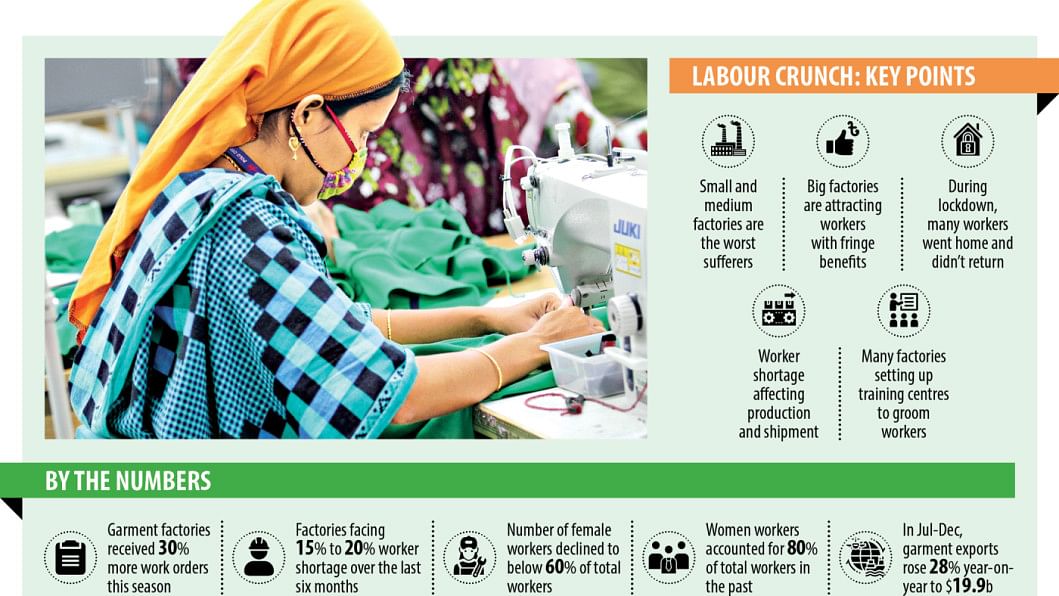 Fakir Apparels Ltd (FAL) appointed 400 new workers last month after training them for three months at its training centre as the Narayanganj-based garment factory has received 25 per cent more work orders this season compared to the last season.
The factory has established a separate training centre to turn fresh workers into sewing machine operators to meet the emergency need of workers. Moreover, it is offering increased fringe benefits to retain them.
"We can train 200 workers in a batch every three months and we have continued to produce more skilled workers," said Bakhtiar Uddin Ahmed, chief operating officer of FAL.
Still, the factory faces a shortage of more than 10 per cent workers to ensure optimum production.
Like FAL, almost all garment factories in Bangladesh, especially, the small and medium-sized ones, are suffering from an acute shortage of skilled labourers as the industry is recovering from the severe fallouts of Covid-19 on the back of a higher flow of orders from international retailers and brands as economies reopened.
Industry people say they are incurring production losses and missing shipments due to a 15 to 20 per cent shortage of workers.
This means the labour crunch may hit the recovery of the garment sector, which accounts for about 85 per cent of the national export receipts. 
They attributed the shortage of workers, especially the skilled labourers, to the sudden rise in demand and massive expansion of production capacity in the apparel industry.
Besides, many workers have not returned after they went home following the outbreak of Covid-19 in Bangladesh in March 2020.
Base Fashions Ltd, which employs 1,000 workers, is now facing at least 10 per cent worker shortage as many labourers either did not return to the factory after it reopened following the national lockdown in 2020 or switched to other factories and sectors.
"Sometimes, we have to pay more fringe benefits to retain them in times of crisis," said Md Ehterab Hossain, managing director of the company.
Ahmed F Rahman, managing director of Kappa Fashions, says he is under a lot of pressure from international retailers and brands and he is running the factory with only 500 workers.
"Sometimes, we can't confirm orders due to the shortage of workers."
Both Anwar Ul Alam Chowdhury, managing director of Evince Group, and AK Azad, chairman and chief executive officer of Ha-Meem Group, said there are at least 8 per cent worker shortage at their factories. 
The capital machinery import rose by nearly 70 per cent in the last four months which indicates expansion, said Azad, whose factories employ 65,000 workers.
Although large industrial units can afford workers by paying various allowances, apart from the monthly salary, the SMEs are in a tight spot because of the financial hardship brought on by the pandemic.
Shahadat Hossain Kiron, chairman of Dekko Legacy Group, which employs 14,500 workers in the garment segment, says the production and shipment are being affected due to the scarcity of workers.
A 7-per cent shortage in workers has forced Kiron to launch a lean manufacturing system to cut the number of workers needed to run operations under the line manufacturing system.
Towhidur Rahman, president of the Bangladesh Apparel Workers Federation, and Nazma Akter, president of the Sammilito Garment Sramik Federation, agree that the shortage of garment workers ranges from 15 per cent to 20 per cent.
Faruque Hassan, president of the Bangladesh Garment Manufacturers & Exporters Association, echoed them.
Even a few years ago, the ratio of female workers in the industry was around 80 per cent, but it has declined to 57 per cent, Towhidur added.
Khondaker Golam Moazzem, research director of the Centre for Policy Dialogue, said a short-term crisis of skilled workers has been created in the garment industry because of a significant rise in export orders with the recovery of the global supply chain.
Now, many factories are running at nearly 90 per cent capacity as orders are aplenty. Usually, they run at 60 per cent of the capacity or even below, the economist said.
As a result, garment exports grew 28.02 per cent year-on-year to $19.90 billion between July and December.
However, the higher flow of orders might not be a long-term phenomenon and it may return to the usual level if normalcy restores in the global apparel supply chain.
"But, if the high flow of orders keeps its momentum, factory owners may have to choose more automation to raise productivity and ship goods on time," said Moazzem.