'Unlimited' monthly package has daily data usage limit; 'without expiry' valid for 1 year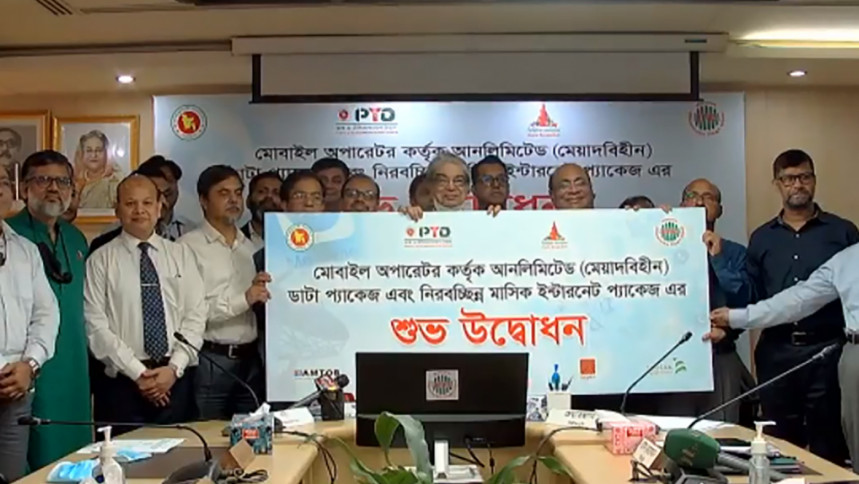 Telecom operators yesterday rolled out a much-hyped "unlimited" and "without expiry" internet data packs, which apparently will come to little benefit to users.
This is because the "unlimited" monthly data package actually has a daily data usage limit while the data "without expiry" in reality means it has a validity of one year.
For instance, the data of the "without expiry" package will not be usable after one year of purchase. Bangladesh Telecommunication Regulatory Commission (BTRC) said the validity of data was kept one year due to technical reasons.
In this category, GP offered two packages. One is of 15GB internet data at a whopping Tk 1,099 and the other of 5GB at Tk 449. Robi offered 10GB at Tk 319, Banglalink 5GB at Tk 306 and Teletalk 26GB at Tk 309 and 6GB at Tk 127.
In the "unlimited" monthly data category, only GP offered two packages. But both come with daily data usage limitations.
One costs Tk 399 and allows a daily usage of up to 1GB and the other Tk 649 with a daily usage of up to 2GB.
The other three operators said they would offer such packages within next month.
Telecom Minister Mustafa Jabbar inaugurated the new packages at an event at the BTRC.
The BTRC has taken the initiative on the minister's directive to give customers some sort of relief as one of the major inconveniences for many customers is that they can not consume all the data for which they have paid for due to time limits.
"If the restrictions on the use of the internet are removed, the customers get the freedom of the use. People's freedom to use the internet should be given utmost importance," said Jabbar.
"Not just service expansion, the quality of service of the operators should be improved. People are not satisfied with their current service," he said.
BTRC Chairman Shyam Sunder Sikder said the commission has never been in favour of operators and would never be.
"Ensuring peoples' rights is the highest priority of the BTRC. The BTRC is not satisfied with mobile phone operators, rather annoyed," he said.
"From now on, if the quality of service is not up to the mark, the operators will be fined," he said.
However, the prices of these packages are higher than that in neighboring India.
For example, a customer of JIO, the top mobile network operator in India, can avail 2 GB of internet data every day for a month paying Rs 299. On top of that, they also get free voice calls and SMS.
But such comparisons do not wholly do justice, especially due to the fact that the telecom industry faces a substantially high rate of taxation in Bangladesh.
For every Tk 100 mobile top-up, the government claims Tk 54 in different taxes.
In contrast, India charges around Tk 32 in different forms of taxes, said Mohammed Shahedul Alam, Robi's chief corporate and regulatory officer, citing the data of GSMA.
"Besides, there is no tax on SIM sales in India, whereas it is Tk 200 in Bangladesh. And India's operators can develop their optical fibre network and run other infrastructural development, which is restricted for the operators in Bangladesh," he said.
He said operators in India also can sell phones locked to their services, which helps them generate more revenue.
"These restrictions and high taxation are the main obstacles to delivering quality service and low-priced packages," he added.
Customers are not satisfied with the prices of the packages.
Jahidul Islam, a mobile phone user, said charging around Tk 1,100 for 15GB with a year's validity was exorbitant.
"Besides, there is no logic to offer 5GB for a year in a package," he added.
A mobile internet subscriber on an average used 4.3GB per month in the last quarter of 2021, according to the BTRC.
Abu Saeed Khan, a senior policy fellow at LIRNEasia, said Grameenphone can not offer low prices due to restrictions imposed on it by the BTRC for being an operator with significant market power (SMP).
"It is high time to remove the restrictions…to foster increased competition. It is pointless to maintain SMP status on Grameenphone anymore as it is not serving the interest of consumers," he said.
Md Nasim Parvez, director general of the Systems and Services Division at the BTRC, said the telecom operators would not be able to provide internet prices in line with the broadband internet service providers due to some technical reasons which increase product development costs.
In contrast to broadband internet service providers, mobile operators additionally have to use spectrum, develop or rent towers and cannot share bandwidth. "So we all have to understand this matter," he said.
He said the operators would offer more packages in the coming months and if customers were not satisfied with the pricing, they can avail regular internet packages.
Subrata Roy Maitra, vice-chairman of the BTRC, also spoke.