Transit deal with Bhutan edges closer to reality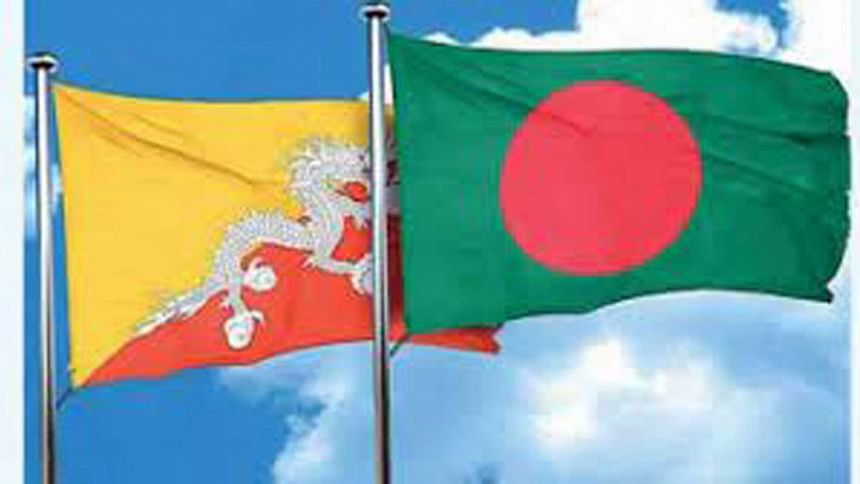 A transit agreement between Bangladesh and Bhutan was finalised yesterday with senior officials of both countries agreeing to draft terms and conditions at a secretary level meeting in Dhaka. 
The final draft will be sent to the law ministries of the respective countries for vetting and later validated copies will also need to be approved by the cabinet ministers of both countries.
"The transit agreement and related draft protocol to the transit agreement between Bangladesh and Bhutan have been finalised. After completion of internal approvals, the documents will be signed by both sides at the earliest," Senior Commerce Secretary Tapan Kanti Ghosh told The Daily Star over WhatsApp.
Dasho Karma Tshering, secretary to the Ministry of Economic Affairs, led the Bhutanese side in the meeting.
Under the agreement, Bhutan will be allowed to use the Mongla seaport and Banglabandha and Sonarhaat land ports on traversing over Indian land based on some terms and conditions, said Ghosh, who headed the Bangladesh delegation in the negotiations.
Bangladesh will impose a transit fee on Bhutanese vehicles for using the ports as per standard practices, said Md Abdus Samad Al Azad, joint secretary to the commerce ministry, after the meeting.
However, Azad did not exactly state what the fee would amount to.
Earlier, Bhutan wanted Bangladesh to make a 2017 transit route deal functional soon so that the landlocked country could use Mongla and Banglabandha ports to carry goods from and to Bangladesh through India.
Bangladesh signed its first preferential trade agreement (PTA) with Bhutan as a goodwill gesture as the landlocked country was the first nation in the world to recognise Bangladesh's independence on December 6 in 1971.
Under the PTA, some 100 Bangladeshi goods will be enjoying preferential duty benefits on export to Bhutan while some 34 Bhutanese goods will enjoy the same when entering Bangladesh.
In fiscal year 2018-19, Bangladesh exported goods worth $7.56 million and imported goods worth $42.09 million, according to data from the commerce ministry.
The goods from Bangladesh would include garment items, fruit juices, particle boards, potatoes, cement, biscuits, cosmetics, sugar, jute or coconut fibre carpets, footwears, corrugated iron sheets, iron rods, cables and dried fish.
Some of the major goods of Bhutan that will be eligible for the benefit are milk, natural honey, cement clinker, soap, mineral water, portland cement, ferrosilicon, wheat bran, boulder stone, dolomite, gypsum, calcium carbonate, apples, pears, cabbage, cauliflowers, orange, potato seed, dried chilli and cardamom.