Traders flee shops during DNCRP drive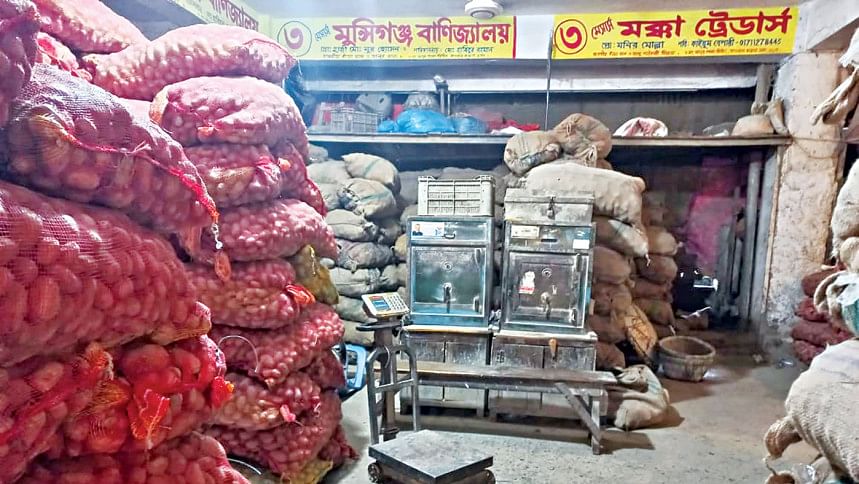 The officials of the Directorate of National Consumers' Right Protection (DNCRP) did not find any trader in many shops during their drive at Karwan Bazar yesterday afternoon.
The DNCRP went to the capital's largest kitchen market to check whether eggs, potatoes and onions are sold at rates fixed by the government.
This correspondent did not find any sales representative, trader or worker in 22 shops during the raid at around 1.30 pm.
In a first, the government on September 14 fixed the prices of eggs, onions and potatoes in its bid to contain the runaway food inflation, which hit a 12-year high last month.
Then the DNCRP launched a drive to monitor prices in the country.
Asif Al Azad, assistant director of the DNCRP's Dhaka divisional office, and Abdul Jabbar Mondol of the Dhaka district office, conducted the drive yesterday.
"Traders somehow came to know that we were conducting a drive. They left their shops before our arrival. They might return once we leave," Mondol said.
"We came to the market not only to impose fines. We also wanted to exchange views with the traders to stabilise the market situation. But they are not cooperating with us."
The DNCRP officials will discuss the issues with the market committee members, he said.
Yesterday, the DNCRP fined two traders Tk 11,000 for selling garlic, ginger and potato at higher than government-fixed rates and for showcasing older price list of products.
Across the country, the DNCRP conducted drives in 73 markets at 48 districts and fined 131 trading houses Tk 7.5 lakh in total yesterday.