Trade in rupee to save at least Tk 1 per dollar: EBL CEO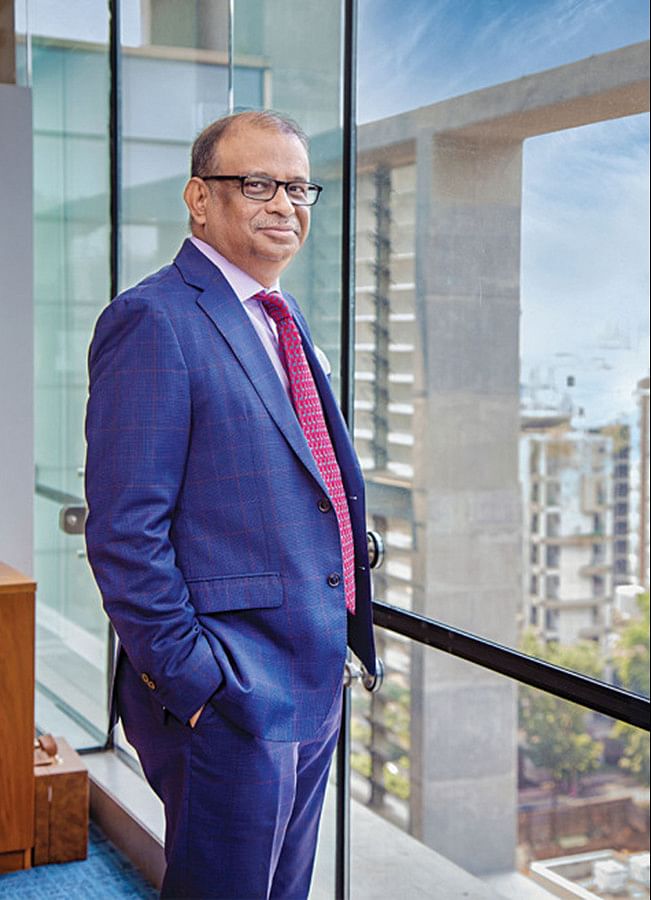 Trade settlement in rupee between India and Bangladesh would reduce pressure on US dollars and save at least Tk 1 on the exchange cost of each greenback, said Ali Reza Iftekhar, managing director and CEO of Eastern Bank Ltd (EBL).
He shared this information as the two countries are set to launch trade in the Indian rupee (INR) in an effort to cut dependence on the US dollar and reduce pressure on the foreign exchange reserves.
Bangladesh's foreign exchange reserve, which was $41.8 billion a year ago, stood at $29.97 billion on July 6 as its payments for import bills continued to outpace receipts from exports and remittance.
The use of the INR in India-Bangladesh trade provides a convenient and cost-effective mechanism for conducting cross-border transactions, says Ali Reza Iftekhar, managing director and CEO of Eastern Bank Ltd
BDT lost value significantly over the last one-and-a-half years and the deprecation continues.
With this backdrop and demands from some chambers, Bangladesh Bank earlier allowed EBL and Sonali Bank to open "vostro accounts" with the State Bank of India (SBI) and ICIC Bank in India to facilitate trading in INR.
Later, the Reserve Bank of India also gave permission to facilitate trade in INR between the two neighbouring countries that trade around $16 billion yearly.
Bangladesh's exports account for nearly $2 billion of this amount while imports make up the rest, as per official data.
Iftekhar said India is Bangladesh's second largest trading partner globally.
"The use of the INR in India-Bangladesh trade provides a convenient and cost-effective mechanism for conducting cross-border transactions, contributing to the strengthening of economic ties between the two nations," he said in an interview with The Daily Star.
Until now, businesses in Bangladesh and India settled trade payments by purchasing US dollars with their local currencies.
And importers have to buy the greenback using BDT to make payments for imports. After getting payments, exporters in India have to convert the US dollar into INR.
"This will not be needed in INR trade. So, both of our exporters and importers will make exchange gains," he said. "I think, the exchange gains [for importers] will be at least Tk 1 per US dollar."
"Similarly, when Indian buyers will buy from us, they will give us payment in BDT," Iftekhar added.
To determine the rate of BDT and INR, he said they will take the exchange rate of US dollar as a reference point.
"So, we will use the exchange rates of these currencies with the US dollar, but we will not touch the greenback," he said.
"This will help us save money. Exporters and importers will not need to face any exchange loss or pay fees, which they have to pay now for using the third currency," he added.
After the launch of trade in INR, Indian exporters will send invoices in rupees instead of US dollars.
"We will pay them in INR," he said. "So, we will not need to buy dollar. This will be beneficial."
Asked on how the INR will be managed, the top banker said under the arrangement, local banks such as EBL are expected to get INR from the SBI and ICIC Bank to settle payments for imports by local entrepreneurs, if required.
Similarly, local banks will pay back the loan when Indian importers will pay in INR for imports from Bangladesh, he said.
"If we do not have enough INR in the account in India, they [SBI or ICIC Bank] will give us a credit line the way we borrow from international banks," Iftekhar added.
Iftekhar also said trade settlement will initially take place in INR and later in BDT after the two Indian banks open vostro accounts at Bangladesh's EBL and Sonali Bank, he said.
"We are going into the first phase on July 11. It is just the start," he said, adding that EBL will also launch an India Business Desk on the same day to provide services to businesses.
The private bank will also launch a co-brand card with the India-Bangladesh Chamber of Commerce and Industry.
EBL plans to start trade in INR on August 1 or earlier if possible.
Iftekhar said businesses will find its ease in opening of letters of credit (LCs), for which they face difficulty for a shortage of US dollars at present.
As INR availability will not be an issue, opening of LCs will be convenient, he added.
"We are hopeful. This is a good start. If any adjustment or modification is needed, we will fix it together," Iftekhar said.
However, dependence on the US dollar will not decline overnight.
"It is a journey and it will build slowly," he said. "It is a new future. Various countries have started and they are also under trial and correction."
India has already signed up with some other countries, such as Malaysia, for trading in INR. China is now suggesting payments through renminbi while Russia wants payment in rouble.
"All these have started. Let us start [to reduce dependence on dollars]," Iftekhar said.
However, success of the initiative will depend on the efforts by banks and business chambers.
"We have to do marketing. We have to make customers understand the benefit. And it may not be limited to four banks, maybe after some months, Bangladesh Bank will allow more banks to do so," he added.