Three-fourths of RMG exports concentrated in 9 countries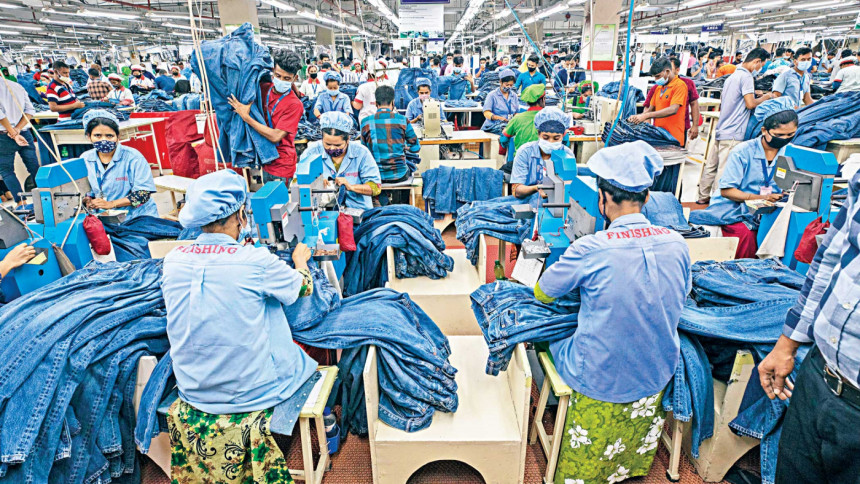 Around 73 per cent of Bangladesh's garment exports is still limited to nine countries for a lack of market diversification in spite of different public and private initiatives. 
In the April-June period of fiscal year 2021-22, some $8.2 billion out of $11 billion came from the nine export destinations -- the USA, Germany, the UK, Spain, France, Italy, the Netherlands, Canada and Belgium.
The nine accounted for 75 per cent of the total garment export on an average during the April-June period over the last five years.
On top of that, the first three countries accounted for nearly half of the exports.
The figures came up in a "Quarterly Review on Readymade Garments: April-June FY'22" published by Bangladesh Bank recently.
"This reflects that we still have challenges in market and product diversification," said Selim Raihan, executive director of the South Asian Network on Economic Modelling (SANEM).
"Our export basket is still limited in products and guaranteed markets…But a good sign is that our export to India has been growing in the recent periodbecause of its increasing imports for a growing middle class," he said.
He said China, which has provided duty free access to 98 per cent of Bangladeshi goods going to the country, could be a major market, especially for low-cost products.
"We are not exploring that market although it is vital for us," said Raihan, also a professor of economics at the University of Dhaka.
He said it would be challenging for garments, which accounts for 82 per cent of the overall export receipts, to compete after Bangladesh makes the United Nations status graduation from a least developed to a developing country in 2026.
"Export to protected markets such as European Union where Bangladesh's products get zero duty access, does not reflect our competitiveness," he said.
"Competitiveness will be a big issue in the post LDC phase. So, we need to study other markets, products they use and prepare strategy for that," he said.
"It is true that our export is mainly concentrated in a few countries, mainly in Europe, and the US," said Md Shahidullah Azim, senior vice-president of the Bangladesh Garment Manufacturers and Exporters Association (BGMEA).
"…as from the very beginning of the apparel journey we focused on these markets," he said.
Azim also said the BGMEA sent delegations to Latin American countries such as Argentina, Brazil, Mexico and Chile but the exports did not pick up in those destinations because of high duty and low demand for Bangladeshi goods.
Similarly, the local garment exporters could not cash in on the big garment markets of central Asia, Middle East and Africa although they have tried to capture those markets, Azim said.
Mainly China, the largest garment exporting nation, has been supplying the apparel items to those nations, he said.
"Now, we are trying to send more garment items to emerging Asian nations like Japan, South Korea, China and India," Azim said.
It has been observed that prices of garment items in Asian markets like in China, Korea, Japan and India are better than in European and American markets, he added.
Time has come to explore more Asian markets as the European and US markets are already affected from the severe fallouts of the Covid-19 and the Russia-Ukraine war, Azim said.
So, the BGMEA is going to hold garment expositions in Japan and Korea individually in October this year to attract more retailers and brands from these countries, Azim said.
Moreover, the BGMEA will also participate in a Gulf fair in Dubai to grab more of the garment markets in the Middle East, he said.
China is a big market of 130 crore consumers and it is turning into a big export destination for Bangladesh as the local Chinese companies are leaving the garment business and shifting manufacturing bases to heavy industrial units, he added.