Third tea auction centre launched in Panchagarh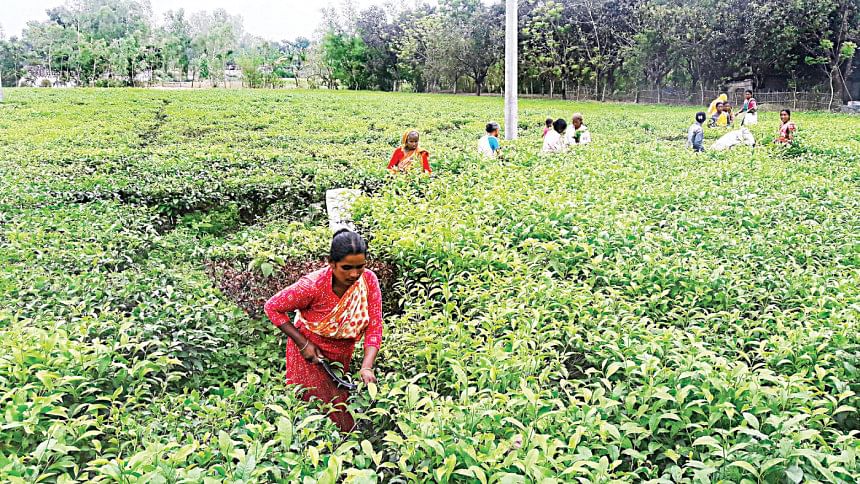 A new tea auction centre began operations in Bangladesh's northwest bordering district of Panchagarh yesterday, making it the third establishment of its kind following the country's first in Chattogram and the second in Sreemangal.
Commerce Minister Tipu Munshi formally inaugurated the centre through a ceremony held at the Panchagarh Government Auditorium.
Following the inaugural ceremony, brokers started their bidding activities via a virtual platform.
Initially, 15 bidders vied for purchasing processed tea of Supreme Tea Ltd. Chowdhury Enterprise placed the highest bid during the fixed two-minute bidding session, buying 200 kilogrammes (kgs) of the product for Tk 543 per kg.
During the inaugural ceremony, Munshi said the aim of setting up a new auction centre would be fulfilled only after growers are ensured fair prices for their raw tea leaves.
"We set up the auction centre so that growers are not made anyone's puppet by being forced to sell their leaves at reduced prices," he added. 
Local tea growers were previously compelled to sell their produce for Tk 15 per kg, which was lower than the Tk 18 per kg fixed by the Panchagarh District Tea Leaves Price Fixation Committee. 
"If they continue to face the same situation, one day the production of tea leaves will be suspended here," Munshi said.
The commerce minister also pointed out that factory owners should care about the interests of growers.
"So, we will not support it if you want to deprive growers of fair prices," he added.
For example, some tea processing factories deduct as much as 50 percent of the total weight of tea leaves brought in by farmers citing high levels of moisture content.
"But this is completely unacceptable. No one should try to benefit from the hapless position of growers," Munshi said.
Among others, Railway Minister Advocate Nurul Islam Sujan, Local Lawmaker of Panchagarh-1 Majharul Haque Prodhan and Senior Secretary of Commerce Ministry Tapan Kanti Ghosh spoke at the event.
The event was chaired by the Deputy Commissioner of Panchagarh Md Jahurul Islam.
At least 12,079 acres of land are under tea cultivation across five northern districts, namely Panchagarh, Thakrugaon, Nilphamari, Lalmonirhat and Dinajpur.
Last year, a total of about 1.78 crore kgs of processed tea worth Tk 260 crore were produced from plain land tea gardens, accounting for 19 percent of overall cultivation in the country, as per data of the Bangladesh Tea Board.
Tea cultivation in the flatlands of Panchagarh began in the late 1990s thanks to effective directives from Prime Minister Sheikh Hasina along with the favourable weather and soil conditions.
However, tea cultivation soon expanded to other nearby districts. In the last two decades, Panchagarh and Thakurgaon have emerged as the second largest tea producing districts after Chattogram and Sylhet.