Textile firms stare at falling profits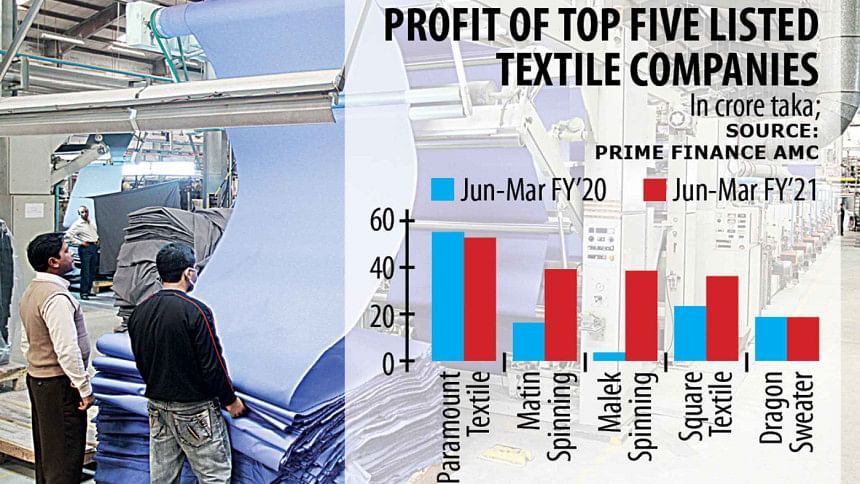 Listed textile and garment makers are still suffering from falling profits, impacted by lower sales of clothing in the markets abroad amid the ongoing coronavirus pandemic. 
However, this scenario of the sector has one exception: spinners. Yarn makers listed at Dhaka Stock Exchange (DSE) logged higher profits in the July-March period of the current year from that of a year ago thanks to a price hike of yarn.
Data from the DSE showed that of the 26 listed RMG, textile and spinning companies, 16 underwent a drop in earnings. Some 10 manufactures reported a fall in profits.
The pandemic had an adverse impact on the textile and RMG sector, so their profits fell, said Robiul Islam, company secretary of Paramount Textile.
Due to the pandemic, worldwide consumption reduced, so export was hit, he said.
Between July and March of the current fiscal year, Bangladesh earned $23.48 billion from apparel shipments, which was 2.55 per cent lower than that in the corresponding period last fiscal year, according to data from the Export Promotion Bureau.
Only those companies which have a lot of reputation abroad were able to attract some orders of exports, Islam said, adding that his company was able to generate profits for the high quality of its goods and reputation.
Paramount Textile booked higher profits during the period than all the other companies, whose profit fell over 5 per cent to Tk 52 crore compared to the same period of the previous year.
The RMG and textile sector has also been adversely impacted for the higher price of yarn, Islam added.
While textile and RMG were struggling, spinning mills availed the advantage of the price hike of yarn which turned out to be a big influencer of their higher profits.
Among six listed spinners, four witnessed higher profits and two were able to make a profit on incurring losses previously.
Malek Spinning logged the highest profit growth among all the 26 listed textile companies. Its profit rose more than eight times year-on-year to Tk 39 crore in the first nine months of the current fiscal year.
"Our profits rose as in the period our sales were higher along with the prevalence of a higher price of yarn," said Syed Saiful Haque, company secretary of Malek Spinning Mills.
"Still the year's prices were good so we are generating better business," he said.
Cotton was being traded at $0.60 to $0.85 per kg on an average during the June-December period last year, which later on ranged between $0.95 and $1.7 in March, according to data of Bangladesh Textiles Mills Association (BTMA).
According to a market insider, Bangladesh is mainly dependent on China and India for cotton and other raw materials.
But China's market was kept shut for the pandemic and then the price of cotton rose. Then India increased the price alongside Bangladesh's local spinners.
The spinning mills attributed the hike in cotton prices to rising demand for the item globally and its supply crunch, and upward costs of other related logistics following the emergence of the pandemic.
Due to the pandemic, cotton price rose in the world market which enhanced yarn prices. It ultimately had an impact on the local yarn market, said Mir Ariful Islam, head of research of Prime Finance Asset Management Company.
So companies which had stocks of cotton booked a huge amount of profits during the period, he said.
So spinning mills generated higher profits this year, Islam added.