Tea sales picking up, inching towards pre-pandemic level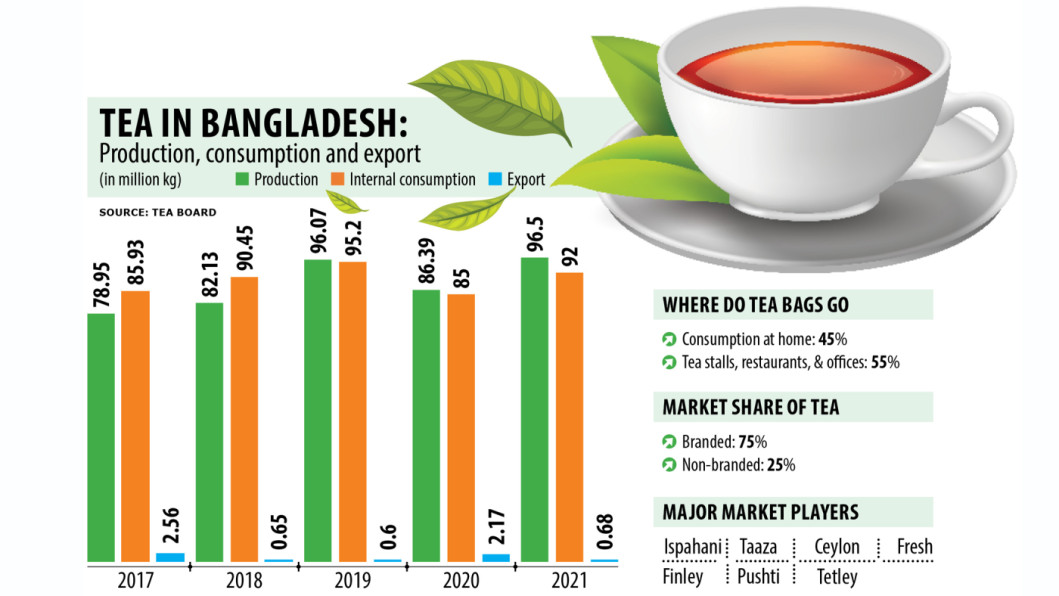 Tea sales in Bangladesh are inching towards the pre-pandemic level as people shake off Covid-19 jitters to take a sip at their beloved drink outside of their homes where most consumption takes place.
The pandemic-enforced lockdowns compelled hotels, restaurants, tea stalls, and offices across the country to shut their operations from late March to early June 2020.  The lockdown and the fear of catching the deadly virus from eating outside prompted consumers to rely most on tea made at home. As a result, overall consumption took a hit.
As the coronavirus situation has improved, the consumption of tea is increasing. "Most people like to take tea outside of their home," Shah Moinuddin Hasan, general manager of Ispahani Tea Ltd, told The Daily Star.
In Bangladesh, 45 per cent of tea is consumed at the household level while the rest at tea stalls, restaurants, and offices.
This means tea sales received a major boost in 2021 after the government lifted lockdown restrictions to allow roadside stalls and restaurants to reopen and serve customers again.
Mahmud Abbas Siddique, owner of Abid Tea Stall in the West Tejturi Bazar area at the capital's Farmgate, has been running the stall for five years.
Before the pandemic, he used to sell about 600 cups of tea daily. When he got the chance to reopen after a two-month strict lockdown, he managed to sell 200-250 cups a day as customers were not much keen to drink outside.
"Now, I sell 550-600 cups of tea daily," Siddique told The Daily Star.
About 92 million kilogrammes of tea were sold in 2021, up 8.25 per cent from a year ago. The consumption was close to the pre-pandemic level of 95.20 million kgs.
Industry insiders say due to Covid-19, consumption plunged by 10-15 per cent. It was growing at about 10 per cent annually before Covid-19, driven by higher incomes, urbanisation, fast-expanding middle-class, and changing lifestyle.
Tea is a part of social and professional life, making it the world's most-consumed beverage. It is popular among low-income groups as well. 
Even in 2017 and 2018, Bangladesh had to turn to imports to meet the local demand as internal consumption outshone local production.
In the two years, 78.95 million kgs and 82.13 million kgs of tea were produced whereas consumption stood at 85.93 million and 90.45 million kg respectively, data from the Bangladesh Tea Board (BTB) showed.  Had there been no pandemic, the annual consumption would have crossed 100 million kgs in 2020, said Munir Ahmad, deputy director for planning at the BTB.
Annual tea consumption may shoot to 130 million kgs by 2025, he said.
In Bangladesh, branded tea dominates the market with 75 per cent share, while the rest going to non-branded producers.