Taltali's dried fish market unfazed by inflation
Producers hope to increase earnings through export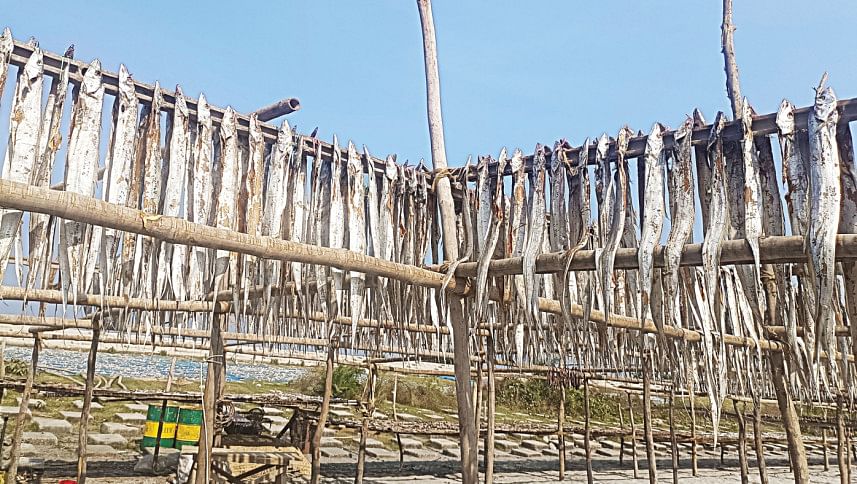 The demand for dried fish from Barguna's Taltali upazila seems unencumbered by rising inflation as the region is supplying some 150 maunds to markets across Bangladesh each week amid the ongoing production season, according to traders.
At least 4,000 workers in five chars of the upazila are currently busy making dried fish, locally known as shutki, with their collective annual sales amounting to about Tk 10 crore.
Other than being a much-loved delicacy, the shutki produced in Taltali upazila are particularly popular at home and abroad for being chemical-free as no harmful preservatives are applied.
Fish processing for making shutki mainly takes place during the dry months from November to April.
After bringing in raw fish from the Bay of Bengal, workers gut and salt the fish before placing them on mats or racks under the open sun to dry for the next week or so.
With wholesalers and other traders readily available in the area, the processed shutki is then transported by truck to different places in the country, including Dhaka, Chattogram and Khulna.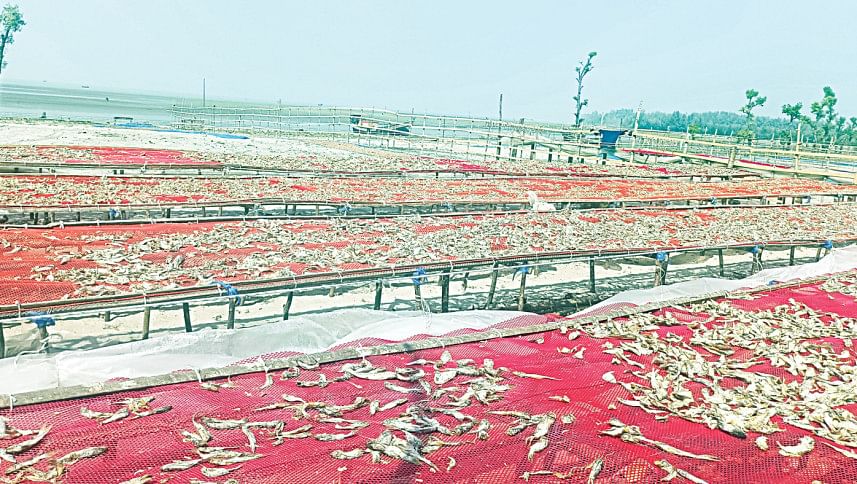 Dried fish is currently selling for between Tk 700 and Tk 900 depending on the species used. However, prices are at least 20 per cent higher than what they were last year due to higher input costs amid growing inflation.
During a recent visit to the Ashar Char Dry Fish Palli, it was seen that trawlers were arriving one after another and crowding the shore.
Abdur Rahman, a day labourer, said 25 species of fish are made into shutki in the area.
Also, there is a lot of demand for different types of shutki made from small fish caught off the coast, including shrimp.
Dried small shrimps are supplied to large companies in the country for making poultry and fish feed.
Khabir Uddin, another worker in the area, said they produce completely chemical-free dried fish at Taltali's Ashar Char, Sonakata Char, Moranidra Char, Chotamkhola Char, Bara Amkhola Char and Nishan Baria Char.
"Considering the health of the people, we have decided not to add harmful chemicals in the drying process. We make shutki naturally by drying it in the sun. So, we have a lot of demand both in country and outside the country," he added.
Md Rupchan Howladar, a dried fish trader, said the demand is very high as the shutki produced in Taltali are non-toxic.
"We supply dried fish to different places in the country, including Dhaka, Chattogram, Syedpur, Khulna and Jamalpur," he added.
However, he also said that there is a lot of demand for Taltali's dried fish abroad.
"Many dry goods from here are going to India through local people. There is a lot of demand for it," Howlader added.
Mahbubul Alam, upazila fisheries officer of Taltali, said dried fish produced in the region is non-toxic and healthy. As such, there is a demand for Taltali's dried fish at in both local and international markets.
Alam went on to say that local fishers would benefit a lot if exports of dried fish are arranged by the government.
A recommendation in this regard will be sent to the Department of Fisheries soon, he said.
Biswajit Kumar Dev, district fisheries officer of Barguna, said the dried fish produced in the five chars of Taltali has a lot of demand in the country as well as abroad.
Especially in India, the US, Malaysia, Saudi Arabia, Qatar, Bahrain and Dubai, the demand for dry goods such as this is very high.
"So, Fishers would benefit a lot if dried fish can be exported to these countries. We will contact senior government officials to this end," he added.