Small fish with big potential
Large-scale cultivation to boost export as some species are back from the brink
The Bangladesh Fisheries Research Institute (BFRI) has conserved and improved 37 domesticated varieties of freshwater fish over the past 30 years, bringing hopes that endangered breeds can be preserved to satisfy both local and global demand.
Of the small indigenous species, some 11 were developed just last year and are already being exported overseas after catering to the domestic market, according to the BFRI sources.
Some 64 of the 260 varieties of freshwater fish native to Bangladesh are already extinct while another 56 breeds have been listed as critically endangered since 1998 by the International Union for Conservation of Nature.
However, certain species domesticated by the BFRI are no longer endangered as they are now being cultivated by farmers on a large-scale.
Around 5 lakh farmers are involved in cultivating small indigenous breeds with the required fish fry being produced at more than 500 hatcheries, said Yahia Mahmud, director general of the BFRI.
Mahmud then said that roughly two crore people are either directly or indirectly involved with aquaculture in the country, which consumes about 42 lakh tonnes of fish each year.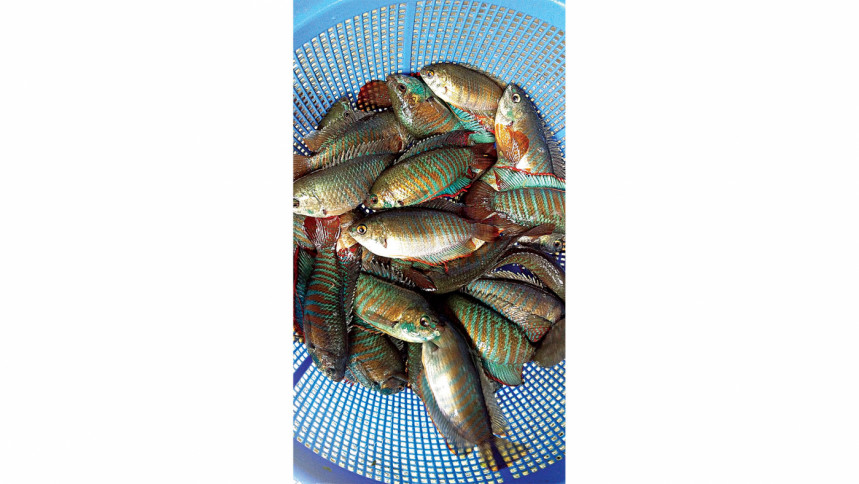 Around 30 to 35 per cent of the annual demand for fish is met by freshwater breeds, he added.
Mahmud went on to say that certain varieties of fish have gone extinct over the years due to the drying up of their natural habitat amid changing weather patterns and other environmental perturbations.
Bangladesh produced around 67,000 tonnes of fish in 2009 while it was 261,000 tonnes in 2021.
"The amount is increasing every year as the cultivation of the conserved varieties of fish is gradually increasing at the farmers' level," he said.
Experts say that some 80 per cent of the local demand for freshwater fish was met through rivers just two decades ago but now, the number has dropped to about 30 per cent as farmers cultivate certain varieties to make good profit in both local and international markets.
Besides, it is very good news that fish production has increased four times in the last 12 years, considering the country's growing population, they said.
Rashidul Hasan, principal scientific officer of the BFRI's Fresh Water Sub-Station in Syedpur, said the cultivation of small indigenous fish is attracting farmers as they offer reasonable profits at lower cost.
As a result, breeds such as Bangladeshi Butterfish, climbing fish (Koi) and Gulsa are being cultivated on a large-scale, making these fish easily available now despite being scarce even a decade ago, he added.
"Cultivation of the recently conserved Boirali fish has started in different areas of North Bengal," said Kohinoor, a retired director (admin) of the BFRI who worked on the conservation of small indigenous breeds.
BFRI researchers claim that certain colourful varieties native to Bangladesh are mainly used as food but have good demand as aquarium fish in different countries.
With this backdrop, there is a bright potential to export these breeds, they said.
In addition, farmers have the opportunity to get good catches of these fish by producing them in ponds, which is comparatively cheaper than catching them from a river.
The institute has so far developed 57 aquaculture and management technologies and most of them have already been transferred to the field level to help increase overall fish production.
The institute has also successfully researched Thai Pangas, GIFT tilapia, native and exotic carp and non-carp species, and mud eel for commercial production.
The cultivation of these fishes has commercially been successful at the farmers' level and the BFRI is supporting them by delivering fish fry, seed and technologies when they need, said Robiul Awal, senior scientific officer of the BFRI.
"The native fish varieties are nutritionally dense and more flavoursome," said Selina Yesmin, another senior scientific officer of the BFRI.
The institute has also taken short-term, mid-term and long-term projects to domesticate the remaining endangered varieties to meet the country's nutritional requirement and maintain its history and tradition, according to David Rintu Das, principal scientific officer of the BFRI's Fresh Water Sub-station in Bogura.
Subhash Chandra Chakraborty, a professor of the fisheries technology department at Bangladesh Agricultural University, said fish exports are increasing and expatriate Bangladeshis are the main consumers of it.
If this trend continues maintaining the desired quality, the export scale will surely be expanded in the future, he added.
Chakraborty also said the natural breeding spots of indigenous fish are being destroyed by the indiscriminate use of chemical fertilisers and insecticides.
Rezaul Islam Rony, a fish farmer in Mymensingh's Iswarganj upazila, said he earned good profits from cultivating small indigenous fish since 1999.
"I cultivate the fish in 65 ponds and they are cheaper to produce compared to varieties of carp," he added.
Rony also produces fish fry that are supplied to different districts of the country, including Rajshahi, Natore, Sirajganj and Sylhet.
Sabuj Mia of Guilakanda village and Tajul Islam of Dekuarcahr village in Iswarganj upazila also expressed satisfaction over their cultivation of small indigenous fish.
They said native breeds are more disease resistant than other varieties and thanked the BFRI for its all-out support.
The two fish farmers then said they saw a marked rise in production after adopting modern techniques from the institute.
The BFRI established a "live gene bank" for the conservation of small indigenous fish in 2020 and so far, 102 species have been included.
"If any species is lost from nature, the bank will breed these in hatcheries and release them in open water bodies for natural regeneration," said Yahia.
The institute was awarded with the "Ekushey Padak" in 2020 and it also received the "Rtv-NRBC Bank Sammanona-2022" for its outstanding research in the fisheries sector.