Small businesses suffer as sales drop for high inflation
Entrepreneurs grapple with higher raw material costs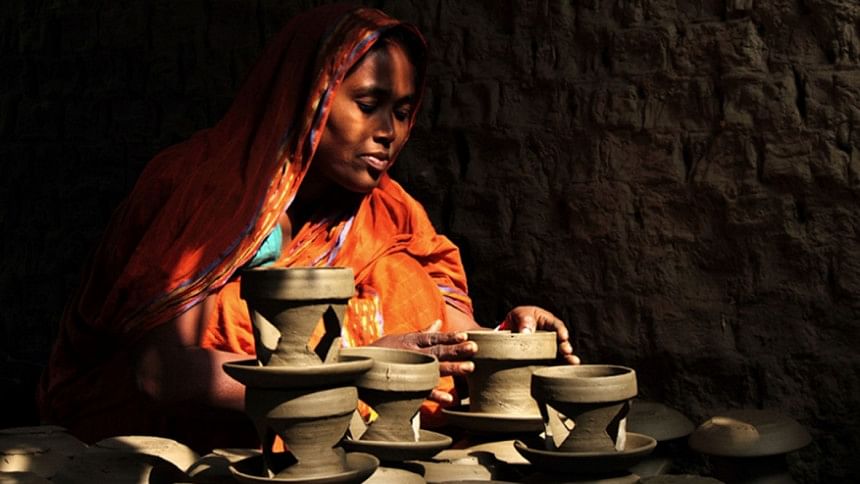 Cottage, micro, small-and-medium enterprises (CMSMEs) in Bangladesh are suffering from significantly lower sales at a time when inflationary pressure has pushed up production costs, according to entrepreneurs.
Consumers are buying fewer products due to the inflated cost of daily necessities and economic uncertainty stemming from multiple crises, especially the Russia-Ukraine war, they said.
In addition, most CMSMEs are witnessing a remarkable drop in profits due to higher raw material and transport costs, forcing them to lay-off employees just to survive.
Bangladesh has been facing a major macroeconomic crisis since late February after the Russia-Ukraine war began, which sent the consumer price index to a decade high in August.
Amid such a bleak situation, CMSME entrepreneurs say their sales have fallen by as much as 40-50 per cent in the last eight months compared to the same period a year earlier.
Laboni Khan, who owns a fashion boutique in Manikganj, said she sold products worth Tk 2-3 lakh each month in 2019 before the Covid-19 pandemic began.
And although her business was slowly returning to normal following two years of pandemic-induced losses, Khan's sales dropped massively once again in March.
"The profit margin has decreased a lot because production costs have increased. Earlier, there was 20-25 per cent profit but now, keeping even 10 per cent profit has become difficult," she said, adding that survival is the task at hand for now.
The entrepreneur went on to say that she is using her own finances to keep the business afloat as taking bank loans to overcome the crisis could quickly become another burden.
Fayjullah Sarder, assistant manager of sales and marketing of Habib Industries Limited, said they are focused on riding out the current crisis rather than making profits.
The company manufactures various forms of containers and packaging, including PET preforms and pharmaceutical bottles as well as their caps and closures.
Regarding potential layoffs in the company, Sarder said workers may be retrenched if the situation worsens.
"But good days will eventually come again if you stay in the market," he added.
These opinions were shared by more than 25 CMSME entrepreneurs at the 10th National Small and Medium Enterprise Fair-2022 in Dhaka.
As per the Bangladesh Bureau of Statistics Economic Census 2013, there were 78.8 lakh business establishments in the country that year.
Among them, 87.52 per cent are cottage industries while 1.33 per cent are micro, 10.99 per cent are small, 0.09 per cent are medium and 0.07 per cent are large industries.
Maria Sultana Mou, who owns a bakery in the capital city, said she has been involved in the business for the past eight years.
Mou wanted to open more production facilities and outlets this year but due to the current economic crisis, she has come back from this decision as sales have halved.
Besides, 5 of her 8 employees had to be laid off due to the decrease in profits.
The CMSME sector contributes at least 25 per cent of the country's gross domestic product and generates as much as 90 per cent of the jobs in the private sector.