Shrimp exports shrivel in Q1
Market players blame recession fears in EU, US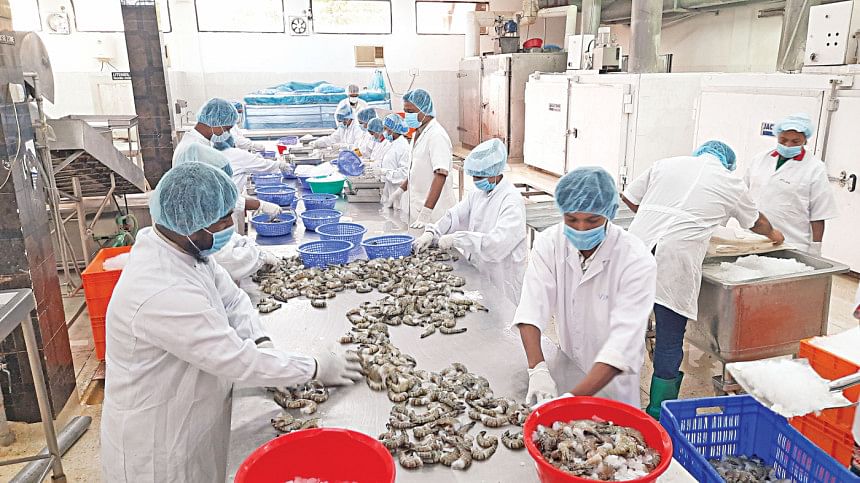 Shrimp exports from Bangladesh fell in the first quarter of the current fiscal year due to weak demand in the EU and the US markets, which have been gripped by the fears of a coming recession amid the ongoing Russia-Ukraine war.
Considering the drop in export orders, overall export earnings from the sector may decline by up to 35 per cent by the end of fiscal 2022-23, according to industry operators.
Earnings from shrimp exports in the first quarter (July-September) stood at $100.10 million, down 18 per cent from $122.73 million during the same period in fiscal 2020-21, shows data from the Export Promotion Bureau (EPB).
And although earnings from shrimp exports grew 24 per cent year-on-year to $407 million in the last fiscal, the sector's current performance presents a bleak picture.
"Total earnings from shrimp exports may drop by 30-35 per cent by the end of this fiscal year," said Md Amin Ullah, president of the Bangladesh Frozen Foods Exporters Association (BFFEA).
The Russia-Ukraine war has caused a decline in shipments to the two nations while buyers in the EU and the US are offering lower prices in fears of a coming recession.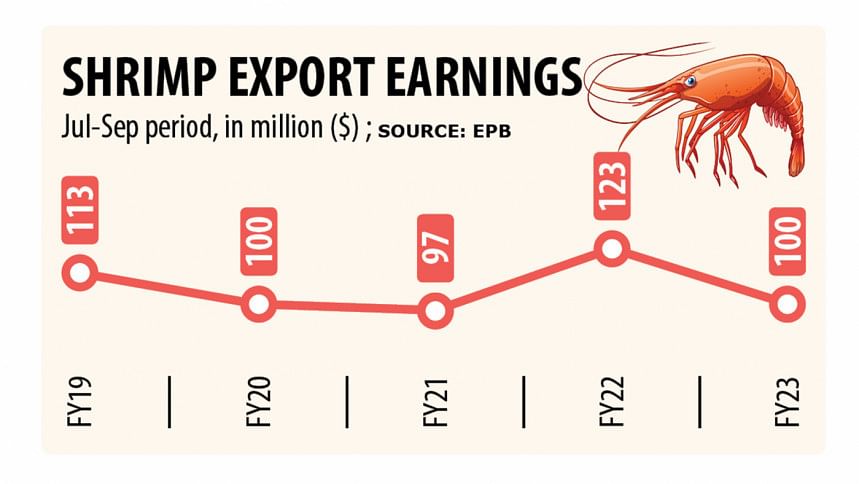 "Whereas we would previously get $2 lakh for shipping a single container to the EU, we are now getting $1.5 lakh for the same volume," he added.
Ullah then said the reduced demand comes down to the fact that people in the EU are unwilling to purchase luxury items such as shrimp considering the recent economic shocks.
S Humayun Kabir, chairman of Amam Sea Food Industry Ltd, said although the sector's performance in the first quarter of this fiscal year shows that earnings from shrimp exports have fallen by 18 per cent, overall exports have actually declined by at least 30 per cent.
He then reasoned that fluctuations in the US dollar exchange rate have given them a bit of relief as exporters are benefitting from the high dollar price against Bangladeshi taka.
About getting lower orders, he said the whole of Europe is now witnessing a silent financial crisis that has greatly contributed to the fall in export orders.
Besides, importers are offering at least 25-30 per cent lower prices compared to last year, he added.
Kabir went on to say that local shrimp farmers are failing to secure adequate returns due to the low prices being offered in foreign markets, which will discourage them from continuing the business.
"The situation is so dire that many buyers are renegotiating the prices of previously placed orders and as such, stocks are piling up at almost every processing factory," said Kabir, who is also vice-president of the BFFEA.
The volume of shrimp being exported from Khulna, a major producing region, declined by about 16 per cent to 7,027 tonnes in the July-September period of the ongoing fiscal year, according to the BFFEA.
Shyamal Das, managing director of MU Sea Food Ltd, said the demand for locally produced shrimp is declining abroad for its higher price compared to the cheaper vannamei or whiteleg varieties produced elsewhere.
"It is a very bad situation as prices are falling fast while sales are down," he said.
A kilogramme of headless black tiger shrimp is now selling for $12 while it was $14 as recently as three months ago.
According to Das, the demand for shrimp in the EU has declined by more than 40 per cent.
"As our black tiger shrimp is usually consumed as a luxury food in restaurants and hotels, EU importers are pushing back their shipment orders in fear of a recession," he said.
"In this situation, we are falling behind the competition with vannamei shrimp, which is shipped at lower prices from countries like Vietnam and China," Das added.
Each kilogramme of vannamei shrimp is currently being sold for $2-2.5 less than the same amount of black tiger shrimp in international markets.
The sector ensures the livelihood of more than 8 lakh farmers, who collectively cultivate shrimp on 2.63 lakh hectares of land in coastal areas of the country's southwest region, according to the Department of Fisheries.