Salt prices shoot up
Just weeks to go for Eid-ul-Azha when demand soars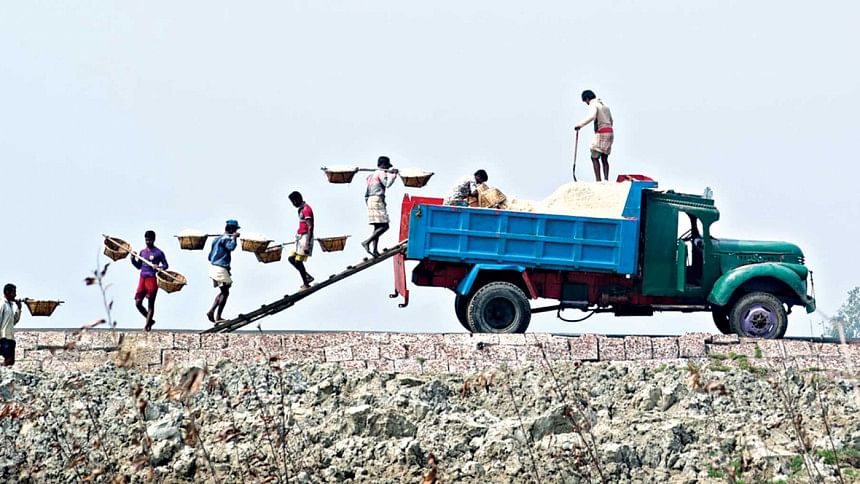 With just around two weeks left for Eid-ul-Azha, price of unrefined salt has shot up, at least in the wholesale hub of Narayanganj's Nitaiganj, in what appears to be an attempt at cashing in on the upcoming seasonal rise in demand for preserving hides of sacrificial animals.
Nitaiganj caters to different districts including Dhaka, Narsingdi, Gazipur, Tangail, Mymensingh, Feni, Cumilla, Chandpur and Munshiganj. But new markets have been established at various places whose traders buy salt directly from Chattogram and Cox's Bazar.
In Nitaiganj, each sack or 74 kilogrammes (kg) of unrefined salt has gone up in price by Tk 100-Tk 150 to Tk 1,080-Tk 1,150 within just a month, said traders predicting further hikes.
Meanwhile, wholesale prices of iodised salt have gone up by Tk 20-Tk 30 per sack (25 kg). Among the brands, ACI salt costs Tk 780, Confidence Tk 765 and Molla Super Salt Tk 660 while non-branded ones Tk 460.
The traders said the reason was a mix of supply being unable to keep up with demand, increase in production and transport costs and formation of a syndicate of salt farmers and traders in Cox's Bazar.
The country's demand for salt this fiscal year stands at 23.35 lakh tonnes, BSCIC Chairman Md Mahbubor Rahman told The Daily Star last month.
As of the second week of May, 18.30 lakh tonnes had been produced this season, according to the Bangladesh Small and Cottage Industries Corporation (BSCIC). The salt production season runs from November to May.
The government figure was contradicted by Poritosh Kanti Saha, president of Narayanganj Salt Mill Owners Association and proprietor of Pubali Salt Industries. He said the annual demand is 30 lakh tonnes.
The government has estimated a demand of 23 lakh tonnes this fiscal year but some 18.5 lakh tonnes has finally been produced, he said.
Demand has increased from other sectors, including ice cream, bakery, dyeing and soft drinks, said Jamal Dewan, owner of Garib-E-Newaz Salt Industry.
Big companies at the local level are buying huge quantities of salt and storing it for future use, leading to price fluctuations, he said.
Retail salt traders, however, accused salt mill owners, big traders and farmers of Cox's Bazar, Teknaf, Islampur, Patia and Kutubdia regions of resorting to hoarding.
This was refuted by the farmers, who say they neither have the infrastructure nor the financial ability to sit on stocks.
"A record amount was produced…why should we store salt?" asked HM Shahid Ullah, president of Bangladesh Salt Farmers Association, adding that they got "fair prices" this year compared to last year. Some unscrupulous traders are raising prices forming a syndicate with the intent to import salt, he said.
This was not the case according to the calculations of Poritosh Kanti Saha of Pubali Salt Industries, who claimed a production deficit of 9 lakh tonnes to 10 lakh tonnes.
"We don't know what the government is doing for the production deficit. We said at least import the deficit amount. The government is indecisive," he said.
Prices are rising as production is less than demand. If demand is not met through imports, there is a possibility of the price doubling, Saha added.
Adding to the woes, the hiring cost of a truck, capable of transporting 20 tonnes of salt, has gone up from Tk 20,000 to Tk 30,000.
TANNERS WORRIED
Tanners require 80,000 tonnes of salt just during the Eid season, said Shakawat Ullah, general secretary of Bangladesh Tanners Association.
For the rest of the year, the need is around 70,000 tonnes, he said.
Traders are increasing prices on various pretexts and the cost of storing hides will increase, said leather traders.
Rahman Sheikh, a leather trader in Dhaka, said a lot of salt would be needed to preserve rawhides this Eid. "If the price of salt increases, the cost of preserving the hides will go up. No one will buy rawhides at a higher price for fear of loss," he said.
WHAT AUTHORITIES SAY
There is no shortage of both iodised and unrefined salt ahead of Eid-ul-Azha, said Ashikur Rahman, assistant general manager of BSCIC Narayanganj.
Legal action will be taken against anyone who artificially increases prices, he said.
BSCIC Chairman Mahbubor Rahmansaid when demand for salt throughout the year was assessed, it was done in consultation with all concerned, including farmers and traders.
"Now what can we do if traders say different things?" he said.
He said a letter has been sent to the commerce ministry to import salt in advance considering a possible increase in use around upcoming Eid.