Rising int'l coal prices may affect domestic market
A huge demand for coal in China has had a butterfly effect that may reach Bangladesh's construction, garment, and power generation industries as the highly-required fossil fuel is becoming increasingly expensive in global markets.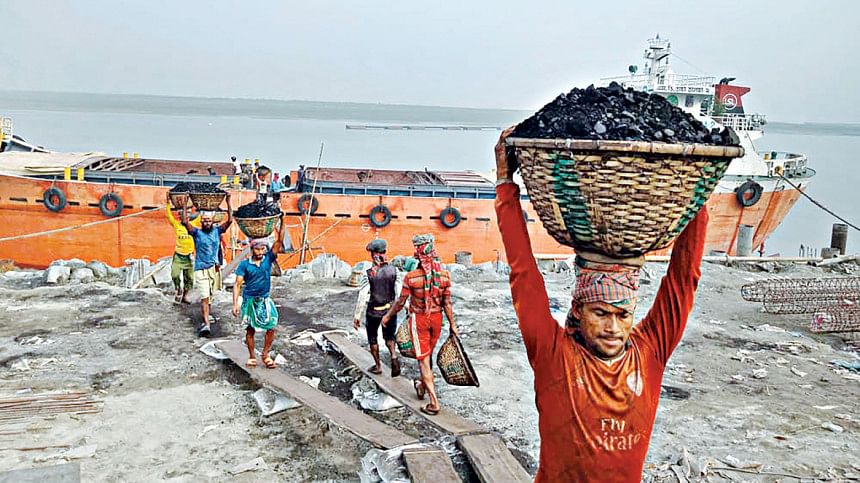 A huge demand for coal in China has had a butterfly effect that may reach Bangladesh's construction, garment, and power generation industries as the highly-required fossil fuel is becoming increasingly expensive in global markets.
International prices of coal soared about 70 per cent per tonne over the past year as the demand for the fuel has risen amid the global economic recovery.
As a result, the cost of both domestic and foreign coal used for industrial or personal purposes has risen. 
Bangladesh completely depends on imports for its annual requirement of about 80 lakh tonnes of coal, 70 per cent of which is used by brickfields while the rest goes to garment makers and the power sector, according to Falah Uddin Ali Ahmed, a major coal importer.
At best, there are just 10 or 12 companies, including Partex, Bashundhara, Akij and Uttara traders that import coal from Australia, Indonesia, India and South Africa.
And putting aside the ripple effect of China's ban on Australian coal, the situation worsened when conservationists prevented coal imports from India for around eight months.
"So, the price of coal in Bangladesh increased as a direct result of the impacts in international markets as well as higher freight costs amid the ongoing pandemic," Ahmed said.
As such, the price of coal has reached as much as $120 per tonne now while it was around $70 per tonne just one year ago.
Similarly the price of coal in local markets has risen to about Tk 18,000 per tonne while it was previously Tk 8,000 at the same time last year.
The major coal importer went on to say that it is impossible to reduce prices given the current market climate due to the geopolitical tension between Australia and China that stems from the latter's reluctance to allow an investigation into Covid-19's origin.
Md Shahidullah Azim, vice president of the Bangladesh Garment Manufacturers and Exporters Association (BGMEA), said the impact of higher coal prices would be insignificant for garment makers since it is not a key ingredient for the industry.
Mizanur Rahman Babul, president of Bangladesh Brick Manufacturing Owners Association (BBMOA), said since the brickmaking season starts next month, they are yet to figure out if the increased international coal price will have an effect on the industry.
Babul anticipates that brick prices will increase by Tk 1,000 per thousand units if coal prices do not go down before the factory reopens.
Referring to the BBMOA data, he said Bangladesh needs around 1,500 crore bricks per year for various construction projects.
And as if China had not done enough by shifting away from Australia, the world's top consumer of coal said it would pay any price for the fossil fuel, a move that threatens to starve less-affluent countries of their energy needs.
With winter on the way for the northern hemisphere, natural gas prices have hit record levels, leaving countries across the globe in a scramble for a piece of the finite coal supply.
And at the centre of this dust up is of course China, where stockpiles are low amid an all-time high demand for construction and power generation purposes.
Meanwhile, coal usage in the European Union is expected to increase during this winter due to lower renewable energy output, record-high natural gas prices, and planned closure of nuclear reactors.
The foreseeable impact will surely hit brickfields in Bangladesh the hardest, as brick baking costs will likely increase alongside the expense of imported coal, which has almost doubled compared to that last year.
Most brickfields and other industries in the country use imported coal as fuel for industrial purposes or power generation.
According to traders, Indonesian coal is now largely available in the country.
While speaking to The Daily Star yesterday, various brickfield owners in Dinajpur said they primarily use Indonesian coal but amid a global supply chain disruption caused by Covid-19 last year, they used local sources from Dhaka and Noapara of Jessore.
On condition of anonymity, the manager of a coal importing company in the area said prices have been increasing in the international market since September last year.
In 2020, his company produced one tonne of coal for between $55 and $60 but this year, they have to pay around $117 to $120 for the same amount depending on quality.
Shafiqul Islam, a brickfield owner in Parbatipur upazila of Dinajpur, said he used to source coal from the Barapukuria Coal Mining Company in Dinajpur's Parbatipur upazila for a couple of years.
However, the state-owned coal producer stopped supplying brickfields after the 2018 coal scam concerning the misappropriation of around 145 lakh tonnes of the fuel.
"Still though, the coal of Barapukuria was better than imported coal," he said.
Islam requires about 670 tonnes of coal to bake bricks each a season. Last year, he spent Tk 2 crore on procuring coal at Tk 8,000 per tonne.
"However, the price increased by the end of the season, when I needed to spend Tk 5.5 crore for the same amount," he added.
Bisu Agarwala, the owner of another brickfield in Dinajpur sadar upazila, said coal imports from India are going slow since the rates are so high.
"An importer recently bought 100 tonnes of coal from India through Sonahat land port of Kurigram for much too high a cost," he added.
While speaking with The Daily Star, many brickfield operators said the government should take steps for Barapukuria Coal Mining Company to produce more coal to support local demand. The coal processing plant can produce about one million tonnes of coal annually.
If the price of imported coal remains at the current rate, brickfield operators will have to switch to alternative sources of fuel for production that could be even more harmful to the environment.
For example, wood and bamboo are preferred alternatives, they said.