Rising external debt poses risks to forex reserves
Rising external debt may pose some risks to Bangladesh's foreign exchange reserves in the future as higher debt servicing will be required on accumulated loans, said the Bangladesh Bank yesterday.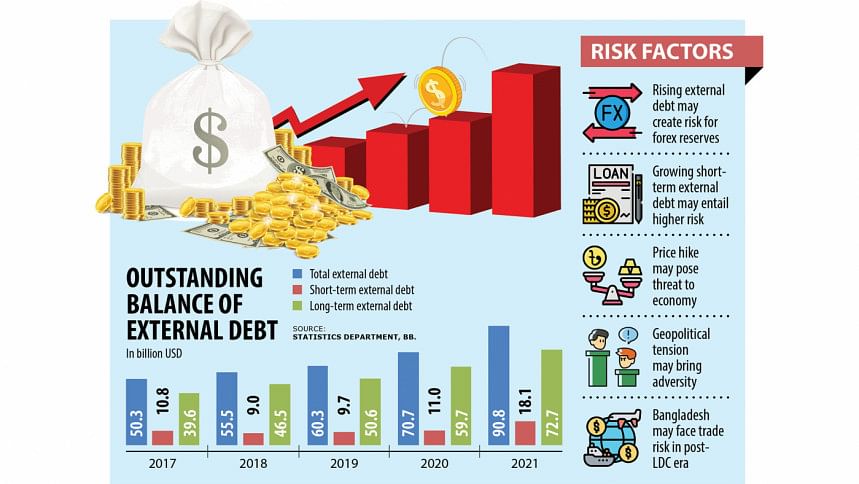 Rising external debt may pose some risks to Bangladesh's foreign exchange reserves in the future as higher debt servicing will be required on accumulated loans, said the Bangladesh Bank yesterday. 
The country's external debt has been rising since 2016 in tandem with notable economic growth.
Outstanding external debt stood at $90.8 billion in 2021, up 28.4 per cent from a year ago.
Short-term external debt surged 64.6 per cent last year while long-term external debt increased by 21.8 per cent.
"Growing short-term external debt may entail higher risk due to their potentiality of being reversed in the near-term and may, thereby, create sudden pressure on foreign exchange reserves," said the BB's Financial Stability Report for 2021.
A central banker, who worked on preparing the report, says that foreign lenders usually look into the category of foreign debts before providing new ones.
If the amount of short-term foreign debts increases in an economy persistently, the trend is considered as a risk for the nation, he said.
Under such a situation, foreign lenders show reluctance in giving out long-term loans, the official said.
So, a growing short-term loan, which carries a tenure of up to three years in most cases, usually creates additional risk on a country's foreign exchange reserves.
The central bank has sounded the alarm at a time when Bangladesh's foreign exchange reserves are plummeting due to the higher import payments against lower export earnings and a sluggish trend of remittance inflow.
The reserves stood at $36.3 billion on October 12 in contrast to $46.2 billion in September last year.
The report, however, says that Bangladesh preserved enough reserves last year to contain any short-term debt reversal.
About 39.2 per cent of reserves could cover the withdrawal of total short-term debt.
The BB report shows that short-term external debt in the private sector recorded a strong increase compared to the public sector last year.
The private sector took foreign loans worth $6.33 billion last year in contrast to $0.77 billion received by the public sector.
Private companies took foreign loans to the tune of $25.95 billion collectively as of June this year, up 39 per cent year-on-year.
The report says that the economic recovery in major trading partners coupled with easy financial conditions and retention of migrant workers by top remittance-source countries contributed to lessening the risk in the external sector last year.
A substantial rise in oil prices in the face of strong global demand strengthened the oil-exporting economies, creating space for new employment there.
"But oil spirals entail a different risk to inflating input cost of domestic production and the rising price of imported goods, both of which could take a toll on domestic inflation."
Inflation in Bangladesh surged to a 10-year high of 9.52 per cent in August. It, however, fell to 9.10 per cent in September, data from the Bangladesh Bureau of Statistics showed.
"The geopolitical tension and price hike may pose some threats in the near future which need to be dealt with prudence," the report said.
The Covid-19 pandemic caused some imbalances in the domestic economy by distorting demand-supply dynamics.
In addition, the external debt racked up substantially owing to the increase in private sector short-term external debt, inflation and exchange rate volatility in 2021.
Eventually, the domestic economy component faced challenges and was subject to slightly greater risk.
"Ensuring that inflation remained tamed and the exchange rate is stable is crucial to the gradual acceleration of the economy and reducing the risk to the domestic sector," the central bank said.
The exchange rate movement is critical to the trade competitiveness of a country, with a falling rate conducive to rising export and an increasing rate favourable to growing imports.
The real effective exchange rate index rose in 2021 largely because the nominal exchange rate of the taka was not adjusted in line with inflation differentials with partner countries.
The dollar traded at Tk 107.5 in the inter-bank platform on October 10, up 25.6 per cent from a year earlier.
Going ahead, the BB report said, Bangladesh may face some downside risk to narrowing surpluses given the reduction of preferential treatment or withdrawal of trade term facilities on the ground of graduation to a developing economy from a least-developed country.