Remittance receipts to fall by $1b in 2022
World Bank projects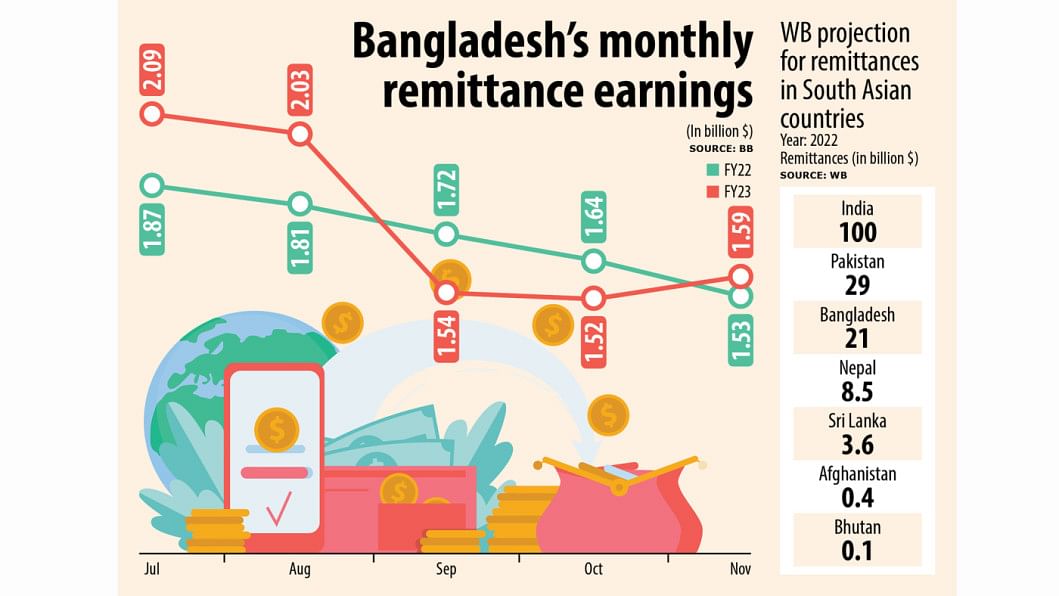 With a $21-billion inward remittance anticipated, Bangladesh is likely to be the seventh highest recipient of remittance globally this year, said the World Bank's latest report.
However, as per the global lender's projection, remittance inflow to Bangladesh will see a drop of $1 billion from the $22 billion the country received last year.
As reasons behind the drop in inward remittance, the report, "Migration and Development Brief: Remittances Brave Global Headwinds", released yesterday, mentioned that "domestic and external shocks" hit Bangladesh as well as other South Asian countries like Pakistan and Sri Lanka.
"In Bangladesh, Pakistan, and Sri Lanka, the joint effect of parallel exchange markets prompted by domestic economic crises, and re-emergence of informal money transfer channels in the aftermath of the pandemic, further diminished official remittance flows."
Overall, remittance flows to South Asia are expected to grow 3.5 per cent to reach $163 billion in 2022, a notable slowdown from the 6.7 per cent gain of 2021, but benefiting from strong performance in India and Nepal.
Apart from India and Nepal's gain, which are likely to see a 12 per cent and a 3.6 per cent increase, respectively, in inward remittance this year, the remaining South Asian countries are likely to see an aggregate 10 per cent decline in inward remittance this year.
India's remittance is expected to reach a milestone of $100 billion while Nepal is expected to see a 3.6 per cent increase to reach $8.5 billion.
Globally, India is projected to top the remittance-recipient countries' list, followed by Mexico, China, the Philippines, and Egypt.
With a $29 billion inward remittance projected, Pakistan is ahead of Bangladesh while Nigeria is in the same bracket as Bangladesh.
The WB said the demand for migrant workers from Bangladesh, Pakistan and Sri Lanka remains strong in the Gulf Cooperation Council countries, the predominant destination for migrant workers from these countries.
"However, migrants responded to exchange rate depreciations in home countries by sending less money through formal channels and opting for black-market premia in the parallel exchange markets."
"They saved remittance fees by using more informal channels than formal money transfer channels."
To arrest the drop in remittances, Bangladesh's government has offered incentives to migrants by withdrawing the interest ceiling on non-resident foreign currency deposits, the ceiling on internet banking transfers, and removing the proof of source of income requirements for remittances, according to the WB.
On the other hand, remittance flows to India were enhanced by wage hikes and a strong labour market in the United States and other Organisation for Economic Co-operation and Development (OECD) countries.
Also, the main drivers for remittance growth in Nepal are an increase in vaccinations and the lifting of travel restrictions in the GCC.
The report says as a share of GDP, remittances in 2022 are projected to rise to 22 per cent in Nepal, and to range from eight per cent in Pakistan to four-five per cent in Bangladesh and Sri Lanka.
Despite reaching a historic milestone of $100 billion and retaining its position as the top recipient of remittances globally, India's remittance flows are expected to account for only three per cent of its GDP in 2022.
The report says South Asia has the lowest remittance costs of all regions in the world, but they are still well above the Sustainable Development Goal target of 3 per cent.
"The increase of 72 per cent (from $9 to $15.45 for every $200) in the cost of remitting from the United Kingdom to Afghanistan was huge at a time when migrants' families were already living in dire poverty."
The growth of remittances to South Asian countries is projected to fall from 3.5 per cent in 2022 to 0.7 per cent in 2023.