Padma Bridge to ensure faster internet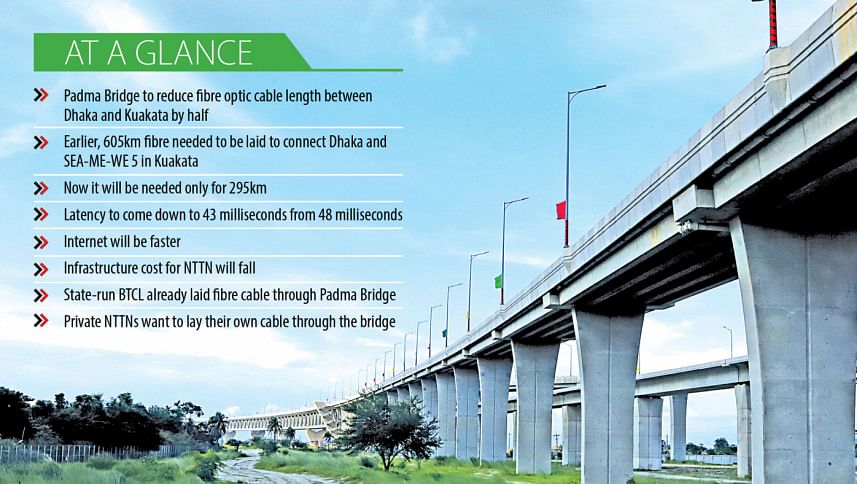 Internet users in Dhaka are set to get faster bandwidth thanks to Padma Bridge as the Bangladesh Telecommunications Company Limited (BTCL) has laid fibre-optic cables on its lower deck to reduce the time taken for data to travel between the capital and submarine cable landing station in Kuakata.
Previously, Nationwide Telecommunication Transmission Network (NTTN) companies, which are end-to-end infrastructure providers that build fibre-optic networks, had to laid about 605 kilometres (km) of fibre-optic cables to connect Dhaka with the country's second submarine cable.
But now, the distance is only 295 km, according to BTCL Managing Director Md Rafiqul Matin.
The state-run company laid the fibre-optic cable on the lower deck of Padma Bridge, which houses a rail line, gas transmission pipeline and power transmission lines as well, ahead of its inauguration on June 25.
As such, the latency of data transfers between Dhaka and Singapore will fall to 43 milliseconds from 48 milliseconds at present as a result of the new network, according to Telecom Minister Mustafa Jabbar.
"So, customers will get faster speed."
Jabbar went on to say the resulting reduction in infrastructure maintenance costs will also ultimately benefit end users.
"We kept eight ducts with 63-millimeter diameters for different utility connections, including fibre-optic cables, along the Padma Bridge rail line," said Md Kamruzzaman, deputy director (technical) of the Padma Multipurpose Bridge project.
Dhaka is currently connected with the second submarine cable via Madaripur, Faridpur, Magura, Kushtia, Pabna, Sirajganj, Tangail and Gazipur.
But with the completion of Padma Bridge, the data transmission can take place through the bridge via Kuakata and Madaripur to Dhaka.
As of this March, the state-run Bangladesh Submarine Cable Company Ltd (BSCCL) supplied a total of 1,400 Gbps through the country's second undersea cable, South East Asia-Middle East-Western Europe 5 (SEA-ME-WE 5), which lands in Kuakata.
The connection of the second undersea cable with Bangladesh was established in 2017. According to BTCL Managing Director Matin, they receive 250Gbps of bandwidth from the second submarine cable while the BSCCL supplies the rest to the private NTTNs.
However, private NTTNs are now demanding they be allowed to lay their own fibre-optic cables on the bridge.
Sumon Ahmed Sabir, chief technology officer at Fiber@Home, said if private NTTNs get the permission to lay their cables on Padma Bridge, a large number of internet users will get faster internet speed.
"We have already sought permission in this regard and are now waiting for approval," he added.
Regarding the demand of private NTTNs, the telecom minister said the decision is up to the bridge authority.
Internet usage surged to 3,440 Gbps in March this year, up from 1,000 Gbps before the pandemic, according to the Bangladesh Telecommunication Regulatory Commission.
About 650 Gbps is supplied by the BSCCL through the South East Asia-Middle East-Western Europe 4 (SEA-ME-WE 4) consortium, the first undersea cable with which Bangladesh was connected in 2006.
The BSCCL is set to receive 13,200 Gbps from the third submarine cable, SEA-ME-WE 6, in 2025.
Beginning construction in November 2014 and opening on June 26 this year, the 6.15 km steel truss bridge will connect 21 districts in the southwestern region to the rest of Bangladesh.
Built at a cost of nearly Tk 30,200 crore, the bridge is expected to spur the country's economic growth through increased connectivity and economic activities.