Job postings online skyrocketing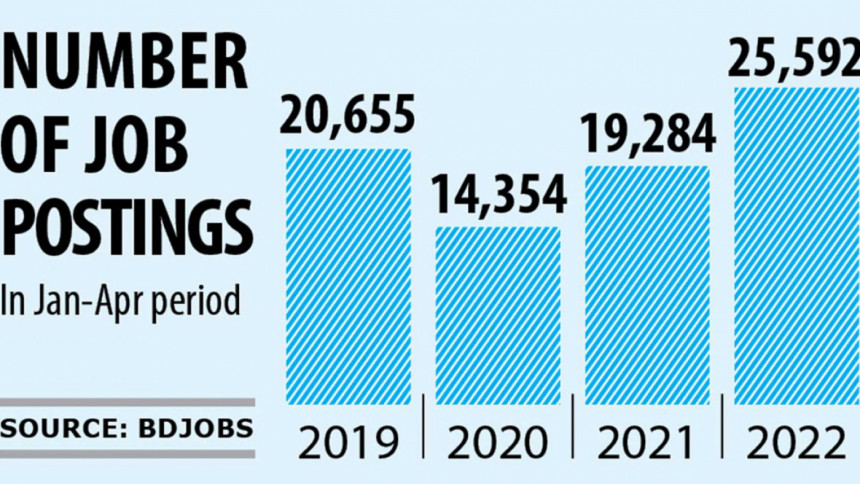 Online job postings have continued to be made in large numbers in the past eight months since September last year, sometimes even surpassing pre-pandemic levels, seeking manpower in garments, marketing, IT and logistics as fears over the virus subsided.
People of different sectors said the job market had plummeted in March 2020 when the virus appeared in Bangladesh.
However, job openings started to pop up at an accelerated pace from September last year as the Covid-19 situation began to improve.
And from the beginning of this year, job openings reached a new height as the need for manpower in places where physical presence is a must rebounded strongly.
However, experts suggest that a large number of unemployed graduates would continue to prevail in the market for a huge mismatch between the skills demanded by sectors and what universities supply.
Bangladesh's largest job site, bdjobs.com, witnessed the highest number of postings in its history in January as many companies resumed hiring.
The total number of job postings on the site rose by 30 per cent year-on-year in January to 7,070. It was 29 per cent more than that of January 2020 and 29 per cent more than the pre-pandemic period of January 2019.
In the first four months of 2022, 25,592 jobs were posted at the site, up 33 per cent from what was in the first four month of 2021, 78 per cent from that in the first four months of 2020 and 23 per cent from that in the first four months of 2019.
"The last few months witnessed the highest job opening growth in the last three years," said AKM Fahim Mashroor, chief executive officer of bdjobs.com.
"The hiring in the technology sector, logistics sector and RMG sector, which registered a robust growth, are mainly contributing to this growth," he said.
SM Khaled, managing director of apparel exporter Snowtex Group, said as the industry was expanding, there was a human resource crunch in the garment sector, especially when it came to sewing machine operators.
"It is difficult to find operators now and we had to increase the salary and benefits of the operators in several phases in recent months to cut migrations," he added.
Khaled, who is also managing director of clothing brand Sara Lifestyle, said they were also hiring people in positions of sales and marketing.
An idea of the pandemic's devastating effect on the job market can be gained comparing data of the month of April of both 2019 and 2020.
Employers posted 4,629 jobs in bdjobs.com during the month in 2019. But the number nosedived to only 652 in April 2020, when the severity of pandemic started to leave a dent on every sector in Bangladesh.
There were 59,784 jobs posted on the site in 2019 and the number dropped by 28 per cent to 43,0885 in 2020.
In 2021, there were 63,683 job posting, with demand jumping in the last five months of the year.
Mashroor said, "The year 2021 was a recovery period for the job market and now we are on the growth stage."
Md Tajdin Hassan, chief marketing officer at Alibaba Group's Daraz, said they were hiring staff as they were introducing new verticals, including advertisement solutions, and expanding their other business segments rapidly.
"Besides, we are hiring people as we want to provide same day delivery in Dhaka and cut down our overall delivery time," he added.
Kamruzzaman Kamal, marketing director at Pran-RFL Group, one of the biggest employers in the country, said different industries were recruiting people at a high rate as many were expanding and making investments.
"Due to the Covid, many industries adopted a go-slow policy in the last two years and now they are investing heavily and hiring manpower to roll out factories and operations launch the services," he said.
The Pran-RFL Group's job openings have largely come about in sales, factories, delivery and technical segments in the last few months.
Kamal said despite the huge amount of manpower available in Bangladesh, it was tough to find the right people with the required skills.
A survey by the Centre for Policy Dialogue (CPD) on skills gaps and youth employment at the end of last year found that a lack of skills among applicants made it hard to fill vacancies.
The biggest lacks were in skills over running operations, numeracy, professional networking and critical thinking.
About 43 per cent of the employers surveyed said a lack of soft skills was the most important problem they faced.
"A higher number of job openings is a very positive thing as we are now recovering from the devastating impacts of the pandemic," said Khondaker Golam Moazzem, research director at the CPD.
"These job openings are mainly for uneducated or less educated people and there are not many job postings for educated people or graduates," he said.
Higher export earnings in the garment sector and expansion of digital businesses are contributing to this job growth and which is very positive for the economy, he added.
"But we failed to create enough scopes for jobs for graduates or those with postgraduate degrees alongside females. This is the main challenge for the future job market: to employ social science and business graduates," said Moazzem.
According to a study of the Bangladesh Institute of Development Studies last year, of students who passed from colleges affiliated with the National University, 66 per cent or two-thirds were unemployed.
Only 21 per cent of students got jobs after graduation or postgraduation from those colleges, it said.
Mashroor of bdjobs.com said some companies were paying over Tk 20,000 a month for delivery jobs, yet many educated youths were reluctant to apply for these jobs due to the fear of facing social stigma.