Nilphamari has good potential for tourism
Could boost national economy through proper initiatives, locals say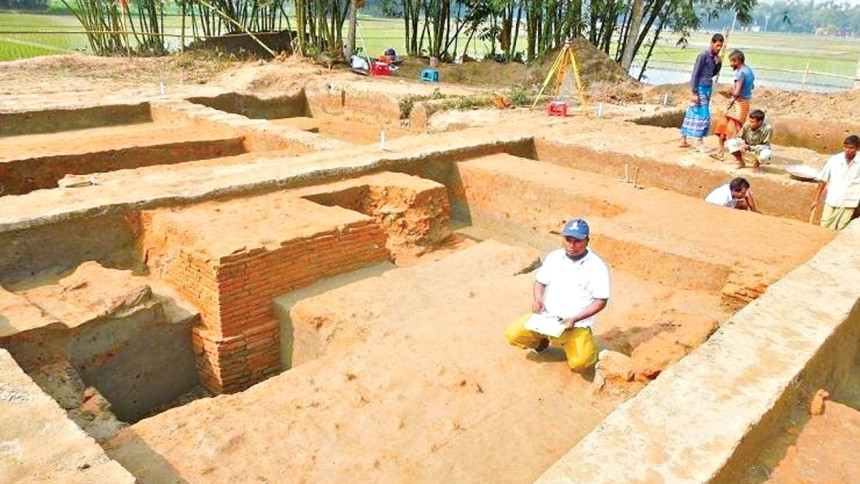 Tourism  in Rangpur's Nilphamari could be a boon for the national economy as the  district has glorious historical and natural sites to see, including  some related to the Liberation War.
Of  the prominent tourist spots in Nilphamari, one is the 12th century  Buddhist temple at Gar Dharmapal village in the district's Jaldhaka  upazila.
The Buddhist temple complete with a circumbinary passage,  boundary walls and other facilities is believed to have been built in  the 12th century during the Pala era. The site was unearthed by the  Department of Archaeology (DOA) in 2016.
According to the  well-known book on antiquary, "Bangladesher Protnosampad", written by  Abul Kalam Md Zakaria: The second ruler of the Pala Empire -- Dharma Pala  (son of king Harsha Dev of Kamrup empire) -- shifted the capital to the  site 900 years ago. The area is named Gar Dharmapal after him.
In  addition, about 42 domed mosques were built at Satiesher danga adjacent  to Paitkapara village in the same upazila during the Sultani period.  These were also unearthed by DOA almost at same time and could be  another attraction for tourists.
DOA authorities reburied both  sites maintaining due procedure to undergo some official process which  should be completed immediately to open them to visitors, locals said.
The  historic Nil Kuthi at Notkhana village in Sadar upazila built by  English indigo traders during the British era may also be a good tourist  spot as the DOA proposed it as reserved archaeological site.
Published  by Bangla Academy, the book "Nilphamarir Itihas" gives a brief  description of the Nil Kuthi as a brick-built structure that bears  testimony to the cruelty and oppression of foreign indigo traders who  forced local farmers to cultivate indigo instead of paddy.
"Even  the name of Nilphamari is believed to be derived from two words -- Nil  and Farm -- in line with indigo farming," said Zahangir Alam Sarker, the  book's author.
However, these spots need some nursing and the authorities could take some simple steps in this regard to meet the people's thirst for amusement.
Shafiqul Alam Dablu Shah, a former member of the Federation of Bangladesh Chambers of Commerce and Industry in Nilphamari, said the Chilahati-Holdibari rail link between Bangladesh and India was recently inaugurated in the district, creating enthusiasm among locals about the possibility of travelling to the nearby Indian tourist spot of Darjeeling in the future.
This touring habit may create an interest among them to visit places in their own country and so, the authorities should use this opportunity by developing local tourist spots.
"Besides, Indian travelers may also visit these sites through the new rail link," he added.
Every year, thousands of visitors come to see the giant Teesta barrage and arrange picnics in the surrounding forest.
In  the absence of government initiatives, local entrepreneurs decorate the  banks of the river with colourful cloths and umbrellas and also arrange  luxury boat rides up to its entry point from India at Kaliganj village  in Dimla upazila.
But the effort is inadequate and not recommended by the Water Development Board (WDB).
However,  Ashfauddoula, executive engineer of the WDB in Dalia division of  Nilphamari district, said that an architectural team visited the area to  frame out a project to turn it into a tourist spot.
Since flocks  of migratory birds from remote Sybaria come to Nilsagor, a vast  waterbody built by King Virat in ancient times at Dhoba Danga village in  Sadar upazila, it was declared as a bird sanctuary.
This site is a good place for entertaining tourists as the chirping of birds and their bathing in water amazes people.
The  mass graveyard at Golahat in Saidpur upazila could also be a tourist  spot for Liberation War history buffs as more than 400 people were  victims of genocide in 1971 by the Pakistan army.
People are also  greatly attracted to the Saidpur railway workshop, which is the largest  of its kind in Bangladesh, and the Nilphamari museum.
When  contacted, Nahida Sultana, deputy director of the DOA for Rangpur and  Rajshahi, said archaeological sites in Nilphamari have great  significance and so, work is ongoing to make them more attractive before  opening to visitors.
"We have a plan to boost tourism in Rangpur  division, including Nilphamari, and such work is going on at division's  Peerganj upazila," said Mahamud Kabir, general manager of the Bangladesh  Parjoton Corporation.