Nagad to make cash withdrawal free
Says its Managing Director Tanvir A Mishuk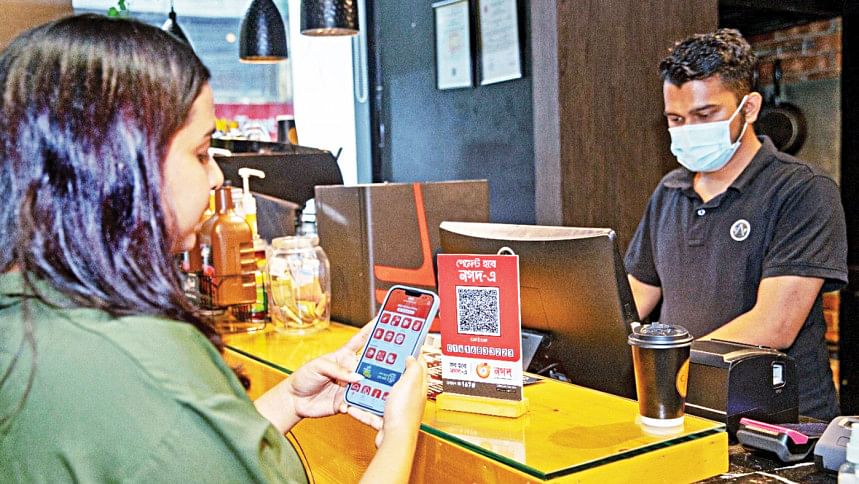 Nagad will offer free-of-charge cash withdrawal service to its account-holders by this year in order to accelerate Bangladesh's financial inclusion drive, said its Managing Director Tanvir A Mishuk.
"The free-of-charge service for cash-outs will not create any negative impact on the earnings. Rather, it will help expand our business to a large extent," he said during an interview with The Daily Star recently.
Clients of mobile financial service (MFS) providers in Bangladesh now pay Tk 10 to Tk 18.50 per Tk 1,000 withdrawal.
Mishuk says that Nagad Ltd, one of the largest MFS operators in the country, will provide the service to its clients through its upcoming non-bank financial institution, Nagad Finance PLC.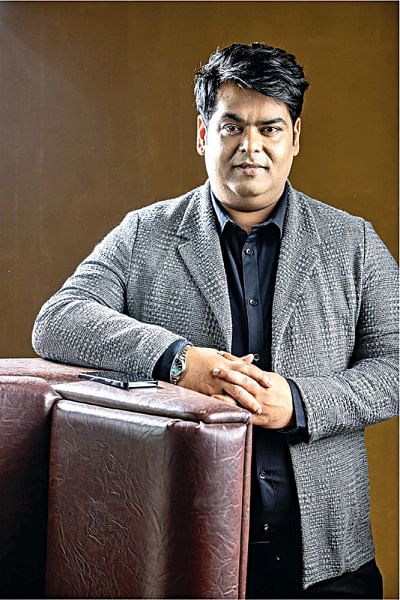 The central bank gave the letter of intent to Nagad Finance on August 30. On January 12 this year, the Bangladesh Bank decided in principle to allow Nagad Finance to run MFS, the first such approval granted to any NBFI in the country.
The new NBFI will commence its operation upon getting the licence from the central bank, Mishuk said.
"Clients can now withdraw funds from their banks without any charge. The same should apply to the clients of MFS providers as well."
Nagad Finance plans to roll out various financial services for micro-businesses and the underprivileged groups. For instance, disbursing loans and mobilising deposits will be operated through the MFS provider, which has 7.25 crore users.
According to Mishuk, around 60 per cent of the country's people take loans from formal and informal channels at higher interest rates. Some microfinance institutions even charge 30-40 per cent interest rates.
"Such rates are not viable. We have the plan to break the system in the next two years so that micro-businesses can secure loans at a single digit," he said, adding that the NBFI would also provide collateral-free loans.
He said Nagad Finance would focus on micro and small businesses such as street vendors and the commoners when it comes to disbursing loans through digital platforms.
"The use of digital technologies will allow us to make loans in a speedy manner and bring down the cost of operation."
"We will also offer several savings products. As a result, the marginalised groups will be able to deposit even Tk 10 daily or weekly."
The profit made from the NBFI's operation will help the MFS provider offer the free-of-charge cash-out service, he said.
Despite continuing faster expansion that usually requires significant use of funds, Nagad has decided to give dividends to its shareholders this year.
"We know how to do business smartly. Our MFS operation has already proven it by reaching out to a large number of people in the last couple of years," Mishuk said.
The MFS provider introduced its business in 2019.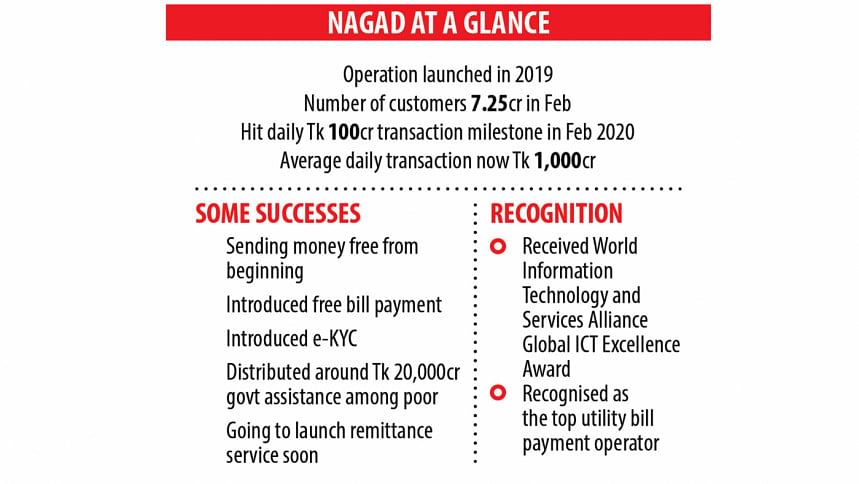 It started its journey with e-KYC (Electronic Know Your Customer). The digital KYC enabled customers to open an account in just 15 minutes in contrast to the 3-15 days usually taken to complete the process, bringing about a revolutionary change in the MFS sector as the number of users has rocketed.
"We later formed partnerships with mobile operators. This has allowed clients to open MFS accounts in only 10 seconds," Mishuk said.
In 2020, Nagad cut the rates on cash-out transactions, giving a significant boost to transactions.
He also touched upon the confusion about the ownership of Nagad, which started out as the MFS of the Bangladesh Post Office.
The MFS service was operated by Third Wave Technologies Ltd until February 2021 before Third Wave Technologies was renamed Nagad Ltd.
"The confusion will be cleared fully when Nagad Finance starts its operation," Mishuk said.
He said that 51 per cent of shares of the MFS operator will be owned by Nagad Finance and the rest by Nagad Ltd.
Mishuk has also planned to establish a digital bank to gear up financial inclusion.
"The central bank is now working to formulate the guideline on digital bank. This will help the entrepreneurs of Nagad to set up a bank based on digital technologies."
About 19.10 crore users were registered with 13 MFS providers in 2022 in a country of 17 crore people, with many operating multiple accounts.
Currently, transactions involving about Tk 3,000 crore are made through the MFS system every day, tripling from Tk 1,200 crore four years ago.
Various government and private organisations such as readymade garment manufacturers, corporates, non-government organisations, and distribution networks are already using MFS to disburse salaries.