Mustard oil dearer after soybean price shock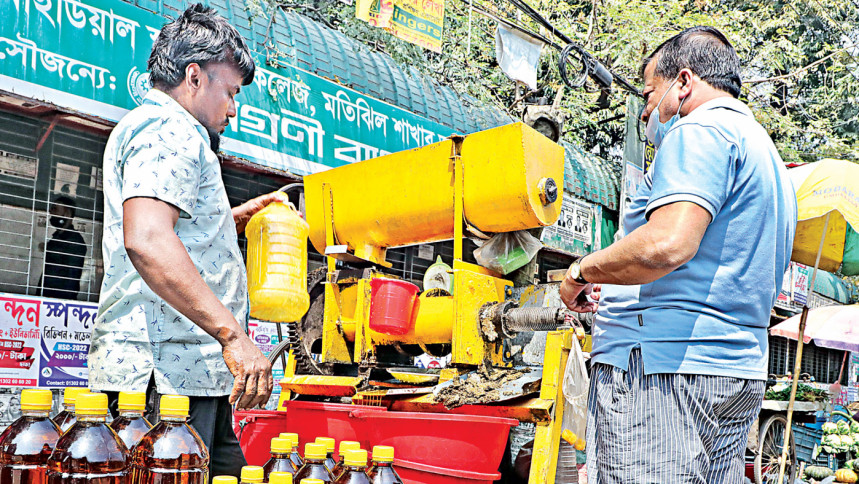 The price of mustard oil has gone up in Bangladesh after the soybean oil market became volatile owing to tight supply.
Retailers say the price of mustard oil has increased as demand has risen after consumers rushed to the item following the artificial crisis in the soybean oil segment.
Zakir Hossain, manager of Haji Mizan Enterprise in the capital's Karwan Bazar Kitchen Market, says a litre of mustard oil of Radhuni brand was priced at Tk 250 a month ago.
Now, he is selling it at Tk 280-290.
"When I asked the dealer why the price has increased, he answered that he didn't know," he said. 
He says if he keeps asking questions about the price hike, the dealer might not supply the product to him at all given the tight supply situation.
The delivery of mustard oil from the dealer has already dropped by a quarter compared to three weeks ago, according to Zakir.
Monwar Hossain, owner of Yasin General Store in the same kitchen market, says he sold a litre of mustard oil of Suresh brand at Tk 300 a month ago.
"Now the price is Tk 400," he said, adding that the dealer has cut the supply in half.
He says many times dealers do not want to supply the product. "Then we have to request them."
Robin Khan, a private job-holder, says a week ago, he bought loose mustard oil at Tk 170 a litre directly from a small processor in the capital's Mohammadpur.
The price has gone up to Tk 200 just after the price of soybean oil started rising, he said.
Although the soybean oil market is completely import-dependent in Bangladesh, mustard oil is produced locally in most cases.
Every year, 2.5 lakh to 3 lakh tonnes of mustard seeds are imported, and about 1 lakh tonnes of oilseed is produced in the country. One kilogramme of oil can be obtained from the processing of 2.5 kgs of seed.
Currently, the annual demand for mustard oil stands at 1.5 lakh tonnes.
The price of mustard oil has surged at a time when the main harvesting season of the crop is going on.
Faria Yasmin, business director of ACI Foods and Commodity Business, says there is a shortage of edible oil and oilseed owing to the global supply crunch caused by the Russian-Ukraine war.
"This has also created pressures on the locally produced oil. There is a gap between demand and supply."
She said the import cost of edible oils has gone up. "The increase is being felt everywhere."
Traders say the price of mustard seed has rocketed to Tk 3,600-3,700 per maund from Tk 1,800-2,000 a month earlier.
The surge in the price of mustard oil has deepened woes for the low and middle-income people, who are already struggling to afford essential items, not only just soybean oil.
Loose soybean oil retailed at Tk 160-170 a litre in the kitchen markets in Dhaka yesterday, up from Tk 145-150 a month ago, according to data from the state-run Trading Corporation of Bangladesh.
A five-litre container of branded oil sold for Tk 790 to Tk 830, up from a range of Tk 730 to Tk 760.
Monir Hossain, a ride-share driver living in the capital's Mirpur area, says: "We, the consumers, are now in a very difficult situation."
"Those who run businesses don't care about ethics. They only care about profit. So, whenever they get any chance, they raise prices."
He says seven-eight months ago, he could return home after the day's work with Tk 1,500-1,600 after all the daily expenses.
"Now it has come down to Tk 800-900 as the cost of living has increased a lot."