Mustard blooming on record area this year
In 2022, Bangladesh's consumers had to buy edible oil by paying historic high prices because of record prices in the international market and the country's high dependence on imports to meet its demand.
And influenced by high prices of soybean and palm oil, prices of mustard, the main oilseed crop, also grew, encouraging farmers to expand cultivation of the oilseed.
During the current cultivation season that began from mid-October, farmers have sown mustard on 8 lakh hectares, which is the highest in recent decades, data from the Department of Agricultural Extension (DAE) showed.
Take the case of Md Mostafizur Rahman Hashu. The farmer from Ullapara upazila of Sirajganj, the biggest mustard producing district, has sown the oilseed on 30 bighas of land this year compared to 17 bighas in the previous season.
"Many farmers in our locality have cultivated mustard on increased area to profit from higher prices of edible oil in the market. And we are expecting a good profit this year," said Hashu over phone yesterday.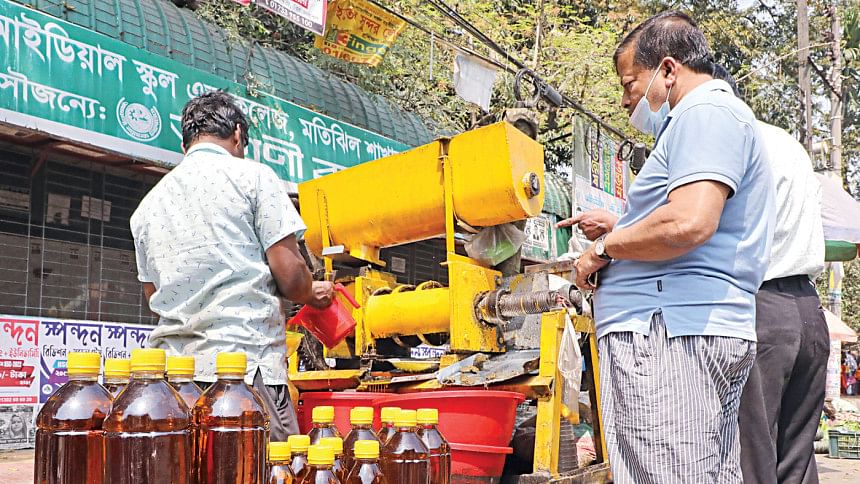 "Soybean oil is still dearer. Besides, many people now prefer mustard oil to soybean oil," he said.
Bangladesh annually requires 20 lakh tonnes of edible oil and 90 per cent of the requirement is met through imported soybean seeds, crude soybean and palm oil from Argentina, Brazil and Indonesia.
The country spent Tk 35,730 crore to import oilseeds and edible oil in fiscal 2021-22. The import cost was four times the Tk 8,160 crore registered in 2009-10, shows Bangladesh Bank data.
Locally, area and production of oilseeds, particularly mustard, has increased too, but at a much slower pace.
Farmers grew mustard on 4.62 lakh hectares in fiscal year 2009-10. The acreage then rose to 6.10 lakh hectares in fiscal year 2021-22, according to DAE data.
For the current season, the planting area has expanded for high prices of mustard, lack of availability of fertiliser and incentive offered by the agriculture ministry for farmers to cultivate oilseeds.
The agriculture ministry is currently implementing a Tk 278 crore project to increase production of mustard, sunflower and groundnut in an effort to meet 40 per cent of country's edible oil requirement through locally produced oilseeds by fiscal year 2024-25, said agricultural officials.
Under the scheme, the government is providing seeds and fertiliser to interested farmers to produce oilseeds on one bigha, said Md Rabiul Hoque Mazumder, director (in-charge) of the crops wing of the DAE.
The DAE aims to ensure mustard cultivation on 6.7 lakh hectares in the current season, but farmers' enthusiasm buoyed the acreage.
"It is a breakthrough," he said.
Mazumder said the demand for mustard oil has increased as concerns among people regarding health effects has ebbed a lot. Meanwhile, farmers are also showing interest to cultivate the oilseed since the production cost is just Tk 7,000 per bigha.
"Farmers are making profit at the current prices," he said.
Two farmers yesterday said the prices of freshly harvested mustard was selling at around Tk 4,000 per maund (37 kilogrammes) in the Pabna-Sirajganj area.
"This is going to be a good year," said Rafiqul Islam, a farmer at Pabna, another major mustard growing district.
Md Abdul Latif Akanda, director at the Oilseed Research Center (ORC) under the Bangladesh Agricultural Research Institute, said farmers have been motivated so that they can meet their own edible oil requirement through their own produce.
The ORC has also doubled seed distribution to increase production, he said, adding that the agency provided Bari Mustard-14, Bari Mustard-17 and Bari Mustard-18 seeds.
"We are encouraging farmers to grow the relatively long duration but high yielding Bari Mustard-18 variety in areas where they will cultivate jute and crops other than Boro," he said.
The Bari Mustard-14 and Bari Mustard-17 are short duration varieties, and farmers are growing the oilseed before planting Boro rice, Akanda added.
The Bangladesh Agricultural Development Corporation (BADC) has also increased distribution of mustard seeds to expand cultivation, said Md Mostafizur Rahman, member director for seed and horticulture at the BADC.
The agency supplied 1,000 tonnes of mustard seeds this year and aims to provide 2,200 tonnes next year in an effort to support the government's plan to increase domestic production of oilseeds to reduce imports.
"We want to supply 3,500 tonnes of mustard seeds in 2024," he said, adding that crop growth has been excellent so far.
ORC Director Akanda said the weather has been favourable so far and so, they expect production will be almost double the amount estimated in the previous season.
The DAE estimated mustard production at 8.24 lakh tonnes in fiscal year 2021-22.
"We will take more initiative in the coming years to increase cultivation of oilseeds," said Badal Chandra Biswas, director (in-charge) of the field service wing of the DAE.