More people opting for home loans
Banks and non-bank financial institutions (NBFIs) perceive the potential business of mortgage loans in the housing and real estate sector to be fast growing thanks to an expansion of the affluent class and people's increasing spending capacity.
Bankers and associated officials taking part in an ongoing five-day "REHAB Fair 2021" at Bangabandhu International Conference Center told this to The Daily Star yesterday.
Though data claims could not be immediately substantiated, the conversation revealed that financial institutions now have potential disbursement portfolios five times bigger than those five years back.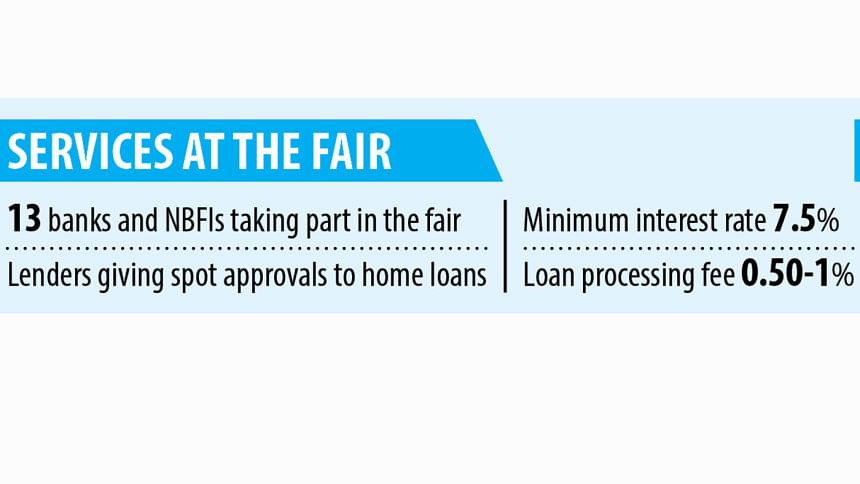 A total of 13 banks and NBFIs are taking part in the fair, where a maximum of Tk 2 crore can be availed as a home loan. The land or flat is kept mortgaged until the loan is paid back.
Rahat Jamil, head of distribution of IPDC Finance, said they started offering home loans in 2016 with Tk 100 crore and that figure has reached Tk 686 crore this year.
"We provide home loans to clients who have a minimum sustainable monthly income of Tk 40,000," he noted.
The IPDC is offering home loans at 7.99 per cent interest marking the fair and already five clients have availed spot approvals of loans, according to him.
Md Sirajus Saleken, head of mortgage and developer relationship management at Brac Bank, said they were offering home loans at 7.5 per cent interest at the fair.
He said salaried persons, businesspersons and schoolteachers with monthly incomes between Tk 20,000 and Tk 1.30 lakh could avail a home loan.
According to him, landowners who want to construct a building or tin-shed structure could avail a loan from Brac Bank.
"We do provide home loans to clients of reputed companies whose projects are at an under-construction stage while clients of ordinary developers can avail loans once the flats are registered," he noted.
Saleken sees huge potential for home loan products of the lenders as the number of loan seekers has been increasing along with the development of the real estate sector with increasing spending capacity of the people.
Sujit Saha, business development manager at Standard Chartered Bank, said clients with a minimum monthly income of Tk 78,000 could avail home loans of up to Tk 2 crore for a maximum of 25 years.
The bank, like others, provides 70 per cent of the asset's value as loan, he said.
Saha said they provided home loans at 9 per cent interest rate but were offering a 1.5 per cent cash back marking the fair.
He said the number of home loan clients have increased continuously and significantly for the past five years.
Saha said mortgage loans posed less risks as proposals were approved through proper assessment of clients' incomes.
Mohammad Didar Hossain, senior executive-loans at Delta Brac Housing Finance Corporation, said they were giving spot approvals to loan proposals of buyers of flats.
He said they were getting a number of queries from clients.
They also reduced the interest rate to 7.5 per cent from 7.99 per cent marking the fair and was also providing a 50 per cent discount in processing fees.
According to him, they can provide a maximum of Tk 6 crore depending on the portfolio of the client.
Md Kamruzzaman, officer for the retail banking division of Mutual Trust Bank, said they were providing loans at a 7.5 per cent interest to clients whose permanent income was at least Tk 40,000.
They were a bit different, giving loans to clients aged up to 70 years. However, it also depended on financial conditions. Almost all banks and NBFI consider an age limit of 65 years to give out loans.