Moong dal exports to Japan on the rise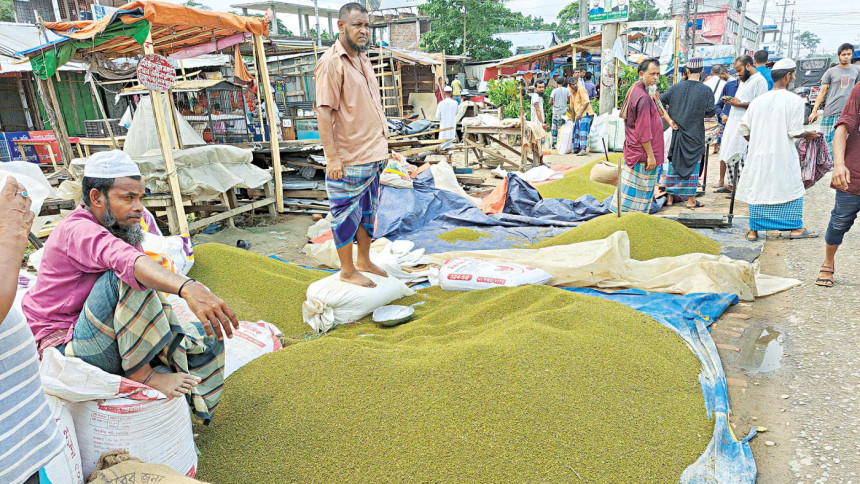 Grameen Euglena, a joint venture between Japan's Euglena Co Ltd and Bangladesh's Grameen Krishi Foundation, has been processing moong dal collected from Patuakhali and exporting it to Japan since 2018.
And although the company's exports had declined due to various difficulties amid the Covid-19 pandemic, the situation has now normalised to an extent.
Grameen Euglena exported some 300 tonnes of moong dal to Japan in 2021 but this year, the company aims to ship 1,000 tonnes of the lentil.
Sources at Grameen Euglena said they had signed an agreement with the Ministry of Agriculture in 2012 to allow moong dal exports on a limited scale. The company initially procured the lentil from Dashmina upazila of Patuakhali but later started sourcing it from Patuakhali sadar upazila and Baufal upazila as well.
The purchased moong dal is processed at the company's facility in Ishwardi upazila of Pabna before being exported to Japan.
Najmus Sadat, coordinator of Grameen Euglena's local operations, said Japanese businessman Yuko Satake decided to form the joint venture after seeing that moong dal, which has huge demand in his country, is widely produced in Bangladesh.
Although moong dal exports are generally prohibited, he was initially able to secure permission for shipping it abroad on a trial basis for one year.
In 2018, the company officially began exporting moong dal to the island nation after receiving approval in this regard for a five-year period.
Since then, cultivation of the Bari-6 (large grain) variety of moong dal has started in Patuakhali under the supervision of the agriculture ministry to meet the demand for exportable lentils.
Grameen Euglena currently has about 10,000 contract farmers, who sell their produce to the company for around Tk 5 to Tk 10 per kilogramme higher than the market price.
Considering that Japan has an annual demand of 50,000 tonnes for large-grain lentils, the Smallholder Agriculture Competitiveness Project (SACP) of the Department of Agriculture Extension (DAE), International Fund for Agricultural Development and Grameen Euglena are working together to increase cultivation.
Mohammad Emdadul Haque, project director of the SACP, said moong dal exports have not only improved Bangladesh's export earnings, but also the farmers' standard of living.
He went on to say that farmers sell their moong dal for between Tk 78,000 and Tk 80,000 per ton.
Nurunnabi Sikder, a farmer of Hosnabad village in Dashmina Upazila who has been contracted by Grameen Euglena, said he cultivates export quality large-grain moong dal.
"The lentil is selling for Tk 70 to Tk 80 per kilogramme in the market and so, local farmers are happy to be getting better prices from the company," he added.
AKM Mohiuddin, deputy director of the Patuakhali DAE, said moong dal has been cultivated on 86, 431 hectares of land in Patuakhali to produce 1.14 lakh tonnes of the pulse this season.
"Farmers are benefiting more from exports, which also makes it possible to earn more foreign currency," he added.