Luxury hotels turning around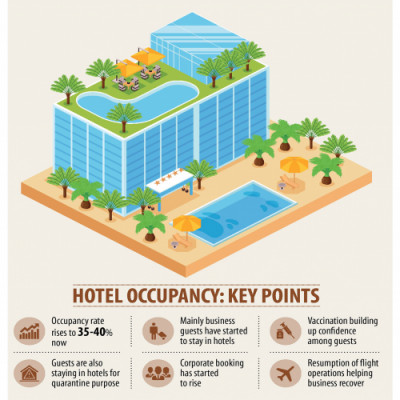 After a prolonged lockdown, business of star-rated hotels has slightly improved amid the pandemic as business travel and flight operations have resumed, according to industry insiders.
They say the occupancy rate has slowly been increasing during the past one month after the lockdown was lifted on August 11.
During the lockdown, the occupancy rate came down to nil, particularly for tourist-dependent hotels, while business-dependent ones had negligible occupancy which was not viable for business.
There are over 20 star-rated hotels in Dhaka city and around a dozen in Cox's Bazar, Sylhet and Chattogram having a daily accommodation capacity of around 5,000 guests. The ones in Dhaka can accommodate around 3,000.
Mahmud Russel, director for sales and marketing at Royal Tulip Sea Pearl Beach Resort in Cox's Bazar, said after flights resumed and the travel ban was withdrawn, the occupancy rate went up to stand at 50 per cent at this moment.
The resort has 493 rooms, the most in a hotel in the country, offering both hill and sea views.
Russel said during the lockdown the occupancy rate had come down to nil, but the situation was improving rapidly as tourists as well as businesspeople had begun travelling to Cox's Bazar.
According to him, they are getting corporate bookings which was also helping recover business.
"I believe the situation is improving as vaccination is going on and there is no bar on travelling along with business operations of all sectors," he noted.
Mohammad G Jishan, assistant manager (sales) at Radisson Blu Dhaka Water Garden, said they had achieved 10 percentage point growth in occupancy, which had reached 50 per cent as airlines had resumed operations.
Basically, those on business travel stay at the Radisson as the location is close to the airport, he said. He also said during the lockdown they had some guests and the occupancy rate was around 30 to 40 per cent.
The usual guests at the 200-room hotel include cabin crew of Turkish, Qatar and Algeria airlines.
Jishan also hopes that guest numbers would increase as all businesses gradually resume operations in Bangladesh.
Officials of The Westin Dhaka said after the withdrawal of the lockdown the number of guests has increased and occupancy rate had reached around 40 per cent at the moment.
They said around 80 per cent of guests were foreigners on business travel while another 20 per cent were locals and guests quarantining on returning from abroad.
They were hopeful of a gradual improvement in business and of achieving pre-pandemic figures once the population was completely vaccinated.
Zillur Haider Arefin, assistant general manager of Seagull Hotel in Cox's Bazar, said they could rent out only 50 per cent of their 179 rooms due to restrictions of the local authority citing health safety grounds.
However, he said the occupancy rate during weekends was reaching around 55 per cent.