Local firms gain ground in making lights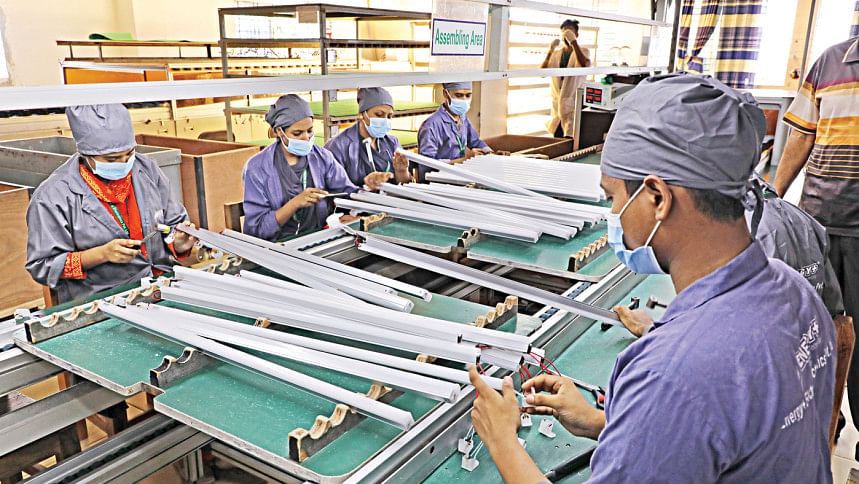 Bangladesh's entrepreneurs have made a lot of advancements in building their capacity to make lighting products and accessories for residential and industrial use.
Today, more than a dozen of local lighting solutions providers, assemblers and manufacturers produce a good range of energy-efficient LED (light-emitting diode) lights, thanks to duty benefits provided by customs authorities to facilitate the imports of chips and other components with a view to encouraging domestic capacity building.
They make a number of items such as packaging and plastic components locally apart from importing components of lighting equipment, which have enabled them to add nearly one-fifth in value and cut the import of finished products.
"We are now looking forward to exporting lighting products," said Md Shah Jobaer, managing director of Energy+ Electric & Electronics, which is engaged in assembling LED lights for residential and industrial use based on completely knocked down (CKD) components imported from abroad.
Demand for lighting products is increasing by 10-15 per cent annually, driven by the expansion of electrification
Energy+ Electric & Electronics started making lighting equipment in 2013 and has been engaged in catering services to the industrial lighting segment. The company has provided lighting solutions to a number of export-oriented factories, including one operating in an export processing zone.
"We are making lighting equipment by importing 1,000-plus items in CKD forms," said Jobaer.
The company has a production unit in Kamrangirchar, which is adjacent to the capital. At the factory, it designs and makes lighting products of up to 550 volts so that the products can withstand voltage fluctuations.
Now, Energy+ Electric & Electronics plans to establish a plant in the Gopalganj district to make lighting products focusing on the international market.
"We want to start the production early next year as the construction of manufacturing facilities is expected to be complete by the end of this year," said Jobaer, adding that its main focus would be to explore export opportunities.
Industry operators say the interest among entrepreneurs grew after the National Board of Revenue (NBR) offered a scope more than a decade ago, lifting the import duty and value-added tax (VAT) on the import of components of energy-efficient lighting products, namely LED lamps, to encourage the industrial expansion and reduce energy consumption.
Since then, a number of local manufacturers has developed and expanded capacities to make energy-efficient lighting products.
However, the NBR has included a precondition: some machinery has to be first installed by firms that want to make LED bulbs by availing the opportunity of VAT cut and duty-free import of components of energy-efficient lights.
The new rule has become effective from the current fiscal year, and operators said it would have been easy for them if they were given time to set up the machinery.
"Consumers are getting both quality products and warranty because of local manufacturing," said Harun-Ar-Rashid, managing director of Super Star Group, one of the top lighting product makers and marketers in Bangladesh.
"Our research and development have been ongoing, and a lot more items would be made here," he added.
Because of local assembling and manufacturing, job opportunities have been created.
"We are making some products here. As such, local value addition is around 15-20 per cent," Rashid said. The group entered into manufacturing after finding that most of the lamps are imported.
The market size of lamps, mainly for domestic use, in Bangladesh would be more than Tk 2,500 crore.
"The amount will be higher if the market for corporate use is added," the entrepreneur said.
"We are going after more detailed manufacturing. The lighting and accessories industry has bright prospects."
Demand for lighting products is increasing by 10-15 per cent annually, driven by the expansion of electrification, according to Shakil Choudhury, chief financial officer of Bangladesh Lamps, a pre-eminent manufacturer of electric light bulbs in the country.
"Our import dependence on finished goods has declined for domestic manufacturing. We see good prospects for the sector. The government support will enable the sector to flourish further," he said.
Jobaer of Energy+ Electric & Electronics said demand for lighting products and electric accessories was huge.
"But we, the local manufacturers, can't grab the whole of it because of an influx of cheap and inferior quality lights from abroad," he said, urging the authorities for quality examination during the import of lighting products.
"Bangladesh can make great strides in electrical lighting solutions if the government extends its support," said Jobaer, calling for low-cost and long-term loans.
He said his company has gained the capacity to provide lighting solutions and has been nominated for loans under an Export Readiness Fund of the World Bank Group to explore international markets.
"This has become beneficial for us. We have taken an initiative to export to three markets – the United Arab Emirates, Australia and Canada," said Jobaer.
Chinese firms dominate a good part of the international lighting solutions market.
"But the quality of our products is better and the opportunity is that people are looking for alternatives to Chinese products," said Jobaer.
Energy+ Electric & Electronics started with a Tk 2 crore investment and 30 employees. Today, the company employs nearly 700 people.
The firm has taken up an initiative to make internet of things-based smart lighting solutions.