Lack of finances, right skills holding women-run businesses back
Speakers say at AmCham discussion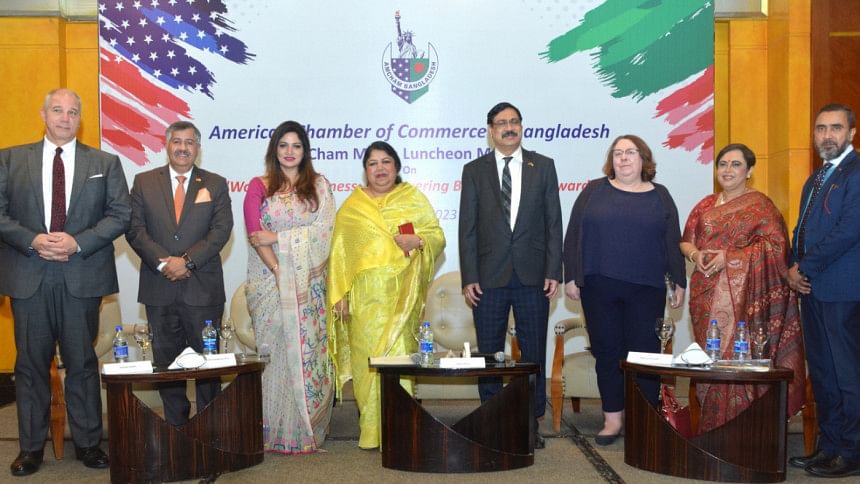 Many women entrepreneurs in Bangladesh need to be trained so that they can use modern technologies at ease with a view to helping their businesses tap their full potential, said speakers at a discussion yesterday.
They suffer a lot of problems even during normal times and these problems include difficulty in accessing finance and proper training, they said.
The National Industrial Policy 2016 states that at least 15 per cent of loans provided to the SME sector should be disbursed among women entrepreneurs. But so far, women entrepreneurs have received less than 5 per cent of the total loans, according to the Bangladesh Bank.
The American Chamber of Commerce in Bangladesh (AmCham) organised the discussion styled "Women in Business: Empowering Bangladesh Forward" at The Westin Dhaka.
"Women comprise half of Bangladesh's population and no one can deny women's economic, political and social contributions to the country," said Speaker Shirin Sharmin Chaudhury.
"Gender equality should be ensured for women at every stage of policy formation and in society."
The government is taking necessary measures for producing "smart women entrepreneurs", including a "HER Power Project" at a cost of Tk 250 crore.
"Smart women entrepreneurs will be a helpful force in building a Smart Bangladesh. Therefore, women should be encouraged and involved in the mainstream of development," the speaker said.
In Bangladesh, the number of women entrepreneurs at both brick-and-mortar and online businesses has increased, said Meherun N Islam, president and group managing director of exhibition and convention organiser CEMS Global.
"However, obstacles are constantly increasing for women engaged in doing business or expanding business. New borrowers face the most difficulties in getting loans."
Apart from this, it becomes difficult for women entrepreneurs to get loans due to requirements such as a certain number of transactions and guarantors and a lack of commercial space, according to Islam.
"Women's participation in business is low globally but this is more acute in Southeast Asia as well as in Bangladesh," said Syed Ershad Ahmed, president of the AmCham.
"The progress of women in Bangladesh is hindered by a lack of skilled women professionals and a low labour participation rate compared to global peers."
In Bangladesh, only 36 per cent of working-age females are engaged in the workforce compared with 81 per cent of men, the AmCham president informed.
The latest updates from the International Labour Organisation revealed that the percentage of businesses owned by women has slightly changed from 4.3 per cent in 2019 to 4.5 per cent in 2020.
Women entrepreneurs need to be more skilled in digital technologies in order to avail the advantages of modern technology so that they can give a boost to their businesses, said Helen LaFave, deputy chief of mission of the US embassy in Dhaka.