Inflation at 9-year high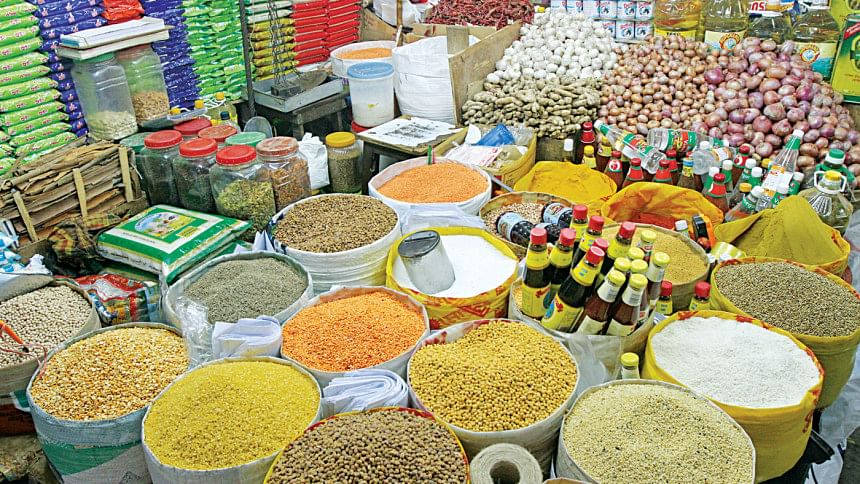 Inflation raced to a nine-year high of 7.56 percent in June, in a development that lays bare the extent of the cost of living crisis gripping the low-income and middle-class people in Bangladesh thanks to a war taking place some 5,800 kilometres away in Ukraine.
June's data means the average inflation in the just-concluded fiscal 2021-22 was 6.15 percent, overshooting even the revised target of 5.7 percent for the year.
It is a moment unlike anything the international community has experienced in decades: countries around the world are grappling with rapid price increases just the same.
In the US, it hit a 40-year-high last month of 9.1 percent, while the UK hit the unfortunate milestone the previous month. In nine out of the 19 eurozone countries, inflation reached double-digit figures in June.
In Bangladesh, the rising price level has left its sizeable middle-class and low-income in a severe cost of living crunch in the absence of a corresponding wage increase.
Take the case of Ekramul Hossain, a medical supply store attendant in the capital's BMA Bhaban. Following repeated requests for a pay hike in face of spiralling expenses, he was told yesterday by his manager that there would be none as the "business was bad".
"We have been getting by on just rice and vegetables -- we haven't tasted meat or fish in months," a crestfallen Hossain told The Daily Star while attending to a store full of customers.
It is a similar story for Jalil Ahmed, a security guard supervisor in Dhaka. He earns about Tk 18,000 a month, which is falling short in meeting ends meet for his family in Dhaka and his village.
"You can hardly find any item whose price has not shot up in recent time -- even the price of green chilli has gone up to Tk 160 a kilogramme. How could we run our family in a decent way with this salary?"
The price shock was largely felt in the case of food. In June, food inflation was a staggering 8.37 percent, reaching 8.93 percent in rural areas.
"My family has cut back on our food consumption. Forget three square meals, we are barely managing one a day," said Touhidul Islam, an electrician in Satkhira's Koyla union under Kalaroa upazila.
Inflation in rural areas has been more pronounced: in June, it stood at 8.09 percent, on the back of higher food and non-food inflation than in urban areas.
Islam has been asking for a higher rate for his services but has found no takers in his village.
"The competition among electricians in the village is fierce, so my income will stay this way for God knows how long," he added.
But Planning Minister MA Mannan bore some good news for Islam, Ahmed and Hossain while unveiling the inflation data yesterday.
"The prices have stabilised and in some cases are gradually falling -- the momentum for inflation has come off."
The government will put all-out effort to ensure a good harvest to bring relief from the elevated food prices for the common people.
"We are hopeful that the prices will come down soon," Mannan added.
Binayak Sen, director general of the Bangladesh Institute of Development Studies, is not as hopeful.
"There are inflationary expectations, so the price level will increase further."
In economics theories, inflation expectations matter because prices end up reflecting, in part, what people expect them to be. When inflation expectations get too high, they impact the actual rate of inflation.
The ride will get tougher in the days ahead, according to Sen: the energy subsidy is not sustainable and must be passed through to consumers and when that happens there would be a non-food inflation shock.
"This will be a tough year for everyone, everywhere," he said, while urging the government to help the low-income people to tide through the unusual times.
Mustafizur Rahman, a distinguished fellow of the Centre for Policy Dialogue, is expecting the inflation will settle down in two-three months seeing that many of the commodity prices in the global market have stability.
"But we have to make sure that is reflected in our market as there are many anomalies that prevent that from happening," he said, citing the tendency of traders to create artificial scarcity to keep the prices high.
Since inflation would be easing in the near future, he urged the government not to adjust the energy prices now.
"It would be too much for people, especially the low-income, marginal and fixed-income people," he added.