Improving service quality is next challenge
Brac Executive Director Asif Saleh says in an interview with The Daily Star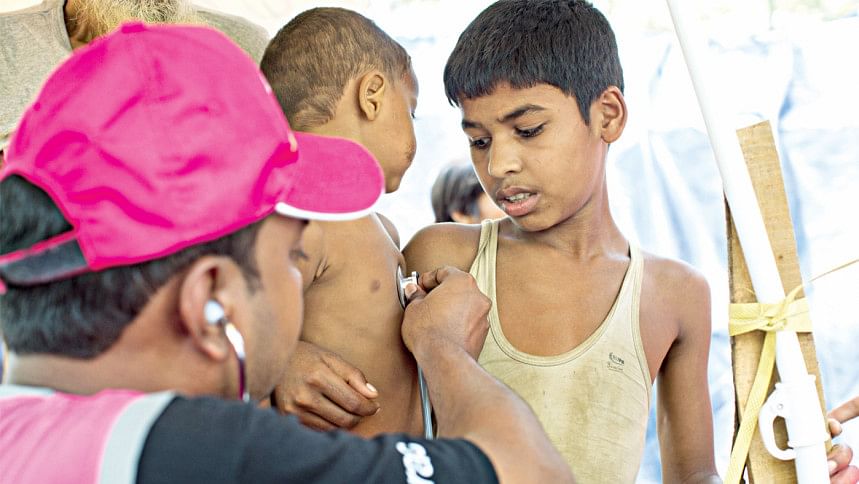 Brac, a Bangladeshi non-governmental organisation, has retained its place as the world's largest NGO for the last seven consecutive years. Founded by Sir Fazle Hasan Abed in 1972, it has made significant contribution to the health, education and poverty alleviation in Bangladesh. It also works in 10 other countries. Brac Executive Director Asif Saleh shares his thoughts on the successes of the NGO and the challenges it faces as it celebrates 50 years of its founding today.
DS: We often see that institutions' sustainability depends on individuals. Today, Brac Founder Sir Fazle Hasan Abed is no more. Still, Brac continues its journey and is expanding. What's is the key to it?
Asif Saleh: Sir Abed has always insisted on institutionalisation, not the person Abed. He always tried to create collective leadership. Brac works a lot to strengthen its internal capacity, which includes training of human resources, strong management and an effective system.
We see these aspects of institutions in many foreign institutions, but not much here. I think Sir Abed's wisdom has been a key to building a strong institution. Brac has a management and a governing body of independent individuals to check the management.
DS: Brac began its activities with relief and rehabilitation of the refugees coming from India after the Liberation War of Bangladesh. Later, it also established some enterprises like Aarong and Brac Dairy. Why did Brac do that?
Asif Saleh: While working with the poor people, we discovered that they need income-earning and jobs. Many people have their skills and products but don't get the right prices. So, we thought we could help them. We provided the artisans with some training and then helped market their products. That's how Aarong began. Today, 65,000 artisans are involved with Aarong.
We call them social enterprises, not meant to make profits. The earnings from these enterprises are used for expansion and development programmes.
Also, we began Brac Bank to promote small and medium enterprises, which were facing challenges in getting loans from the banking sector. Today, it is doing an excellent job. Thus, we are becoming independent. As the foreign development assistance flow is declining, we hope to become self-dependent.
DS: Brac has worked a lot on health, education and poverty alleviation. What is your evaluation after 50 years?
Asif Saleh: There was a time when we had to provide meals to the poor people in rural areas like Kurigram. Now, the situation has changed significantly both through the interventions of the government and NGOs.
You would see a huge shift in the rural areas. There are government schools and hospitals all across the country. So, the people are getting services now. But the question is whether they are getting quality service. The challenge is now to improve the quality.
DS: There are some criticisms that Brac does not have a rights approach in its interventions. How do you respond to it?
Asif Saleh: Sir Fazle Hasan Abed always believed in promoting the rights of people, bringing out the inner potentials of people and their empowerment. They then can claim their rights themselves. He did not think that there was always a need for a confrontational revolution for realising rights.
For example, Brac implements many programmes for women empowerment through which women in Bangladesh came out to the streets to work. We educated the women and promoted their health, thus empowering them. We believe that we need to work with the government, whichever is in power. So, we are also working for people's rights – but under a different approach.
I know there are some criticisms, but I would say that not all organisations would work the same way. There are some others that would focus on rights, directly confronting the authorities. That's their way and it is fine.
DS: Globally, 100 million people have become new poor because of the Covid-19 pandemic. The number of new poor is several millions in Bangladesh. Does it suggest that the organisations like Brac have got new relevance now?
Asif Saleh: The pandemic and climate change threats are suggesting that there will be more natural or manmade calamities in the coming years. Lots of people have lost their livelihood options. Many have returned to the villages.
Our finding is that the people who migrated to the villages are getting involved in farming or local businesses. As the economy is recovering, the people who had lost jobs or businesses are quickly returning to the previous situation with some financial support or getting their jobs back.
What is more important now is to work both at national and international levels. Both the government and NGO sectors need to have contingency plans and funds for mitigating disasters.
DS: What message do you have as you celebrate 50 years of Brac?
Asif Saleh: Brac and Bangladesh are almost synonymous. Brac wouldn't have been born in the first place if the nation of Bangladesh wouldn't have emerged. At the same time, the progress and development of Bangladesh might have been more unequal if Brac was not there with its massive interventions. And, Brac could never do such volumes of work if the government was not with us.
The people were at the centre of all activities of Brac. We took risks and we have both successes and failures. For good work to be done, we need to take risks and we will take them. We are confident and ambitious in what we do for the people.