Half of adult population still unbanked
Economists call for better infrastructure and policy support
Bangladesh lags far behind in financial inclusion as nearly half of its adult population still remains unbanked.
And the government will have to bring nearly 18 million adults under at least one regulated financial service account in the next four years in order to achieve its target of 100 per cent financial inclusion by 2025.
"The curve appears to be steep," said Bazlul H Khondaker, director of the Policy Research Institute (PRI).
Citing World Bank data, he said 50 per cent of the adult population had been covered up until 2017 and it at best stood at 60 per cent at present.
"We are lagging behind the Asian average," he added.
Khondaker mentioned that according to Economist Intelligence Unit's Global Microscope Finance Report 2020, Bangladesh ranks 44th out of 55 countries in overall financial inclusion.
He said financial inclusion was very important for alleviating poverty. "So, we should include the poor and women in digital financial services," he suggested.
He suggested developing associated infrastructure alongside government policy support for the advancement of financial inclusion.
Khondaker was giving a presentation on "National financial inclusion strategy: Key issues and implementation" at the opening of a training on "Financial inclusion in Bangladesh: imperatives and practices".
The PRI and Economic Reporters Forum (ERF) jointly organised the programme at the latter's auditorium, presided over by Sharmin Rinvi, president of the ERF.
"People are not saving money in their accounts. Only 18 per cent of people save money in their accounts," said Debdulal Roy, executive director at Bangladesh Bank.
"If people save money, they would deposit money into bank accounts which will increase financial inclusion,'' he said.
Roy emphasised on increasing the number of sub-branches and agent banking and mobile financial services (MFS).
He said people should not be apprehensive of the upcoming 4th industrial revolution's challenges as artificial intelligence would be adopted in digital banking system.
Roy said government officials usually work within a set framework of regulations and rules, for which there was none thinking out of the box that could have led to innovation.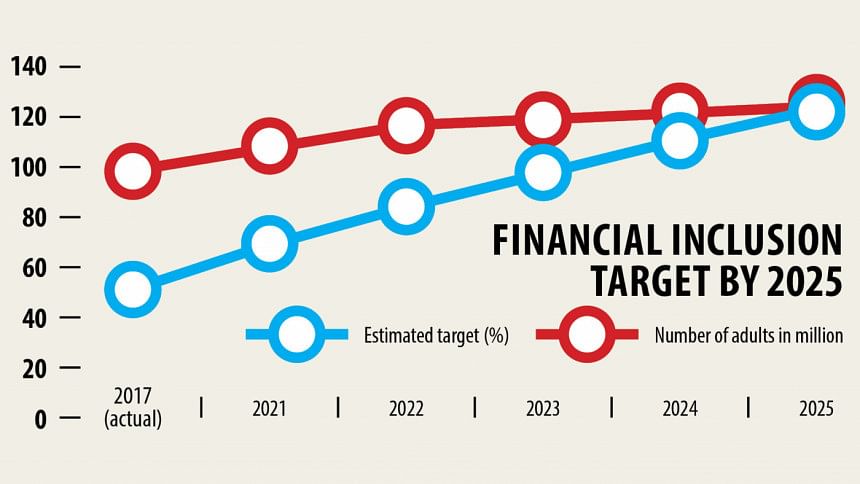 SM Rashidul Islam, general secretary of the ERF, moderated the programme while Ahsan H Mansur, executive director of the PRI, and Abdur Razzak, research director, also presented keynote papers.
Mansur said the MFS turned out to be very effective during the pandemic as it enabled continuation of transactions.
He also said digital services on the other hand helped people manage financial risks by making it easier for them to collect money from friends and relatives far away when times were going tough.
Mansur said the prime minister has not been able to provide cash assistance to 50 lakh people due to the low financial inclusion. People could not be brought under this service due to the absence of a proper database, he said.
Citing that there is a lack of policy support for the expansion of mobile banking services, he said, "Through MFS, we are now able to send money, make purchases, pay hospital bills, for electricity and gas, all government service bills and remittances from abroad."
Stating that microcredit activities can also be started through mobile banking with government policy support, he said bKash and City Bank were already providing small loans.
Referring to a study, Mansur said financial inclusion of women aided household savings and improved financial stability.
"It would bring transparency, and government services would reach the doorstep of all people,'' he noted.
He also said from December 2018 to May 2021, Bangladesh witnessed an 81 per cent increase in internet banking customers and now some 16 companies offer mobile financial services and 21 banks offer agent banking.
In a presentation titled "Social and financial inclusion through government disbursement at the individual level", Abdur Razzak said the government would spend Tk 28,000 crore on social security through the budget this year.
If this money is distributed through the banking channel, financial inclusion will advance, he said.